This year's WRC Championship kicks off with Rally Monte Carlo, perhaps the hardest rally to get the correct tyre choice. We have seen that an inspired tyre choice can make your rally as Brian Bouffier has shown in the past. The Frenchman has won in Monte Carlo before when it was an IRC event and took a podium as a WRC privateer. His influence could be important for M-Sport.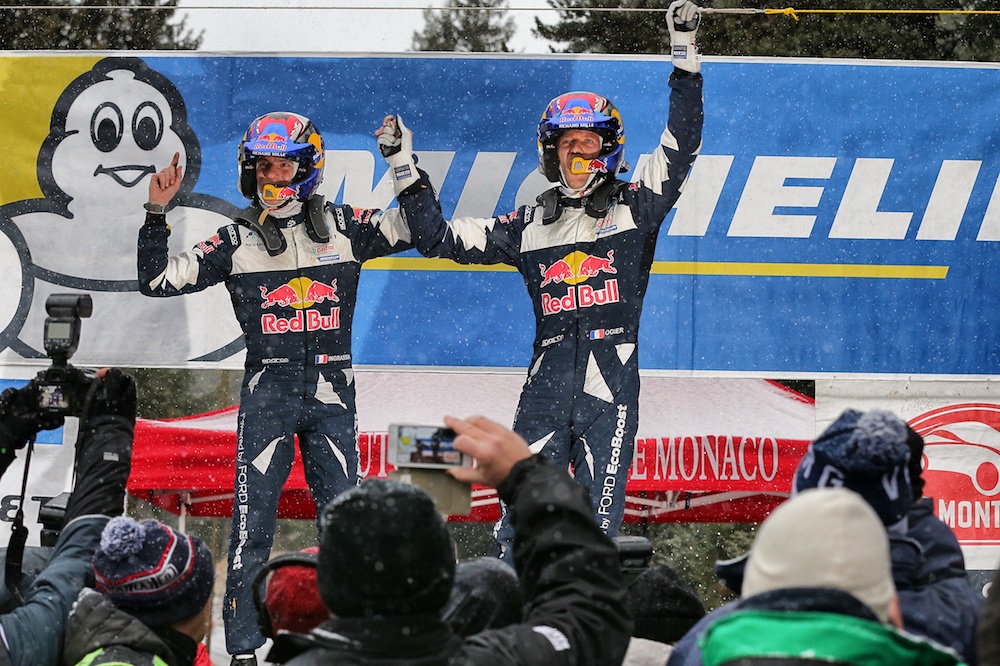 But what of the tyres?
Dry/Wet tyres
There is a soft and a supersoft option for this round. These should be useful from freezing to about 10 degrees Celsius.
MICHELIN Pilot Sport S6 (S = soft). This tyre replaces the MICHELIN Pilot Sport S5 which was introduced in 2015 for use on dry asphalt at temperatures of less than 10°C, as well as in wet conditions.

MICHELIN Pilot Sport SS6 (SS = super soft). This tyre replaces the former SS5 and is designed for mixed slush/damp asphalt conditions with icy patches at temperatures close to or lower than 0°C.
Ice/Snow tyres
The competitors will have once choice of studded tyres and one choice of non-studded tyres.
MICHELIN Pilot Alpin A41. This tyre resembles a conventional winter tyre due to its overall profile and siped tread blocks. The WRC tyre features a reinforced casing and was designed to withstand the constraints generated by the world's top rally cars on snowy ground, while at the same time delivering a very high level of traction, corner control and braking performace

MICHELIN Pilot Alpin A41 CL. In Nordic countries, studded tyres are commonplace in winter. However, that is not the case in France where their use is covered by strict legislation. To protect road surfaces during the Rallye Monte-Carlo, the FIA regulations allow the MICHELIN Pilot Alpin A41 CL to be fitted with just 200 studs (compared with 384 for Rally Sweden) and their tips emerge just 2mm from the tread blocks. The MICHELIN Pilot Alpin A41 CL enables drivers to contest ice-covered stages without causing damage to roads. The studs weigh less than 2g each and are inserted into the tread individually using a technique patented by Michelin .
Tyre allocation
Each competitor will get 80 tyres of which, 39 can be used. This is a reduction of four usable tyres compared to 2017. They will have 44 dry weather tyres to use (20 S6 and 24SS6) and 36 ice/snow tyres (12 nonstudded, 24 studded). They can use any combination of this allocation they wish.
The weather
The trick will be the weather. How to use the tyres will be dictated by this. If it is icy and you have no studs, prepare to lose a lot of time. Equally if you have taken studs and it isn't icy, the timeloss can be catastrophic to a good result on the event.
It is warmer in Europe than it was earlier in the week. It is 11 degrees in Monaco at the moment but the rally rarely goes that far south and that near sea level. Gap is seeing night time temps that dip into the negatives but warm days and no snow is forecast.  Turini could be a bet for a little ice as the temperatures hover around zero all weekend. This warmer weather is consistent to most of the towns the rally visits.
The key though will be in the mountains, in the shadows. The ice crews will be vital to tell the drivers the conditions, the dangers. There is no easy weather program for these areas and road conditions can vary corner to corner.
Unlike any other rally, the conditions change. At the moment it seems like the dry/wet tyres could be the way to go but they conditions, they change quickly and local knowledge is key.
Shakedown – 2018 WRC Rallye Monte-Carlo

🎥 Watch the first footage from the Rallye Monte-Carlo with the shakedown's action. Don't forget to turn the volume up to enjoy the video 😉🎥 Découvrez les premières images du Rallye Monte-Carlo avec la séance de shakedown. N'oubliez pas de monter le son pour profiter à fond de la vidéo 😉

Posted by Michelin Motorsport on Thursday, January 25, 2018
The RacerViews info
By Sam Tickell with the use of Michelin data, January 2018
RacerViews was established in 2011 and with the aim of delivering a new web experience to motorsport fans. We bring you more than just the news. Our exclusive interview and galleries brings you the views from the track, from the racers. Our extensive race review collection allows you to keep up with the action from around the world. The team of passionate pros have decades of experience in the motorsport field. Our social media presence on Facebook, Twitter and YouTube bring you more, a holistic experience. We have more than 3100 followers on Twitter and more than 2 million views on Google Plus. Our mission is to bring exclusive content is in safe hands.
Our commitment to motorsport can be seen with unrivalled coverage of the Queensland Rally Championship. Additionally, over the time we have partnered with motorsport teams like Ben Gersekowski, Andreas Wirth, Stig Richards Motorsport, One of a Kind Motorsport, Dark Horse Racing, Nat Rallysport and MRT Performance in order to give you the best exclusive motorsport coverage.
If you have a motorsport story to share contact us!