This is a great sixtieth edition of the Legend Boucles we attended this weekend in the region of Bastogne. With 275 cars at the start, tens of thousands of spectators on the edges of the 19 stages, a course again extraordinary and weather conditions reminiscent of the White Roads of yesteryear, even if the big white coat quickly became brownish on the land of the now famous Sunday forest stage.
Winner in outreach in 2017, out of category this year, Thierry Neuville (accompanied by Nicolas Gilsoul) would have again dominated the race – he would have won with 153 points ahead, or more than two minutes and a half – if his little Opel Corsa A had not been a little too much changed since the time of his debut, not really responding to the philosophy of a historical event. Still, the Legend Boucles were very happy to welcome him at the start. Our triple vice-world champion participated in the great popular success of our event and was happy to be part of this great Belgian rally celebration.
"Honestly, I had a blast," smiled the Hyundai driver on arrival, "I could not have imagined having so much fun with this small, reliable car, I thank everyone who made this operation possible. first, my brother Yanick who put this case back in our workshop in St. Vith, now I have a year to find out what I will come back with next year, a pilot wants more power and we'll see … "
Sports fans too have been spoiled with a good fight from one end to the other of the event. On Saturday, the fight for victory seemed to be summed up in a new duel between François Duval's small Ford Escort MKI Burton Racing and Bernard Munster's powerful Porsche 911 BMA losing 44 seconds in two head-to-head races. tail, darkness and especially the snow surprising everyone in the final special hell of this first step.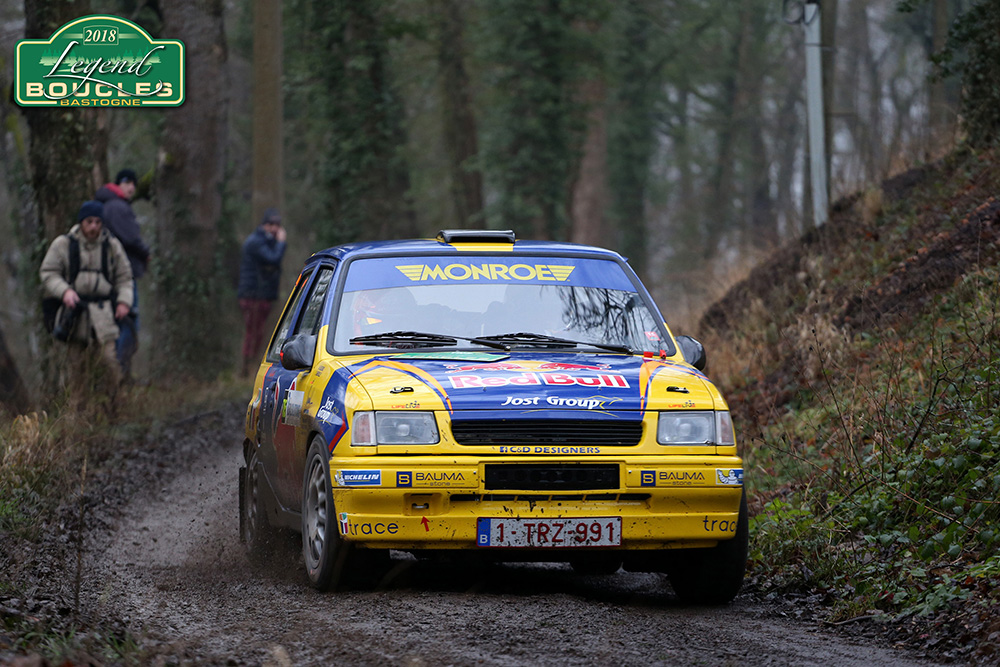 This Sunday morning, the gap did not exceed 7 seconds to the advantage of the driver of Cul-des-Sarts. With seven stages in forests bleached by nocturnal snowfall and doubled penalties, the showdown promised to be great. But from the first new stage of Rémichampagne, theatrical: on the attack to try to recover his property, Bernard Munster made a small mistake and damaged the front train of his Porsche. The boss of BMA lost contact with the head but especially confidence before learning that he was receiving a penalty of 150 points following a speeding ticket on the previous day, on the side of Mirwart. He was therefore content to wisely bring his 911 to fourth place.
"I'm disappointed, of course, because everything started well, but I can only blame myself, it's my fault," said Big Bernie, "and I did not order good tires for the snow and it would have been very difficult to compete with Bryan Bouffier who signed cannon times today. "
The justice of the peace of more than 35 kilometers of Herbeumont-Bertrix crossed without encumbrance, one imagined then François Duval to move calmly towards his fourth victory, the first for his teammate André Leyh. He had a 119-point lead over Bryan Bouffier, nearly a minute with the Power Stage system, with five special stages remaining and fifty kilometers to go.
But in the fifteenth stage, the new stretch of Auby-sur-Semois – Fays the Hunters, the race bounced one last time, the leader suffering a puncture causing him to lose nearly a minute and thirty, or 180 points. Mass was definitely said and the guest star, Bryan Bouffier, author of all the scratches on Sunday, imposed the Ford Escort MK2 Christophe Jacob, car behind which François Duval has already established itself a few years ago.
"As the long went well, I kept the tires without sidewall reinforced and I burst in the next," said the pilot of Cul-des Sarts, "it's a pity, of course, to have passed so close to a new success, but I have already signed with both hands Friday for a second place.It's great for the first Buckles Caren Burton.With a car still developing a hundred horses less than a Porsche and fifty of less than a BDA Escort, I had a lot of fun. "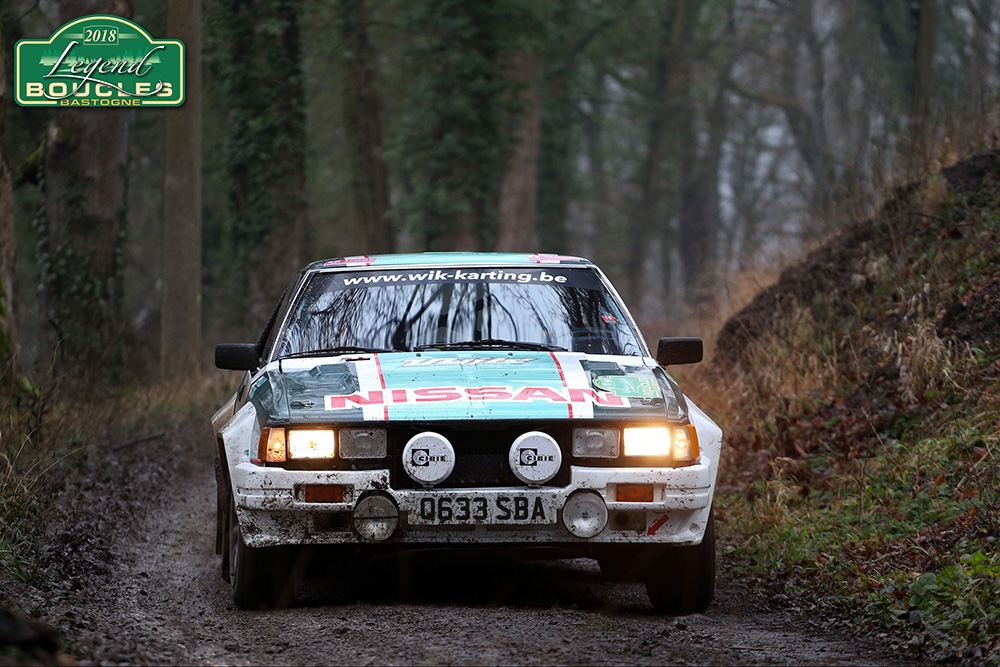 Not so much without doubt that the man inheriting from then the victory, Bryan Bouffier, third driver of the team M-Sport at the last Monte Carlo (8th), landed at home live from Monaco. Dolphin on several occasions in modern home in Ypres, Bryan Bouffier, fourth only Sunday morning, was the first foreign driver to beat all Belgians in thirteen editions of Legend, twenty-four years after Francois Chatriot (but in 'modern' at 'time).
"I'm very proud to succeed him, I'm going to call him to tell him about it," smiled the Frenchman clearly in power and signing all the best times on the earth, "it took me a few specials to take the measure of this very good Escort Group 4 and getting used to your roads.This early evening, it was already starting to walk harder.This Sunday, on earth, I sent heavy and I feasted. more the same handicap of misunderstanding of the field as the day before but never again I could have managed to prevail, I hope to be able to return as quickly as possible in this rally with a great course and a good Belgian atmosphere. your advertising in France! "
The podium was completed by a third Escort, the sister car of the winning crew, with the spectacular regional stage driver Fred Caprasse at the wheel, the author of an excellent performance for his annual rally. "The organizer has extended his five-year lease with Bastogne, so it leaves me at least another five years to try to win this rally," he joked.
Beaten this year, Porschistes could feed some regrets. In addition to Bernard Munster, fourth, it was also the case for Fred Bouvy completing the Top 5 after losing his podium following a small exit in Chevron-Rahier Saturday night. "And I was not in the long run," confessed the Bruxellois equaling his best result of 2017.
Lacking pace and admitting frankly excessive caution in the first leg, the former triple winner Grégoire de Mevius (Porsche 911) was much more comfortable and in his element on the ground. This allowed him to go up from ninth to sixth, taking advantage in particular of the abandonment of his son Ghislain, victim of the transmission of his Nissan 240 RS Gr.B.
Seventh, the excellent Romain Delhez hoisted his Opel Kadett GTE 'family' in front of two other Escort, in order MK2 British Tim Pearcey and MKI Renaud Verreydt, the latter having been strongly delayed early in the rally with a transmission faulty. Already suffering from a puncture the day before, Stefaan Stouf suffered another damage in the last stage and had to let Guillaume Mondron (Porsche) finish the Top 10.
Romuald Thirion should have interfered with them without a gearbox breakage resulting in a hefty penalty for coming out of the deadlock on Saturday afternoon.
We still mention the beautiful thirteenth place of the ghost (with a completely new co-driver) Gino Bux on his Escort MK2, the arrival at the 15th rank of Jean-Pierre Van de Wauwer despite a broken box cover three special goals on his BMW 323i E21 or the 21st place of Charles Blérot, first in traction on his Peugeot 205. (Vincent Franssen & Com / Photos Jacques Letihon)
Legend Buckles in Bastogne / Unofficial standings
1. Bouffier-Alnet (Fra / Ford Escort MKII) 1320 points; 2. Duval-Leyh (Ford Escort MKI) at 131 points; 3. Razzi Caprasse (Ford Escort MKII BDA) at 199 points; 4. Munster-Humblet (Porsche 911) at 310 pts; 5. Bouvy-Hottelet (Porsche 911) at 323.25 pts; 6. Gr. Mevius-Louka (Porsche 911) at 437 pts; 7. Delhez-Bonaventure (Opel Kadett GTE) at 515.4 pts; 8. Pearcey-Shanks (GB / Ford Escort MKII) at 705 pts; 9. Glassydt-Elst (Ford Escort MKI) at 759 pts; 10. G. Mondron-Werner (Porsche 911) at 820 pts; 11. Stouf-Erard (Ford Escort MKI) at 1028 pts; 12. Thirion-Jacquelin (Opel Ascona A) at 1047 pts; 13. Bux-Spittaels (Ford Escort MKII) at 1089 pts; 14. Leyon-Deposson (Ford Escort MKI) at 1090 pts; 15. Van de Wauwer-Surinx (BMW 323i) at 1095 pts
---
Originally in French from the PR, translated by Google.