The second round of the Jobfixers Belgian Rally Championship – the Herlock Spa Rally turned into another thrilling affair – this time between Kris Princen/Bram Eelbode and the Skoda of Adrian Fernémont/Samuel Maillen.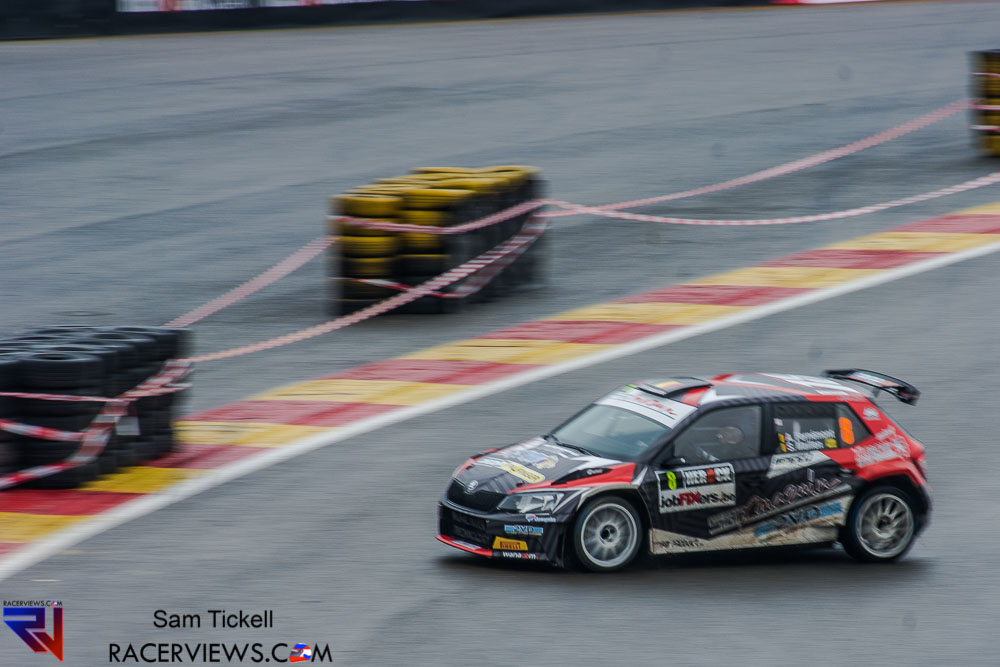 Princen, who had been on the better end of Vincent Verschueren's penalty last time out, lost almost a minute due to a flat tyre on SS11. It was also thought he gained a time penalty for checking into stage early after it appeared on the timing and scoring but it later disappeared.
This put him in a three way fight with Femémont and Ghisliain de Mevius/André Leyh.
Coming into the final loop Princen had to make up 40 seconds on de Mevius and 35 seconds on Femémont.
A puncture on SS11, a run around part of the Spa-Francorchamps race and its inner roads put paid to de Mevius' challenge. His damage was more sever and lost over three minutes and any chance of a win or even a podium were out the window.
Princen was to roll of a list of fastest stage times over the final four stages of the rally but it wasn't enough to overcome Femémont who took the win by just 5.2 seconds.
To Femémont's credit, however, he had won three stages across the rally and drove faultlessly over the 14 stages that were run.
The rally wasn't without its controversy either. SS3 was cancelled after disgruntled local residents vandalised the course by throwing nails across it.
A highly dangerous and incredibly stupid act on their behalf. Incredibly, the organisers were able to clear the running of the repeat stage – SS5 – in time.
There were also disruptions to SS8 and SS9 for accidents.
Guilliaume de Mevuis/Louis Louka retired after their Peugeot went into the trees – felling two across the stage. While the drivers were ok, the stage had to be cancelled.
In fact this rally took its toll on competitors with 25 retiring from the list of 67 starters – with seven out due to crashes, 11 due to mechanical issues and a number of others being labeled as just 'retired'
In the end, it was another Skoda 1-2 with the M-Sport Fiesta of Michael Albert/William Mergny coming in third.
Vincent Verschueren did not take part this time out – with only the best six scores counting, each driver does not have to compete on every round.
In the RGT class, Patrick Snijers/Davy Thierie took the win in their Porsche, overcoming their Rally van Haspengouw woes to get their Championship back on track.
Yann Munhowen/Steve Lanners took out Group N in their Lancer with Gregoire Munster/Antoine Podgomy winning the R2 class.
In Historic, it was the Ford Escort RS 1800 of Christophe Daco/David Strotz who took the win in dominant style over the Opel Ascona of Tom van Rompuy/Jens Vanovschelde.
The next round of the Jobfixers Belgian Rally Championship takes place at Tielt with the TAC Rally in early April.
The RacerViews info
By Sam Tickell, March 2018
RacerViews was established in 2011 and with the aim of delivering a new web experience to motorsport fans. We bring you more than just the news. Our exclusive interview and galleries brings you the views from the track, from the racers. Our extensive race review collection allows you to keep up with the action from around the world. The team of passionate pros have decades of experience in the motorsport field. Our social media presence on Facebook, Twitter and YouTube bring you more, a holistic experience. We have more than 3100 followers on Twitter and more than 2 million views on Google Plus. Our mission is to bring exclusive content is in safe hands.
Our commitment to motorsport can be seen with unrivalled coverage of the Queensland Rally Championship. Additionally, over the time we have partnered with motorsport teams like Ben Gersekowski, Andreas Wirth, Stig Richards Motorsport, One of a Kind Motorsport, Dark Horse Racing, Nat Rallysport and MRT Performance in order to give you the best exclusive motorsport coverage.
If you have a motorsport story to share contact us!