Rivals and fierce competitors Troy Herfoss (Penrite Honda Racing, Honda CBR1000SP) and Wayne Maxwell (Yamaha Racing Team, Yamaha YZF-R1M) both collected wins at Round 2 Wakefield Park Raceway for the YMI Superbike Championship.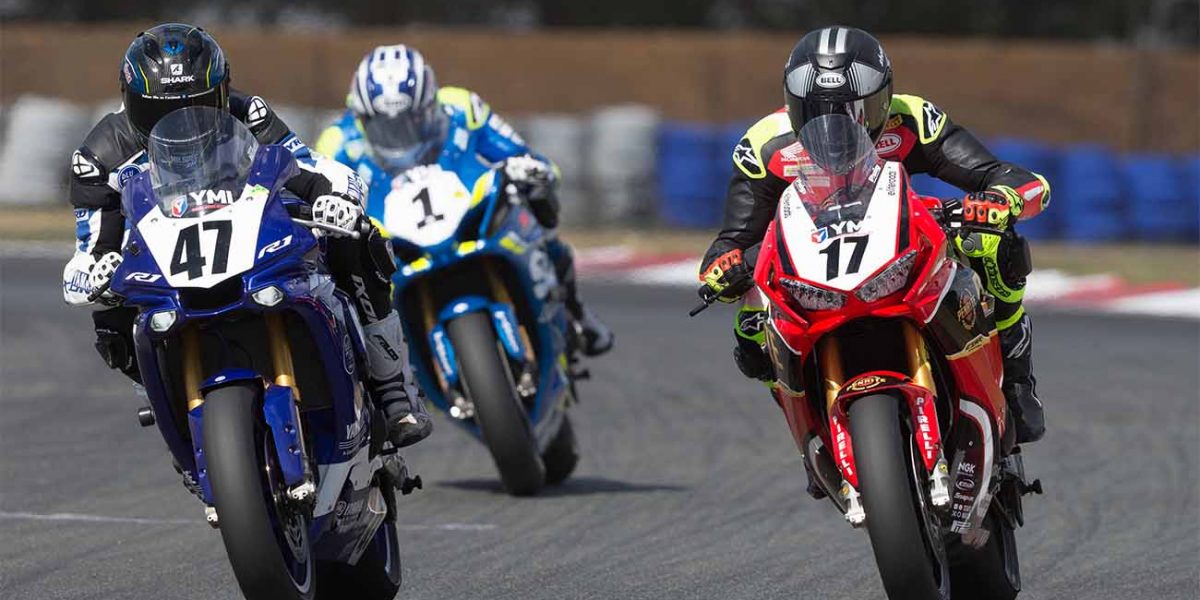 As a result of his pole position, race victory and second place finish, Herfoss now leads the points standings. Both races were a great example of the phenomenal racing that fans are now accustomed to from the Yamaha Motor Finance Australian Superbike Championship presented by Motul Pirelli (ASBK). 
Maxwell took an incredible race one victory by managing to out drag Herfoss down the start finish straight. The two were in a league of their own for the entire race and it all came down to the final lap, when Maxwell managed to snare the victory.
In the opening stages of the race, Herfoss took the lead, followed by Maxwell, Josh Waters (Team Suzuki ECSTAR, GSXR-R1000R), Troy Bayliss (Desmosport Ducati, Panigale FE), Daniel Falzon (Yamaha Racing Team, YZF-R1M), Bryan Staring (Kawasaki BCperformance, ZX-10R) and Matt Walters (Swann Insurance Superbike, Kawasaki ZX-10R). Mark Chiodo (Team Suzuki ECSTAR, GSXR-R1000R) was an early casualty falling on the opening lap.
It didn't take long for the top trio to make a break for it and check out at the front. Bayliss and Falzon were having an entertaining scrap, with Falzon trying to get past with little success, Staring also trying to get ahead of them. Eventually Bayliss ran wide and Falzon and Staring made their way through.
On the final lap, it looked like Herfoss had the edge, but the 'Wayne Train' stuck it up the inside of Herfoss and managed to drag him to the finish, to cross the finish line in first. 2017 YMI Superbike Champion, Waters finished a distant third.
Coming in fourth was young charger Falzon, followed by Staring, Bayliss, Glenn Allerton (NextGen Motorsports, BMWS1000RR) and Jamie Stauffer (Craig McMartin Racing, Ducati Panigale R) in the top eight.
Maxwell sharing; "It was such a tough battle and a lot of mind games out there, really happy to get the win and take back a few points to the leading guys. Hopefully we can repeat the result this afternoon. I knew Troy was looking to get good drive on the final straight but I got a great run on him and it was just enough with the engine on the Yamaha to get the job done!"
YMI Superbike Race One Provisional Results
1. Wayne MAXWELL (Yamaha Racing Team, Yamaha YZF-R1M)
2. Troy HERFOSS (Penrite Honda Racing, Honda CBR1000SP)
3. Josh WATERS (Team Suzuki ECSTAR, Suzuki GSXR-R1000R)
4. Daniel FALZON (Yamaha Racing Team, Yamaha YZF-R1M)
5. Bryan STARING (Kawasaki BCperformance, Kawasaki ZX-10R)
6. Troy BAYLISS (Desmosport Ducati, Ducati Panigale FE)
7. Glenn ALLERTON (NextGen Motorsports, BMWS1000RR)
8. Jamie STAUFFER (Craig McMartin Racing Ducati Panigale R)
9. Alex PHILLIS (Phillis Racing Suzuki, Suzuki GSXR-1000RR)
10. Matt WALTERS (Swann Insurance Superbike, Kawasaki ZX-10R)
YMI Superbike Race Two
Herfoss went from pole position to a race win, in YMI Superbike Race Two. At the start of the race, Maxwell got a great start once again and led the field from Herfoss, Waters, Bayliss and Falzon.
The top three once again were pulling a significant gap to the chasing Bayliss and Falzon. This time, Falzon was able to get past Bayliss much quicker and complete a move on lap three.
As the race went on Maxwell, Herfoss and Waters were in a very exciting battle for the victory. Eventually Herfoss was able to make a great pass on Maxwell on lap 12 and race home to the checkered flag. Honda rider, Herfoss' pace was unstoppable in the final laps, smashing low 58 second laps, which the others couldn't match.
Sharing the podium with Herfoss, was Maxwell and Waters. Fourth place went to Falzon, followed by Bayliss, Stauffer, Allerton and Alex Phillis (Phillis Racing Suzuki, Suzuki GSX-1000R) in a very impressive performance on the privateer Suzuki.
It was a disastrous race for former championship leader, Staring who was out of the race on lap 9. A significant blow to his title hopes.
Herfoss saying after the race; "It feels great to take another round win here at Wakefield and put the Honda on top. We're feeling good with the bike and ready to fight."
Herfoss now leads the championship with (105) points, in front of Waters (95) and Maxwell (88).
ASBK heads to the Bend Motorsport Park for Round 3 of the championship 19-22nd of April. Its sure to be a thrilling round as the championship heads to the brand-new track for 2018!
YMI Superbike Race Two Provisional Results
1. Troy HERFOSS (Penrite Honda Racing, CBR1000SP)
2. Wayne MAXWELL (Yamaha Racing Team, YZF-R1M)
3. Josh WATERS (Team Suzuki ECSTAR, GSX-R1000R
4. Daniel FALZON (Yamaha Racing Team, Yamaha YZF-R1M)
5. Troy BAYLISS (Desmosport Ducati, Ducati Panigale FE)
6. Jamie STAUFFER (Craig McMartin Racing, Ducati Panigale R)
7. Glenn ALLERTON (NextGen Motorsports, BMW S1000RR)
8. Alex PHILLIS (Phillis Racing Suzuki, Suzuki GSX-1000R)
9. Michael BLAIR (Michael Blair Racing, Yamaha YZF-R1)
Words from PR. Photos from Andrew Gosling