The retirements of Bouffier-Panseri (Skoda Fabia) and Abbring-Tsjoen (Citroën C3) opened the door to Neuville-Gilsoul (Hyundai i20), to open a healthy lead. Apart from SS1 and SS5, Neuville has taken out the other stages of the day. Verschueren-Hostens were equal on time with Neuville on Mesen 2 (SS8) and is now 14.1 seconds off the lead. Princen-Eelbode (Skoda Fabia), after winning SS5, the duo a further three-seconds behind in third place.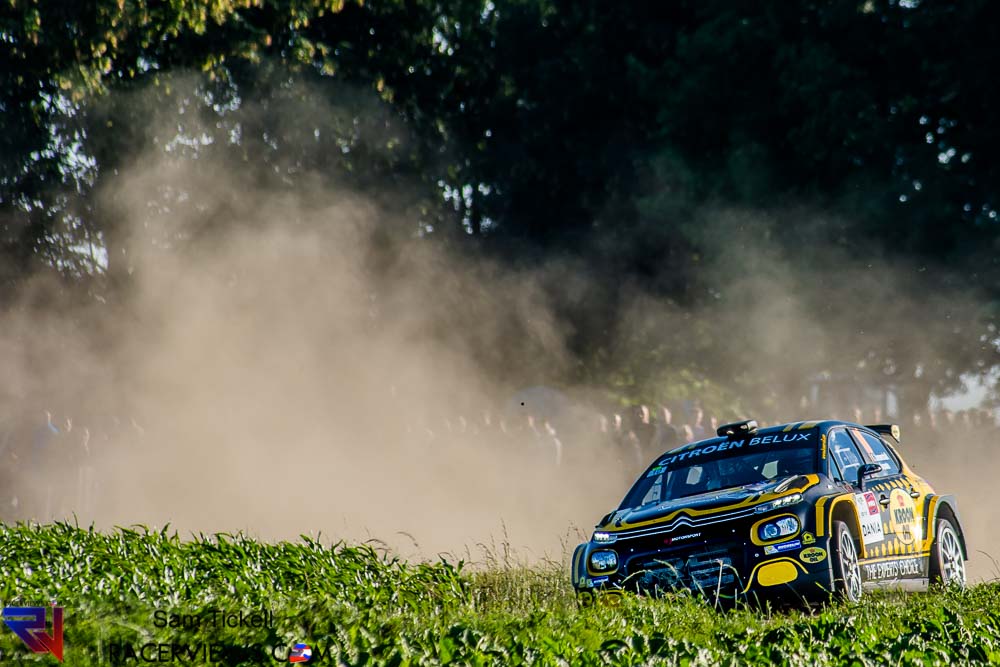 In fourth overall and ten-seconds of third is Demaerschalk-Vanneste (Citroën C3). Cherain-Cuvelier (Skoda Fabia) is a further 3.7 seconds behind with the MSA-BRC leader, Cronin- Galvin (Hyundai i20), sitting in sixth.
Cronin, in the Hyundai holds a slim 4.45 second lead on Edwards-Garrod (Ford Fiesta) in the MSA-BRC with McCormack-Moynihan (Skoda Fabia) is third, 32.9 seconds off the lead. Staying with the British contingent, Yates-Edmondson (Skoda Fabia) lost eight minutes in Dranouter (SS7) after sliding into a ditch.
Veiby-Skjaermoen went off the road in his Skoda Fabia on the SS9 (Hollebeke), and didn't complete the stage.
As a result, Fernemont-Maillen (Skoda Fabia) now sits in seventh and is involved in a tight battle with the leading British drivers, sitting 0.5 seconds behind Cronin. Bedoret-Walbrecq is in ninth ahead of Kobus-De Wild and Vanneste-Snaet.
In the Porsche RGT-N, Snijers-Thierie leads the category with a comfortable 1:23.7 lead over Van Woensel-Pattyn and Tanghe-Squedin. The latter losing 20 seconds on the last stage of the day. The fight between van Woensel and Tanghe is now tight, separated by 2.2 seconds. Monnens-Vandaele were less fortunate, dropping more than five minutes after having to stop to change a puncture on SS7 Dranouter. For Delplace-Bruneel, they didn't finish the Hollebeke stage and lost fourth in class.
Finally in Juniors, Wagemans-Hanssens (Peugeot 208) remains in the lead but his lead over Pyck-Mourisse (Peugeot 208) has been erased losing 11 seconds over the leg, to lead by just 3.4 seconds. Munster-Louka (Opel Adam) are in third 52.5 seconds behind.
We have not hit the halfway mark yet and we can see that there are a lot of questions to be answered and fights to take place. Especially for the victory! With five Belgian crews in the top five overnight, it is hard to imagine that they cannot secure victory but It remains to be seen. The first stage will tell us more tomorrow around 10:45am.
QUOTES
Demaerschalk: "This car really has great potential. We changed some details of the set-up and the results followed. "
Abbring (about his retirement): "In a right, where we had already passed yesterday, a piece of the right front wheel broke. Not necessarily abnormal for a new car but I will leave only if there is a solid explanation; I do not want it to happen again at high speed tomorrow … "
Fernemont: "This is the first time I drive in Ypres with such a car and I have quite logically gained a lot of confidence in the second pass."