The Trans Am Series presented by Pirelli drivers delivered a race to remember on Saturday as the series celebrated 50 years of racing at WeatherTech Raceway Laguna Seca.
The 70-minute feature race that included the TA, SuperGT and GT classes, ran at a relentless pace as the race went from flag to flag without caution.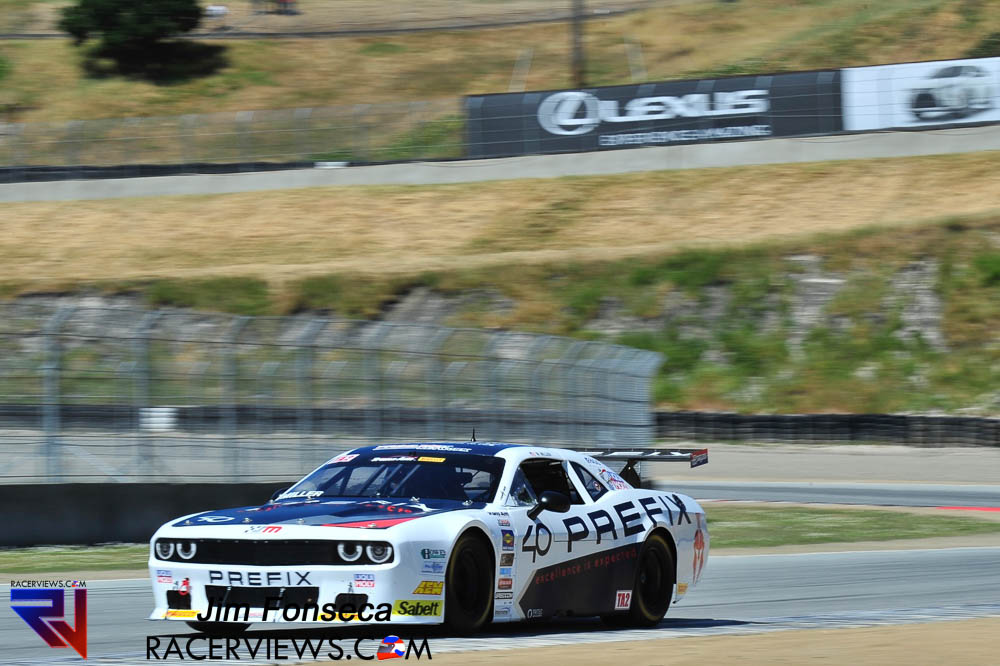 Polewinner Ernie Francis Jr. stole the show with a dominating 28.854-second win over the Burtin Racing duo of Lawrence Loshak and Tomy Drissi. After 66 Trans Am races, 48 podiums and 38 race wins, newly turned 21-year-old Francis finally got to sip the victory champagne in a glorious moment on the top step of the podium.
"It was a great weekend for us as a team here at WeatherTech Raceway," said Francis. "To sweep the weekend by winning qualifying and leading every lap of the race — it really builds morale for the team. We had a so many small gremlins that kept us from the podium [earlier] this season … To come all this way and finish where we did gives us hope [we can] contend for the championship again."
Starting from the dirty side of the track on pole, Francis' wheels spun and allowed points leader Loshak to get the jump on the young Floridian driver going into Turn 1. But Francis quickly recovered, reclaiming his first-place position, commanding the race from Lap 2 to the checkered for his first win of the season and breaking Loshak's two-race winning streak.
"The start was incredible," said Loshak. "We had a great start and we took first. I thought it would be like Sebring … and then I turned, and the car didn't. I fell back, losing a position.
"We definitely had bullseyes on our back this weekend," Loshak continued. "I am surprised at the pace the all the guys brought this weekend. It's hard to be on top and it's even harder to stay there. We just didn't have a lot for Ernie this weekend, but while we didn't win the race, we won the weekend — [we're] still on top of the championship."
Sebring and Road Atlanta winner Loshak had an eventful race but wound up finishing where he started.
Losing momentum, Loshak dropped to fourth as both Chris Dyson and teammate Drissi passed him. Dyson then built a 10-second gap between himself and third place, but started experiencing mechanical issues just after setting his fastest lap of the race.
The mechanical gremlins caused Dyson to pit and forced him to give up his second place position. The CD Racing squad worked to get Dyson back on track, but the setback cost Dyson a possible podium and he finished six laps down.
"We had a tough day today," said Dyson. "It's a shame when mechanical things take you out of contention, but that's the difference between racing and other sports — you win as team and you lose as a team. The car was absolutely flying today. We had the speed to challenge Ernie but didn't get the chance because a belt came off the water pump drive.
"We are going to be working our tails off leading up to Lime Rock," Dyson added. "We've proven we have the speed to contend up front, as we've done all season; so we're going to shake this race off and come back strong next round."
With Dyson out, Drissi and Loshak diced for second and third. Door-to-door entering the kink at the top of the notorious Corkscrew, Loshak overtook Drissi for second, then wheeled his gold No. 3 Elavon/Pennzoil/GoShare Chevrolet Camaro into a healthy lead over his teammate, and ultimately finished right where he started: Second place.
Drissi's blue 'Godzilla: King of the Monsters' Camaro crossed the line in third, his second podium of the 2019 season.
"I love this track. It's an absolute blast to drive," said Drissi. "I had some good battles with Lawrence, but just didn't have enough in the end to contend up front."
In the first of two integrated events with the National Championship, the Trans Am West Coast Championship also competed on the 11-turn, 2.28-mile WeatherTech Raceway circuit. TA class points-leader Simon Gregg clicked off another victory after also winning last weekend's TA West Coast race at Auto Club Speedway, taking his win tally to two. Michael Fine took second with California native Michelle Nagai taking third.
"I'm so proud of the team," said Gregg. "I felt like I had a good race and we had dramatic finish, finishing the race on a flat tire. The Derhaag Motorsports group have worked so hard to give me a good car for this trip to the west coast."
Dirk Leuenberger in the Lux Performance Doge Viper drove a near perfect race to take the checkered in the SGT West Coast class.
"It was great to be part of Trans Am history here at WeatherTech Raceway," commented Leuenberger. "After 50 years of Trans Am racing here, I can say I won at Laguna, and on my first visit to the track at that!"
After three years of grinding, Mitch Marvosh in the Wolf Entertainment Chevrolet Corvette, claimed his first Trans Am career win in the West Coast GT class. Roger Eagleton took second in the Five Star Property Management/Energy Real Estate Ford Mustang, with Beau Border in the APEX Race Parts CorteX Racing Ford Mustang finishing third.
"It's about time I won something in Trans Am!" said Marvosh. "It feels great to pick one up for the team. We've been at it for a few years and finally got a win. We took first on the start and never looked back."
Winning everything he possibly could, Francis took home the first $500 Emco Gears Top Gear Award for winning the race. For leading the race by such a large margin, Francis was also awarded with the Cool Shirt Cool Move of the race.
Kerry Hitt won the Masters award in the TA class following a seventh-place finish in the No. 19 Advanced Composite Products Inc. Cadillac CTSV.