It was a thrilling Rally Portugal but what did the driver's think? We find out…

Toyota
Quotes:
Tommi Mäkinen (Team Principal)
"This is another brilliant win for Ott and for the team. He was really strong, leading from Friday despite being second on the road, and managing everything really well in some tough conditions. Well done to him and Martin. Our performance was very good throughout the weekend: We saw that the other two cars had the speed to be up there as well. Unfortunately, Jari-Matti had the issue yesterday, and Kris made a small mistake today that was quite costly. But things are still going in the right direction in both championships and we are looking forward with confidence."
Ott Tänak (winner)
It feels great to stand on the top step of the podium today. It's been a long and very tough weekend, definitely the hardest win I've ever had. From Friday, our performance was really strong, especially considering our road position. On Saturday we had to fight really hard, but today everything was working well and the speed was there. In the first stage I was a bit careful, as there was a lot of tricky dust and it was difficult to see anything, but after this we could safely push a bit more and build a bigger gap. The championship is looking really tight but I think we are in a good position going to Sardinia."
Jari-Matti Latvala (7th)
"It was good to restart this morning, and our target was to get back into the top 10 and score some points. Unfortunately, we couldn't go for a fast time on the Power Stage: My run was red-flagged because another car blocked the stage in front of us. But in the end we were able to get back up into seventh position overall and take some important points, especially for the team. Personally, I can't be satisfied with the result, as we were going very strongly yesterday. But the speed is there, that is very important, and we know that the car is fast. I'm looking forward and believe we can have some very positive rallies coming up."
Kris Meeke (Retired)
"Today started well. We were able to increase the gap to behind us, and then we were just trying to hold it. Unfortunately, we had a spin on the penultimate stage and it cost us some time trying get going again. Going into the Power Stage, I didn't have so much to fight for, the bonus points were not such a big concern for me. But in a right-hand corner there was a tree stump in the grass on the inside, I didn't have it in my notes and I caught it with the steering wheel open. It was completely my mistake. I'm gutted for the team because we'd had such a strong rally. Now we have to move on and take the positives from this weekend: It's been my strongest yet in this car and we have to look forward."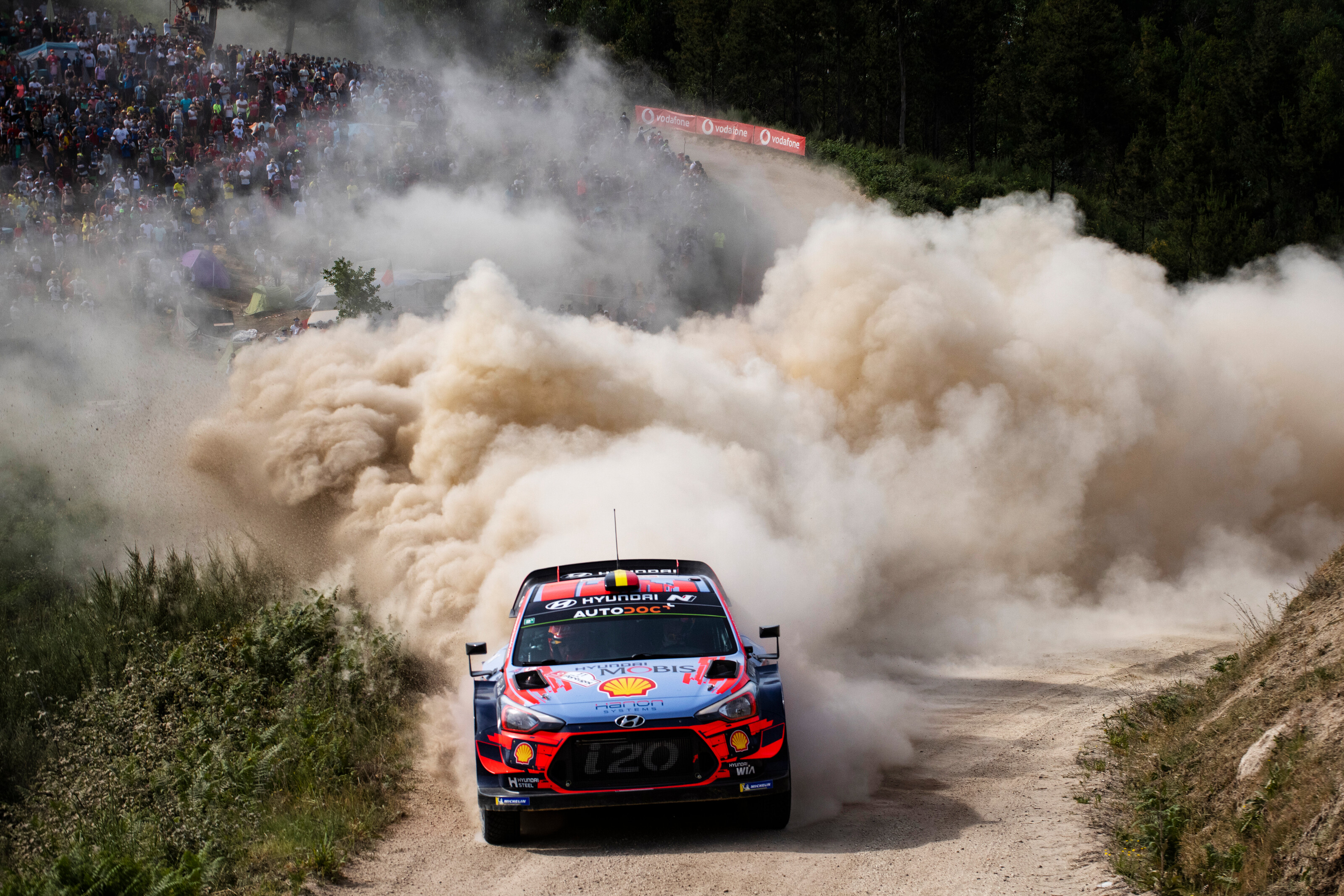 Hyundai
Thierry Neuville/Nicolas Gilsoul (2nd)
"After the big crash we had in Chile, it was important to come back fighting. It's not been an entirely smooth weekend but we have shown some strong pace including several stage wins. Overall, I think we can be pleased with second place. The time we lost on Friday's opening stages is more or less the time we were missing at the end. We were lacking a bit of precision today to give it more of a push, but on the whole it's a good result. The championship is nicely poised as we reach the halfway point. We know there is no room for error when things are this close, so we have to keep pushing together."

Dani Sordo/Carlos del Barrio (23rd)
"We have tried to put the disappointment and frustration from Friday behind us, and to enjoy these great Portuguese stages. It's a special feeling when you are pushing hard and flying through Fafe with all the spectators. We have put in a full team effort this weekend so I think we all share in the podium result, even if it would have been nicer to be standing on the podium ourselves. We'll have to try and rectify that in Sardinia!"

Sébastien Loeb/Daniel Elena (Retired)
"I enjoyed driving this morning's stages with some new discoveries for me. It wasn't without incident but overall it was nice to get the experience. The routes were fast and narrow, and the feeling with the car was pretty good. It was particularly nice to get the buzz from all the fans. We were able to set some competitive times, which shows what might have been possible this weekend. I am happy for the team to get a podium finish after what has been a tough event."

Andrea Adamo (Team Director)
"I have three main feelings at the end of this rally: the first is massive respect to our crews. Thierry and Nicolas are having a great season with the tools we are giving them and they thoroughly deserve this second place. They continue to score results that flatter our performance level. Secondly, I remain upset that our issues on Friday prevented our two other crews Dani/Carlos and Sébastien/Daniel from competing for the podium; another missed opportunity. It is also clear, overall, that we are missing some pace compared to our immediate rivals. We are here to fight for victories and this is the most important thing on which we must focus as a team."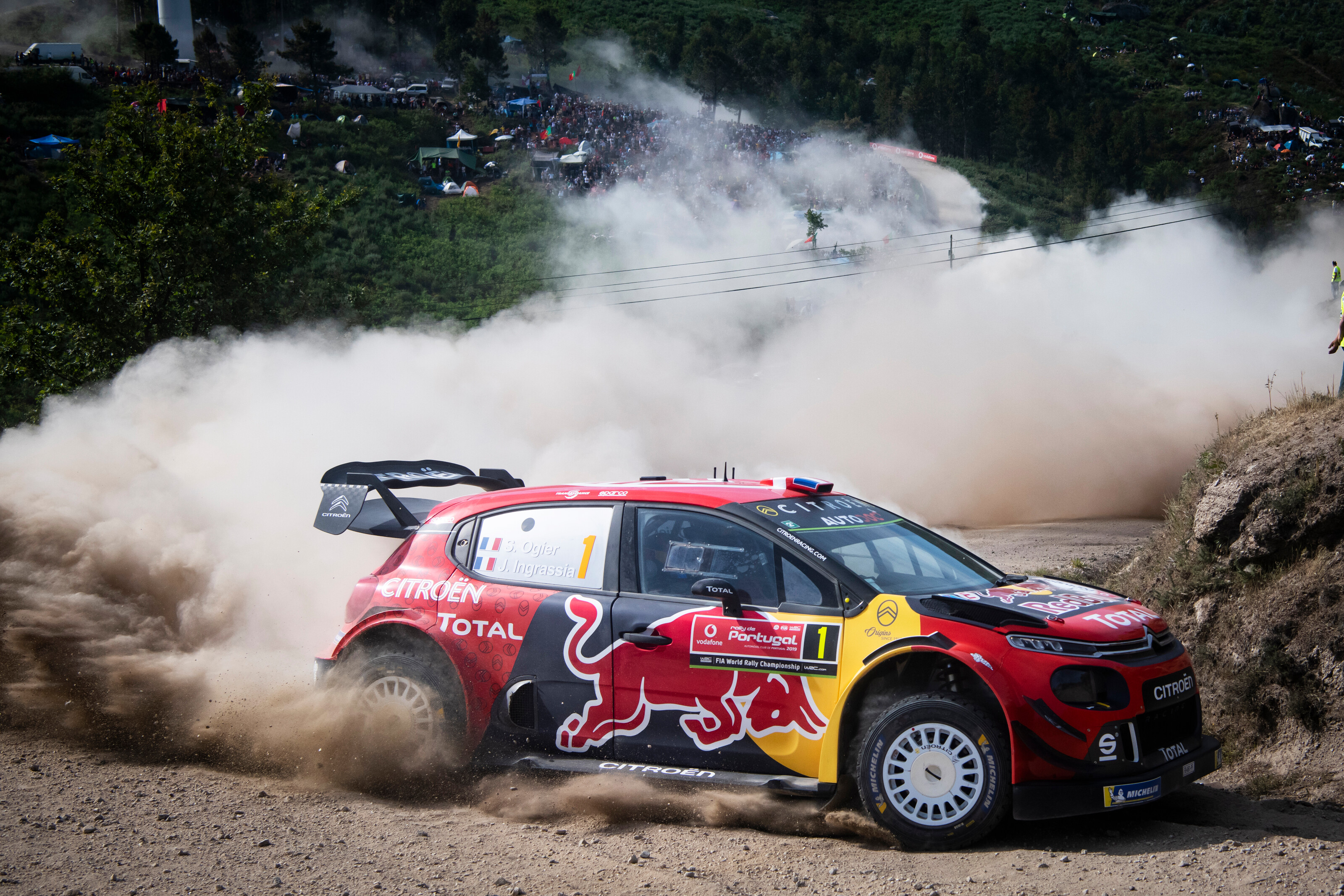 Citroen
Sébastien Ogier (3rd)
"I didn't think we could score twenty points this weekend. Although we never had a chance of winning the rally with our position in the running order, we gave it absolutely everything, regardless of the situation. So, to that extent, this result is just rewards. In truth, I was hoping not to be first on the road in Sardinia, but every point counts at the end of the season. I'm pleased to see that we were competitive on the Power Stage, which was more or less the only stage of the weekend where we had the same grip conditions as our rivals. That means we have also progressed in terms of performance although it was difficult to show it, given the circumstances."
Esapekka Lappi (Retired)
"After our roll, the car wasn't too badly damaged, it was just missing the rear spoiler. I thought I had a good rhythm on the following stage but I was slightly too optimistic on a right hander over a crest and I hit a bank, which caused a puncture and then damaged the suspension. There were too many kilometres left to cover with our makeshift repairs. I'm really very sorry for the whole team, who deserved better."
Pierre Budar (Team Principal)
Given, their [Ogier & Ingrassia] road position on day one, but also throughout the weekend, they clearly did a great job on these roads, where cleaning is such a major factor. Despite not being able to fight on even terms, they managed to maintain the pressure and remain ready to seize any opportunities that came their way. Their determination and resilience were rewarded with another podium finish and a handsome tally of points for the championship. They had a good feeling in the C3 WRC, which also confirms that we have made significant progress with the car and are moving in the right direction. We're going to keep working even harder because we'll have to deal with the disadvantage of cleaning the road again in Sardinia.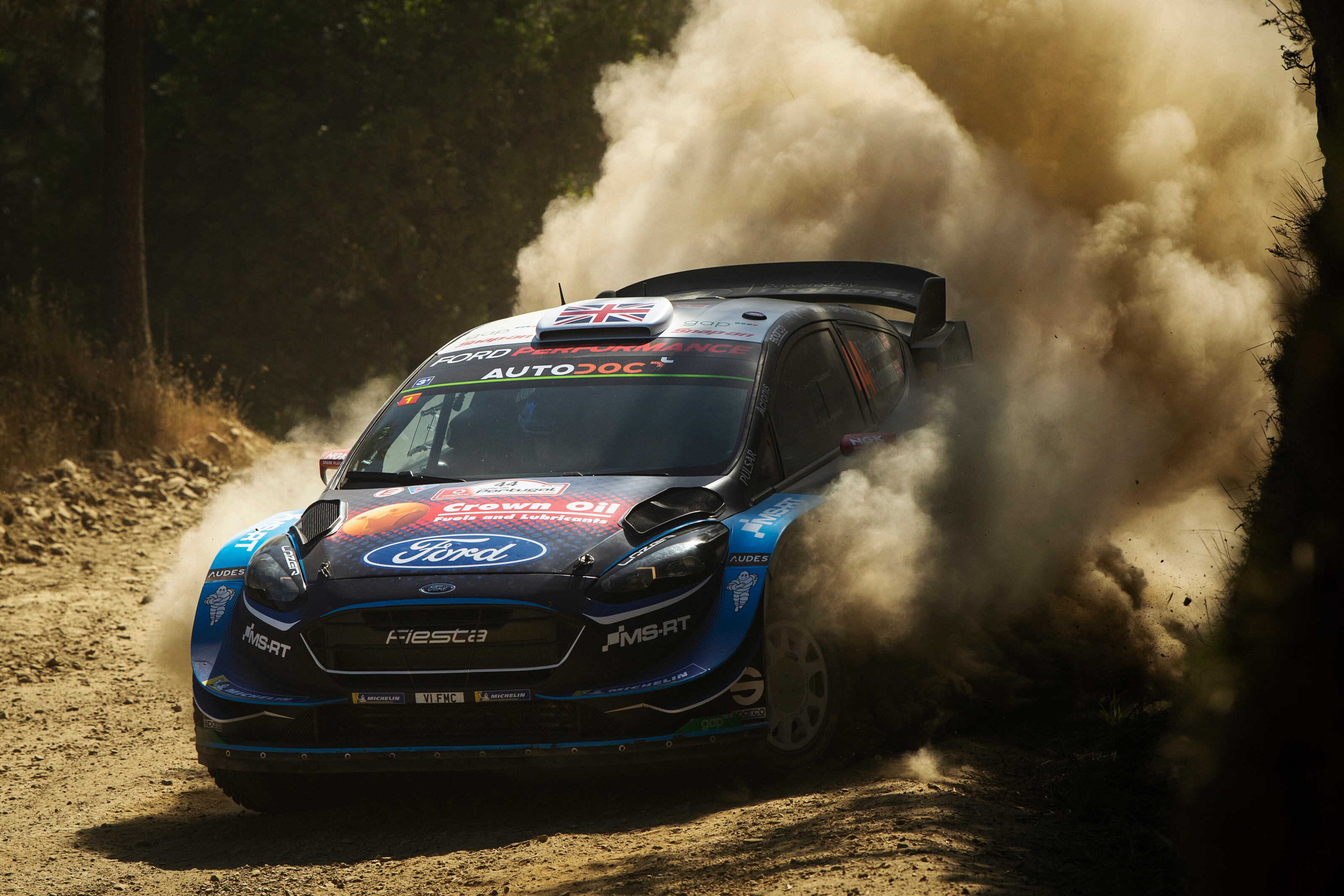 M-Sport
Richard Millener (Team Principal)

"At the end of the day it's a good result from what's been a disappointing weekend. We definitely had the pace to be on the podium. Elfyn and Teemu were driving really well and were both in the fight for the top positions. But after both cars hit trouble, there wasn't really much we could do.

"Everyone knows how difficult it is opening the road in these loose conditions, and it was just unfortunate that that task belonged to us this weekend. Having said that, both drivers kept their heads down and made it through to claim a decent haul of points.

"We also need to comment on what was a very impressive performance from Gus on his debut with a world rally car. I think he surprised a lot of people with his speed this weekend, as well as the way he approached the whole event.

"It may not have ended the way he wanted it to, but he's had a massive smile on his face pretty much all weekend and certainly turned a few heads with his performance! As for whether we'll see him in a world rally car again this year, we'll just have to wait and see."

Teemu Suninen (4th)

"I can be quite happy with this result. It's a shame that we had a problem on Friday afternoon because that meant we didn't have a good road position for the rest of the weekend. But our pace was really good on Friday morning, and we took some points in the Power Stage today which was also really good."

Elfyn Evans (5th)

"We made a pretty good start to the weekend. It wasn't perfect, but the pace was there. Obviously it was a shame to lose as much time as we did with the issue on Friday, but these things happen. There wasn't much more we could do after that, and in all fairness fifth place is a lot more than we could have hoped for on Friday evening."

Gus Greensmith (DNF)

"It's been a really good weekend for us. For some reason everything just seemed to click quite nicely and, to be honest, the speed came pretty quickly. We were battling with Elfyn and Teemu throughout most of the weekend – and that wasn't something I was expecting from my first time in a world rally car!

"It was a different challenge opening the road today, but generally a really good experience. It was just a shame that we had the issue over the jump. To have our rally come to an end just 200 metres from the finish was a bit gutting, but overall it's been a more than positive weekend."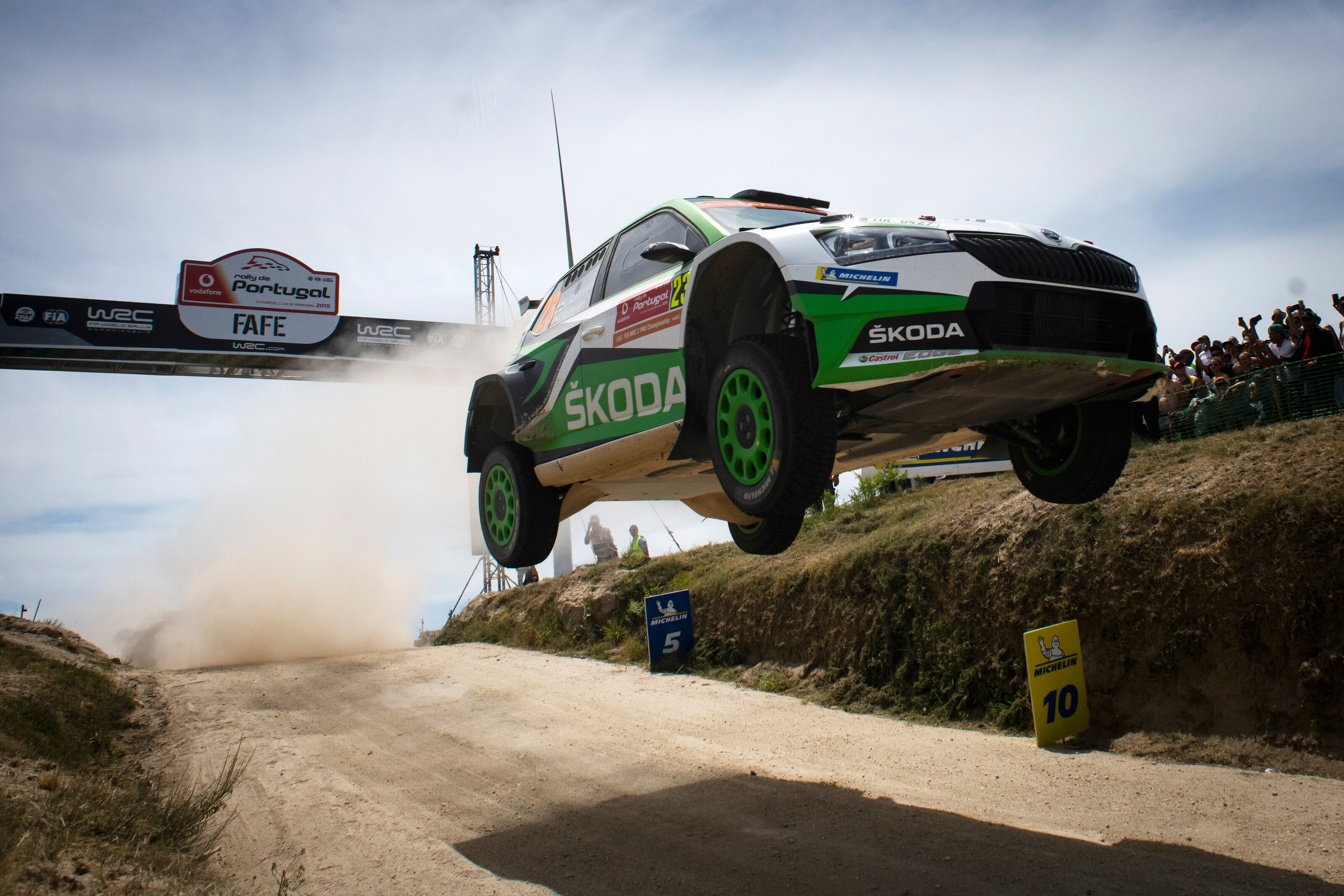 WRC2
Kalle Rovenpera – Winner WRC2 Pro
"The car felt really great, it was such a pleasure to drive it. The most important thing on the final day
was not to lose the concentration and to control the lead.
"Honestly, it's not so much fun to drive with a one minute lead – it's harder than to drive flat out. But
today, we could enjoy the stages."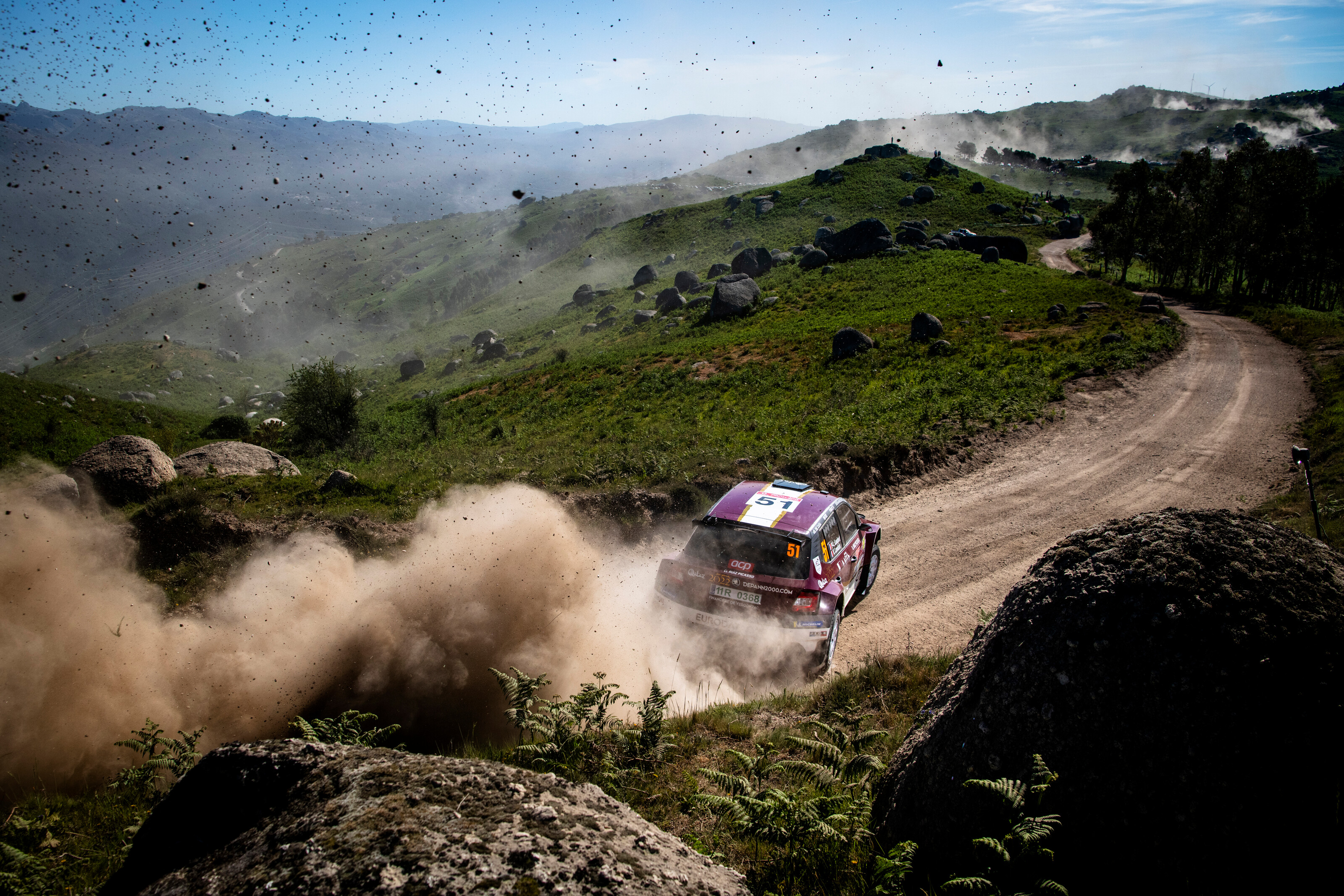 Pierre-Louis Loubet- Winner WRC2
I am very happy after what happened in the rally and with the dust. It was really nice to be in this position. The second pass was so difficult with all the rocks and, to finish in a good position, you had to be careful and try to manage everything. Now we go to Sardinia, Finland and Germany, and then I hope to Wales and Spain – I am not sure for the moment.