Clayton Hoy has pulled off a massive upset for the second time in his career after claiming the 2019 Accent Benchtops Working Dog Rally.
All images from CH Images. Words from PR. Results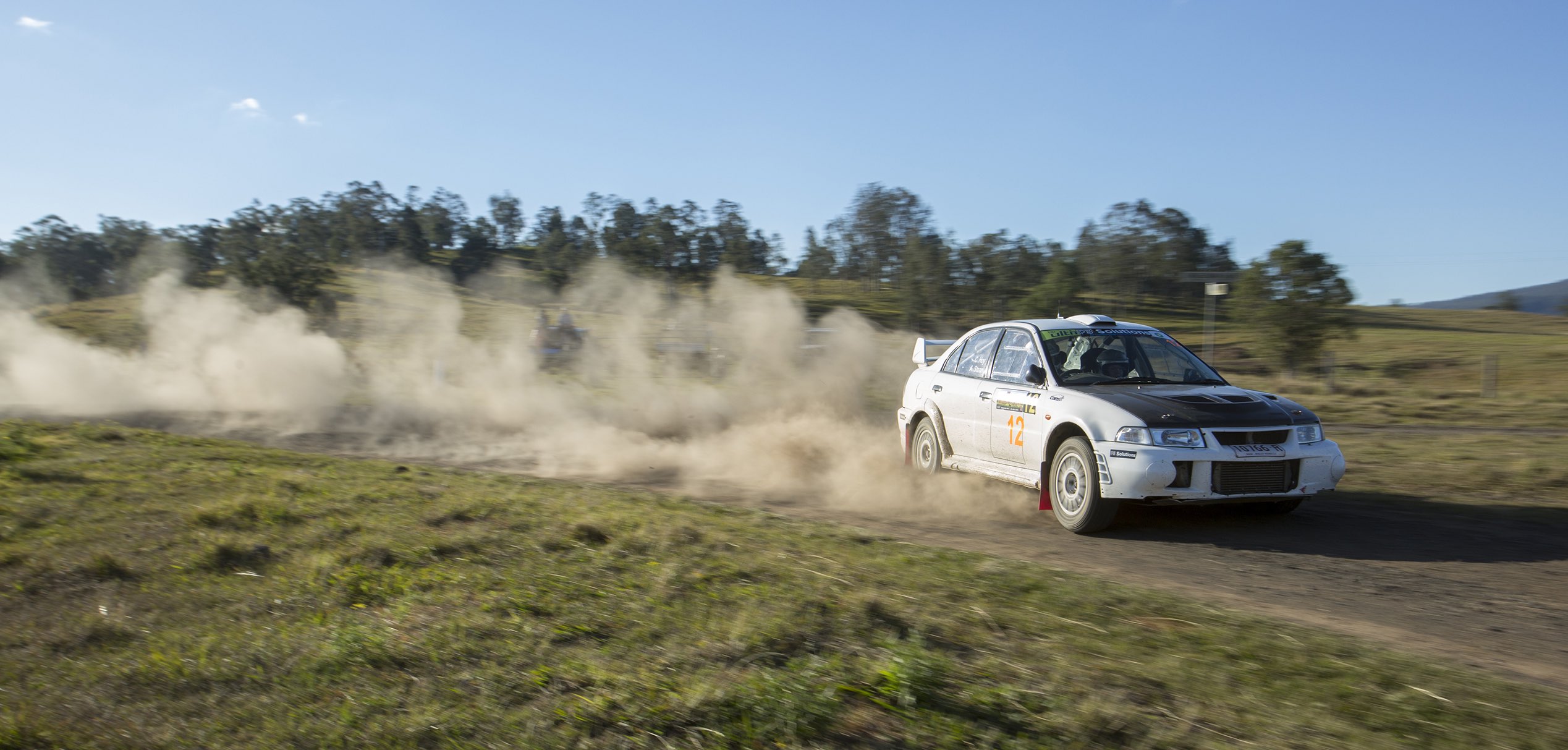 Up against some of the best rally crews from Queensland and New South Wales, including Glen Brinkman, Richard Shimmon and Glen Raymond, the driver shocked the rest of the competition with his victory alongside the experienced Alan Stean.
Right from the get go, Hoy and Stean were in no mood to mess around, winning the first three stages over Brinkman and Shimmon to win the first section by 16 seconds
Despite Shimmon and co-driver Jim Gleeson finishing ahead in the first stage of the second section, Hoy and Stean guided their Mitsubishi Evo 6 to next three stage wins – two of which were equal with Brinkman and co-driver Harvey Smith.
Behind the wheel of another Mitsubishi Evo, Brinkman and Smith managed to finish ahead of Hoy and Stean in the final two stages, but it wasn't enough as the latter pair showed enough pace to defend their position and carry out the incredible victory.
It's the second time within a year that Hoy has pulled off a performance like this, taking out the 2018 Phoenix Homes Queensland Yowie Country Rally in December over Brinkman and Smith.
With the event running as both a round in the MTA CAMS New South Wales Rally Championship and the P3 Solutions CAMS Queensland Rally Championship (QRC), a thrilled Hoy was a little surprised to come away with victory in both championships.
"It was great but we didn't expect to win. We thought we could get third or fourth if we had a good run but it worked out a lot better than we expected," Hoy said.
"We had a little bit of confidence heading into the event as we had beaten Glen in Woodenbong last year, which in itself was a shock, but at the same time we had not done a rally since then and that was about eight months ago, so we had a little doubt.
"I had never met the likes of Richard Shimmon, Glen Raymond or anyone like that before in my life and I sort of look up to guys, so there was definitely a bit a shock around when I was leading event and people have never heard of me before."
Like Hoy and Stean, Brinkman and Smith were registered in both championships and finished as runner-up for both, while Shimmon and Gleeson rounded out the podium on the New South Wales side.
In third place for the QRC was another dual entry with Garry Yeomans and Kam Baker's final registered time coming in more than two and a half minutes behind Brinkman.
Finishing 30 seconds behind Yeomans and Baker in the QRC were current championship leaders Brayden and Blake Wilson – the pair's outright ninth scoring them crucial points towards their title hopes.
New South Wales championship leaders Glen Raymond and Kate Catford pulled off a gallant sixth place in a different looking car, the duo behind the wheel of a borrowed Subaru Legacy, after a bad crash in Batemans Bay.
Also taking place in the Gold Coast Tweed Motorsporting Club run event was the East Coast Classic rally series, which had an impressive 49 crews competing throughout the weekend.
A number of Australian stars were competing in the series, including 2017 CAMS Australian Rally Champion Nathan Quinn and it was reigning Australian Classic Champion Clay Badenoch and Catriona Kelly who stole the show, steering their Toyota Celica RA40 to a well deserved 13 second victory over Quinn and Ray Winwood-Smith in the Mazda RX2.
Clerk of the Course Matt Sosimenko was thrilled with the quality of competition, as well as the support from the local Bonalbo community.
"The crews were delighted by the welcome they received from the people of the Bonalbo region and were very impressed by the Showground being used as the Service Park for the rally," Sosimenko said.
Both championships now have a break ahead of their final rounds, the QRC wrapping up its season with the Inspirations Paint Capalaba Hinterland Rally – Imbil in September, while the NSWRC hold its season finale in October through the Monaro Stages in Cooma.