The flying Frenchman, armed with a Michelin-equipped Citroën C3 Rally2, was sensational throughout Friday's six sealed-surface stages that totalled 88.72 kilometres and proved a tough task for the ERC regulars and their Spanish championship counterparts.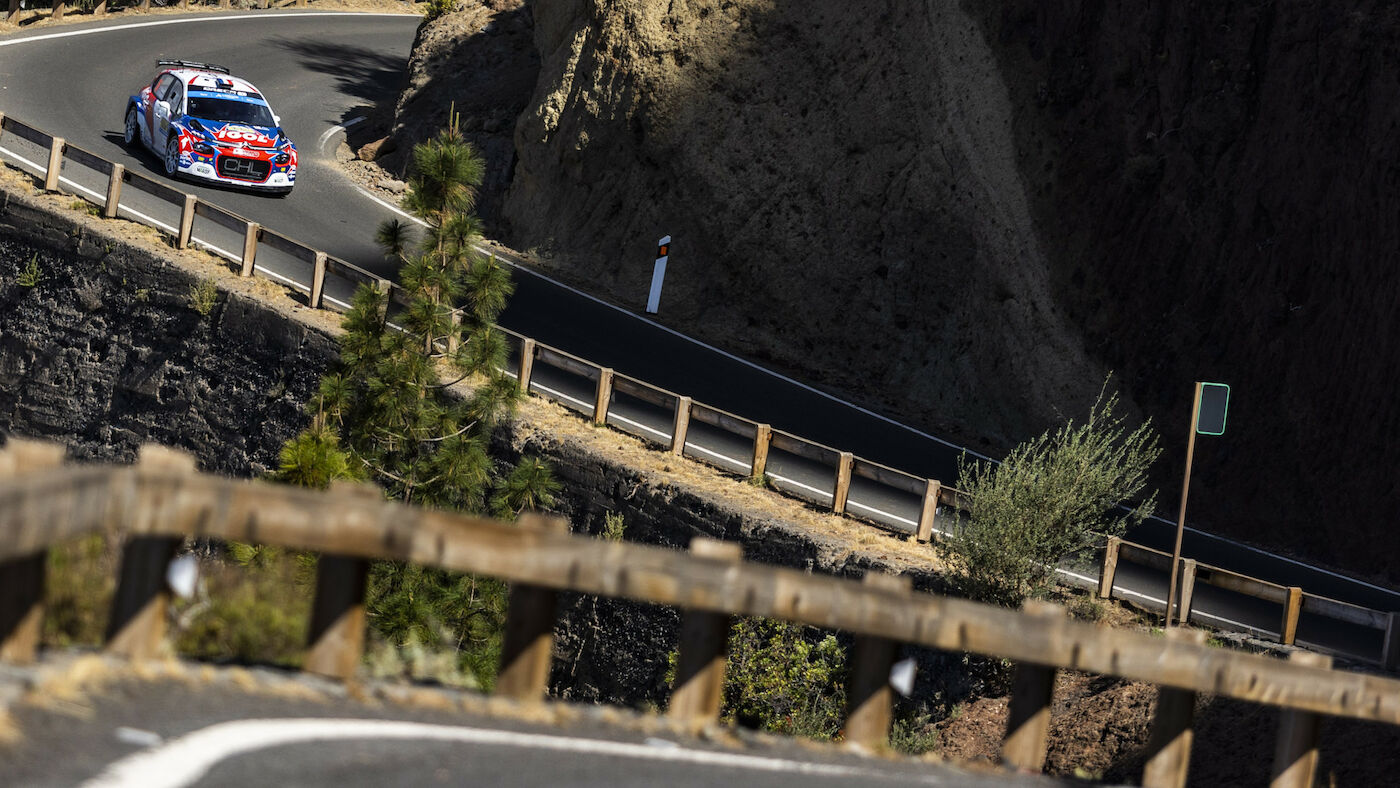 Co-driven by Benjamin Boulloud, Bonato, who scored his breakthrough ERC win on the 2022 finale in Catalunya, holds an advantage of 11.0sec over Hayden Paddon after he went fastest four times during the day.
"I definitely love my wife but I also love my tyres and my car," Bonato said. "It's a really perfect day, the car and the tyres are perfect, the driver and co-driver are not so bad, we did a good day except for the first stage this morning in the wet conditions. We are happy, a bit surprised but I have to continue like this, that's the most important thing."
Behind second-placed FIA European Rally Championship leader Paddon, Efrén Llarena is third followed by Andrea Nucita and Javier Pardo, with Iván Ares just 0.1sec down on Pardo after the Spanish Hyundai drivers swapped position on SS7.
Mathieu Franceschi is just 2.0sec behind Ares on his Rally Islas Canarias debut with Diego Ruiloba next up. Simone Campedelli is 1.0sec down on the ERC rookie in ninth followed by Andrea Mabellini, who just 0.3sec behind his fellow Italian following a strong showing on his first ERC outing on asphalt in a Rally2 car.
After the ERC went indoors – quite literally – during Thursday night's Las Palmas de Gran Canaria super special stage held in and around the Gran Canaria Arena, crews embarked on Friday's opening run, Gáldar, which had been made even more challenging by light rain and a notably damp road surface.
However, with the road drying quickly, drivers running further down the order were able to profit from better grip and more stable conditions. And while the majority opted for hard compound tyres only in anticipation of the rising ambient and ground temperature, some elected to carry a pair of softs to help them through the slippery sections on the 14.95-kilometre run.
Defending champion Efrén Llarena (Team MRF Tyres), starting 22nd following his Qualifying Stage crash on Thursday, was one of several drivers to profit from his lowly road position by going fastest of the ERC contenders on SS2 at the wheel of a his Škoda Fabia RS Rally2.
"I pushed like hell in the first one," said the European champion. "It was slippery with some damp conditions, the road for sure was a bit drier for us but we were faster than the people close to us."
Third fastest on SS3, Llarena led heading to service at the Estadio Gran Canaria when a 10sec penalty was applied after the Spaniard was adjudged to have failed to follow the full route on Thursday's super special.
More time lost due to low tyre pressures waiting to start the delayed SS4 meant he was fourth overall after stage five, which became third when he demoted Andrea Nucita, who struggled for pace on the opening round in Fafe but was inspired this morning, despite reporting a bout of understeer.
In contrast to Llarena, Paddon's starting position of fifth in his Pirelli-shod Hyundai made for a more slippery SS2 and the New Zealander reported a major loss of confidence after being caught out on a damp section. After working to dial out understeer at service, Paddon was third quickest on SS7 and quickest of all on SS8, a performance he credited to sound tyre management in the rising temperatures.
Despite nudging a barrier, Javier Pardo completed day one 0.1sec ahead of Iván Ares in fifth. Simone Campedelli, who reported a vibration caused by a loose bolt on stages two and three, set a sequence of top-five stage times and is ninth overnight for Team MRF Tyres behind Mathieu Franceschi and Diego Ruiloba. Andrea Mabellini completes the top 10 ahead of ERC returnee Jan Černý and Grzegorz Grzyb.
Simon Wagner was unable to pinpoint the reason for his off-form performance, the double Austrian champion completing leg one in 16th, one place behind Filip Mareš.
Mads Østberg's bid for his first ERC win of 2023 was wrecked by a broken front-right driveshaft between stages two and three, while a heavy crash put Miklós Csomós out on SS4 and caused a temporary halt to proceedings. Fortunately, the rising Hungarian star and co-driver Attila Nagy were uninjured. Martin László was hampered by a high water temperature issue, while multiple Canary Islands champion Enrique Cruz was delayed by an unspecified mechanical problem.
Rally Islas Canarias resumes on Saturday with three repeated stages over a distance of 99.46 kilometres starting with the 8.99-kilometre Arucas test from 09:49 local time.