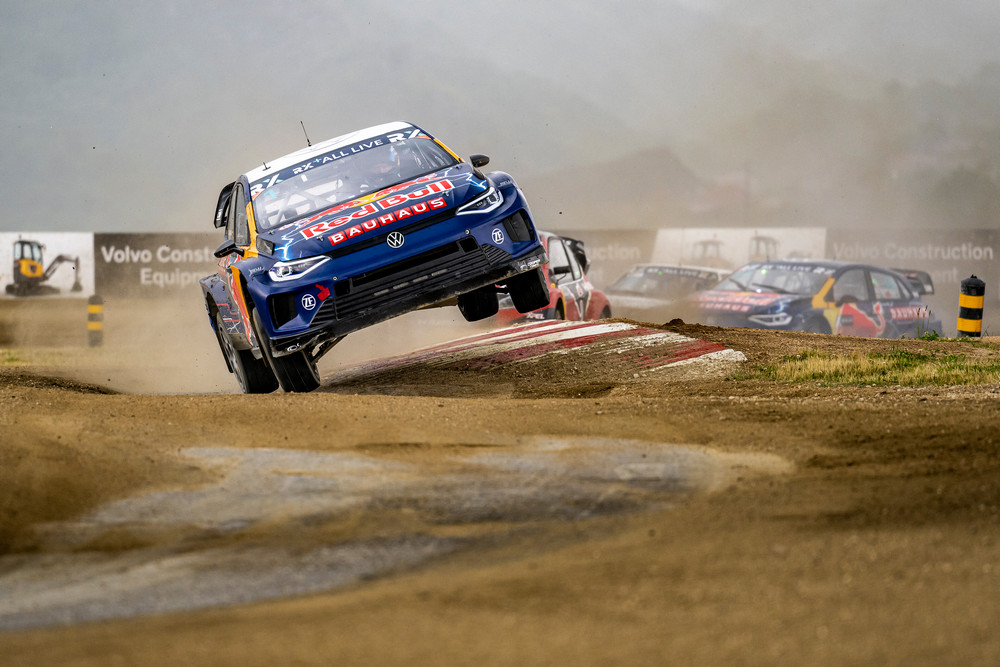 Defending champion Johan Kristoffersson launched his quest for a sixth FIA World Rallycross Championship crown in peerless fashion in Portugal, mastering mixed conditions to climb onto the highest step of the podium for the 36th time in his career.
As the second season of World RX's electric era got underway at Montalegre, Kristoffersson was imperious come rain or shine, setting the pace in all four heats to earn the top spot in the intermediate classification – and, more importantly, the accompanying three championship points.
From there, the Volkswagen Dealerteam BAUHAUS star dominated his semi-final, before staving off a fast-starting Kevin Hansen in the final and surviving a first corner attack to retain the lead.
As is so often the case when Kristoffersson is in clean air, all that his rivals would subsequently see of him was the rear of the Volkswagen RX1e disappearing ever-further into the distance, and the Swede went on to take the chequered flag just under five seconds clear of his nearest pursuer. On a weekend characterised by thunder and lightning strikes, it was a fittingly electrifying performance.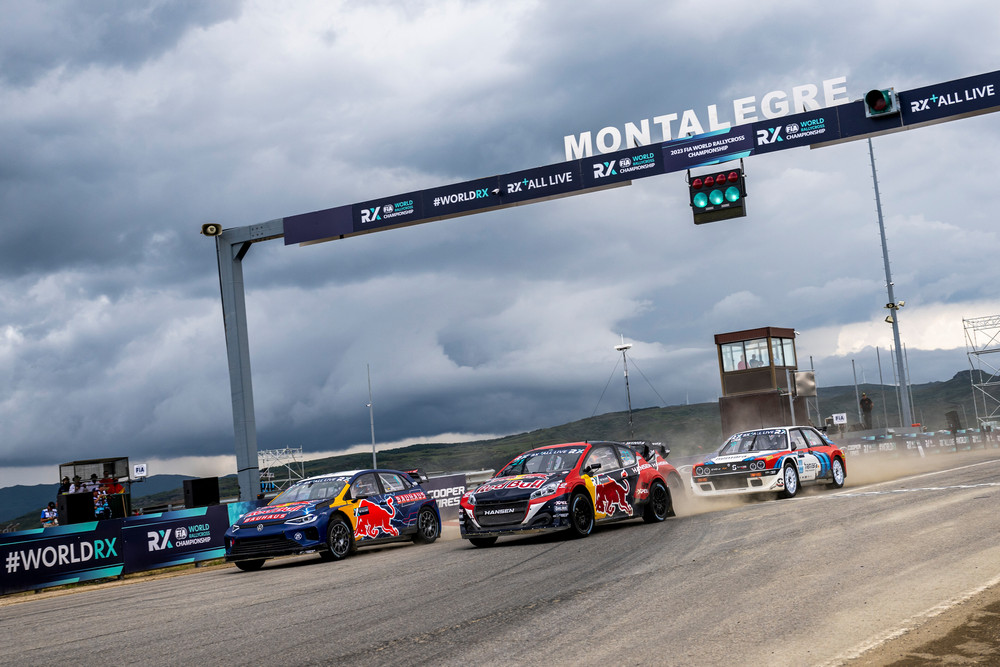 "I'm super happy," enthused Kristoffersson. "We did a good job over the winter, and to be able to show the results of that feels great. This place just keeps on surprising and to win here, you have to overcome so many challenges – just when you think you have everything under control, the weather and track conditions change again! The car was an absolute weapon throughout so big thanks to everybody in the team for making this possible."
Hansen World RX Team struggled for speed slightly on the opening day of action in Portugal, but the Swedish squad fought back on Sunday and ultimately, it was Kevin Hansen who scooped the runner-up spoils behind the wheel of his Peugeot 208 RX1e. The 25-year-old had to contend with a puncture on the last lap – obliging him to get his elbows out to fend off a feisty Niclas Grönholm as he exited the joker.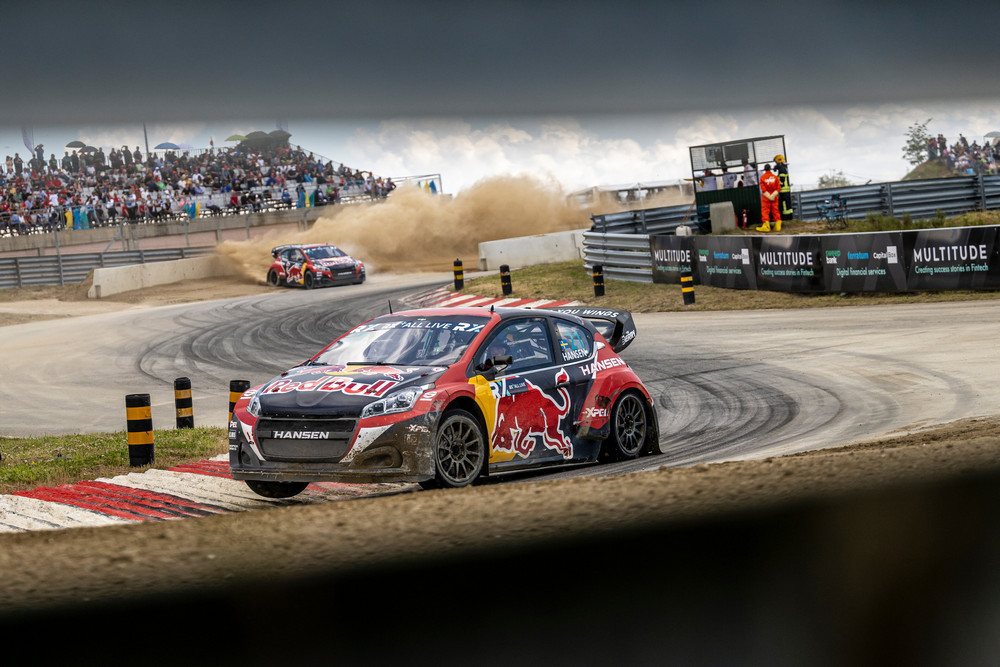 CE Dealer Team by Volvo Construction Equipment similarly showed improved pace on day two, with Grönholm at times Kristoffersson's closest competitor. After finding himself forced wide at the beginning of the final, an early joker strategy paid dividends for the Finn, who duly ascended the rostrum at Montalegre for the third season in a row.
Kristoffersson's team-mate Ole Christian Veiby finished fourth at the end of a solid if unspectacular weekend, with Klara Andersson displaying strong pace on her way to fifth at the scene of her history-making podium appearance last September. Nine-time FIA World Rally Champion Sébastien Loeb slipped to sixth after picking up a puncture, as the returning Frenchman delighted fans with his all-out approach in Special ONE Racing's evocative Lancia Delta Evo-e RX.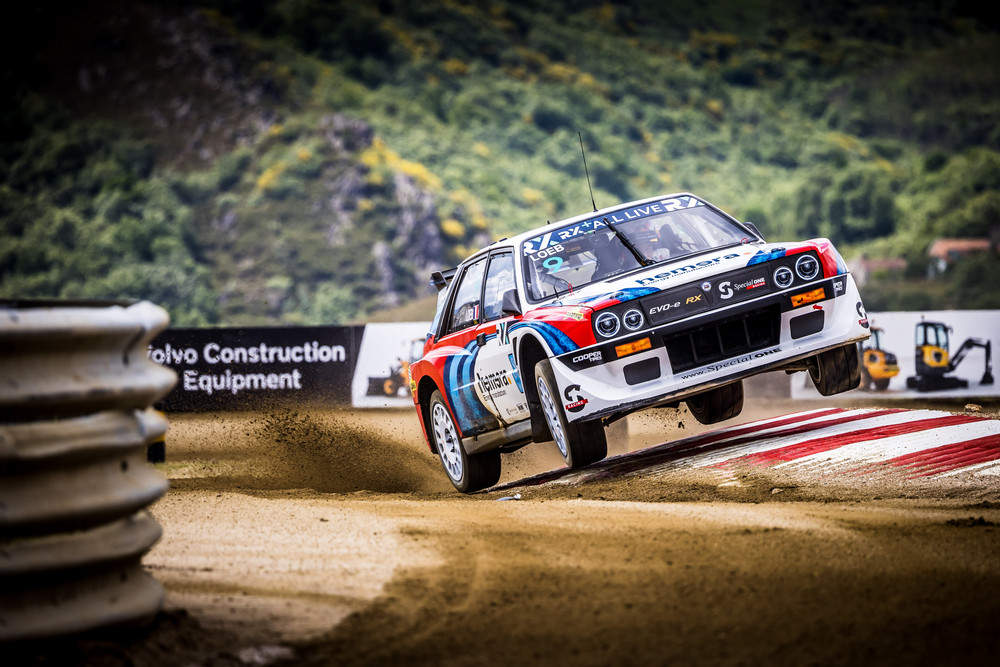 Amongst the leading protagonists, it was Timmy Hansen who missed out most. The 2019 world champion saw his bid unravel on the last lap of the second semi-final, when slight contact with team-mate Kevin Hansen sent the Peugeot into a spin that subsequently also collected the Volkswagen of Gustav Bergström.
The season continues on 17-18 June with a full bill of racing in Hell, Norway, featuring World RX, Euro RX1, Euro RX3 and the opening round of the 2023 RX2e campaign.
FINAL RESULT: WORLD RX
1. Johan KRISTOFFERSSON (SWE) Volkswagen Dealerteam BAUHAUS 5 laps
2. Kevin HANSEN (SWE) Hansen World RX Team + 4.728s
3. Niclas GRÖNHOLM (FIN) CE Dealer Team by Volvo Construction Equipment + 4.907s
4. Ole Christian VEIBY (NOR) Volkswagen Dealerteam BAUHAUS + 5.373s
5. Klara ANDERSSON (SWE) CE Dealer Team by Volvo Construction Equipment  + 6.655s
6. Sébastien LOEB (FRA) Special ONE Racing + 8.884s
Full results for all categories can be found here.