The Conxion Omloop van Vlaanderen had been going rather well for Paul Liater in his leading Historic Opel Mantra; for Bert Coene in his Evo X; and for the Porsche of Delplace.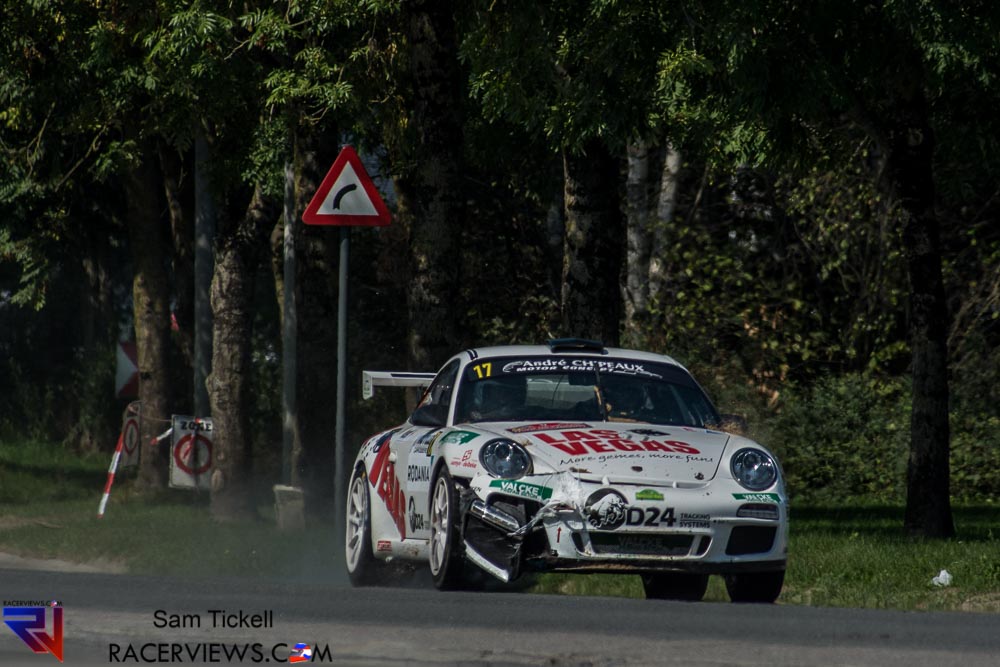 But a spectacular chain of events would spell the end of the rally for the three entries and one corner on the spectator SS of Zoning 2 would cost them dear.
Delplace would hit a sandbag on the entry to a tricky chicane, leading into a tight roundabout right outside the spectator area. He would suffer damage to the front of his Porsche but importantly, he dragged a lot of sand out for the next two competitors – Liatier and Coene.
With this stage, all three were on at the same time, with very small gaps in-between.
Liatier came across the sand first and lost the rear. He looked to have saved it but eventually momentum got the better of him and he spun into a concrete block on the outside. He was able to limp on for about another kilometre before retiring. During this, he also dropped a little fluid that had to be cleaned.
Then it was Coene in the Evo – he lost it a little more comprehensively and put the back passenger door into the same concrete block. Fortunately all were ok but the stage had to be cancelled and these three had to retire.
A lot of work has been undertaken by the officials to clean the stage of the sand and fluids. Alterations have been made to the concrete block area as well to help mitigate that risk.
The chicane has also been replaced. Gone is the sand and given that hay cannot be used here due to fire department rules, they have created a chicane out of old clothes. The clothes have been bailed and put in place for a handy solution.
At the front of the rally though it remains a fight between Kris Princen/Bram Eelbode and Vincent Verschueren/Veronique Hostens. Princen holds a slender 6.0 second lead after SS11.
Monnens/Delorge hold an even tighter 5.6 second lead over Snijers/Thierle and Pyke/Mourisse lead in the Junior category.
The RacerViews info
By Sam Tickell, September 2018
RacerViews was established in 2011 and with the aim of delivering a new web experience to motorsport fans. We bring you more than just the news. Our exclusive interview and galleries brings you the views from the track, from the racers. Our extensive race review collection allows you to keep up with the action from around the world. The team of passionate pros have decades of experience in the motorsport field. Our social media presence on Facebook, Twitter and YouTube bring you more, a holistic experience. We have more than 3100 followers on Twitter and more than 2 million views on Google Plus. Our mission is to bring exclusive content is in safe hands.
This year we have full season commitments to cover the FIA WEC, British GT, Belgian Rally Championship and Laguna Seca. You will also find us at Blancpain GT, Supercars, IMSA, WorldSBK and more.
Our commitment to motorsport can be seen with unrivalled coverage of the Queensland Rally Championship. Additionally, over the time we have partnered with motorsport teams like Ben Gersekowski, Andreas Wirth, Stig Richards Motorsport, One of a Kind Motorsport, Dark Horse Racing, Nat Rallysport and MRT Performance in order to give you the best exclusive motorsport coverage.
If you have a motorsport story to share contact us!