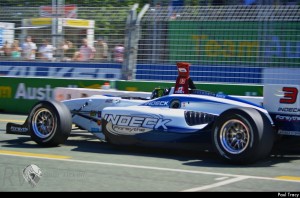 Paul Tracy: Champ Car veteran with over 235 starts, 30 wins, 69 podiums and 1 championship.
Currently with Indeck Forsythe Racing, he has competed with some of American Open Wheel Racings biggest names, including Penske, Newman/Haas and Team Green.
Tracy also seems to attract controversy from last year with his altercations with Sebastien Bourdais and Alex Tagliani, his 'runner up' spot at the 2002 Indy 500 and altercations with team managers and series officials.
Love him or hate him, Tracy is always entertaining.
But Tracy has not had a fantastic year with mid field results becoming the norm. At Surfers Paradise, however he proved that he still has it with the second quickest time over the weekend so far.
With Oriol Servia being guaranteed a front row qualifying spot after setting the quickest time in qualifying one, Tracy will start on the second row of the grid.
But there is more to Paul Tracy than the racing driver.
He has a diverse collection of motorbikes including three Ron Simms Harley Davidson motorcycles, dirt bikes and mountain bikes. He also loves go karts, having his own line of 125cc shifter karts.
I was able to sit down with Paul Tracy today at the Lexmark Indy 300 to discover a little more about this Champ Car veteran:
Would you like to tell our readers a little about your bikes and karts and any new additions?
Paul Tracy: I've gotten into off-road racing lately – dune buggies, trophy trucks, doing some desert racing, some close course and short course racing – they call it 'Championship Off Road Racing', kind of like a Trophy Truck with moto-cross style jumps and corners. I did a race three weeks ago in one of those, which was a lot of fun. Just some stuff for fun – you know…
I have a great girl from Canada, which is where I am from – she is just a fantastic woman. We have a great relationship
I know you are a fan of the Playstation – you had, I believe three at one time, have you upgraded to the Playstation 3 yet?
Paul Tracy: I have an Xbox 360, I am not playing so much games any more. All the new young guys now have these simulators, computers and driving simulators and all that kind of stuff – I'm just not that good at it, so. There was a time in my younger days, my mid-to-late twenties, where I used to play a lot of video games but I think I have kind of out grown it.
You got married last year, how is that going for you?
Paul Tracy: I have a great girl from Canada, which is where I am from – she is just a fantastic woman. We have a great relationship – she goes with me to almost all the races. I have a couple of kids and she has a couple of kids so we kind of have an adopted big family which is a lot of fun.
Will we see you out again in your wrestling costume – just as a bit of fun?
Paul Tracy: There is no reason to get it out now, I am not in any controversy with anyone! Hopefully tomorrow we can be a factor in the race. Starting next to Bourdais, like I said in the press conference (see separate story), he has everything to lose and nothing to gain by getting in a fight with me at the start. I am here trying to win the race. I am not racing for points, so hopefully we can get a win tomorrow.
You injured you back in a round earlier this year, how is that healing up?
Paul Tracy: It's ok, I wouldn't say that it is 100%. I still have a little bit of nerve problems, almost like a slipped disk or a cyatic nerve that runs down my back and in my leg. It doesn't bother me really when I am in the car but it kind of bothers me when I am out of the car, training or trying to lift weights, cycling – I can't really get bent over. I am not as flexible as I used to be because of the damage I had to my lower back. That makes it a little uncomfortable and makes it tougher to get good quality training in. We will give it a rest here after the next race and get some therapy over the winter which we don't really have time to do now and get into some good physiotherapy over the next couple of months and get back to 100% for next year.
At this level to run up the front, the pressure is right up there – pretty mega, so off road stuff and doing Dakar, is just a fun thing to do.
Beyond you Champ Car World Series career, would you look at doing something like the Baja 1000, Dakar, Pikes Peak, something like that?
Paul Tracy: Yeah, I would like to do that – it's a totally different world – the off road racing – it's a lot of fun and it's a lot less pressure and a lot less high strung than racing open wheel cars whether it be Formula 1 or Champ Car. At this level to run up the front, the pressure is right up there – pretty mega, so off road stuff and doing Dakar, is just a fun thing to do.
Looking to next year, you will back with Forsythe?
Paul Tracy: Yes, I have four more years on my contract. Last year, I signed a five year contract and it really just set a timetable. I had options to go either into NASCAR or stay in Champ Car and decided that this is what I love to do. I have done all kinds of other forms of racing and driving and this is my favourite thing so I kind of set a time table of when I wanted to stop and we will see how it goes.
Thank you very much Paul and good luck for Sunday.
Interview and article by Sam Tickell on 20 October 2007