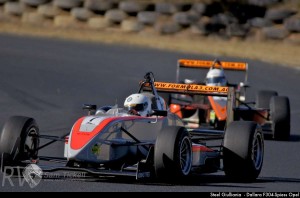 Steel Guiliana is a young driver battling in the Australian Formula 3 Championship.  He races in the National class in his Dallara F304-Spiess Opel.  We were able to catch up with Steel before he went to Sandown to continue his title fight.  We chatted about his season, his ambitions and the competition to take the Forpark Formula 3 Scholarship.
Hi Steel, thanks for joining us.  You have had a great year so far and in a great class Championship battle with Ben Gersekowski.  Can you take us through some of your highlights?
I think the biggest highlight would have been the last round.  Things have been going well from minute one there.  As you may know, Ben and I have been trading places with each other at every event.  Going into Morgan Park, I knew it would be one of the toughest as I know he had done a lot of laps around there.   I think the real turning point in my Championship was at Morgan Park.  I knew I had to step up there and I did.  I made a little mistake on the start in race two though which pretty much cost me that race but I made up for that in race three.  That would be my biggest milestone.  I know I can only get better from here.  I knew Ben would be strong there and going into the rest of the season where he hasn't had as many laps, the advantage will come back to me.
Given the tight title battle, how do you approach the rest of the season?
I will keep up with my fitness – I have found out from racing in other categories that is a big thing.  I have been working on the Playstation to learn the tracks – you can get an F3 around Sandown.  That is pretty much all I can do.
I have also started to get into V8 coaching.  I will start to do that where they go to Eastern Creek and other tracks.  If I do come back next year that will definitely come in handy.  Apart from that, I haven't done any real laps on the track.  The only real preparation I can do is to know which way the track goes, what gears to run in the first practice session.
There is also the Forpark Australia F3 Scholarship up for grabs too – what would winning that mean for your career?

Any scholarship is a big thing for a junior driver with a limited budget coming through.  It is great that Forpark to get involved like this.  It is great to get their brand out there and it would mean a lot to me.  At the moment we are doing the rest of the season on a shoestring budget.  We can't get out to do any in season testing either.  To get the scholarship and be with a company like Forpark would be incredible.  It would be a big help, not only to compete during the year but to also get my name out by being affiliated with them.  The possibility of doing in season testing would help a lot too.
Why did you choose to race in Australian F3?
I have always wanted to go overseas but at the moment I don't have the biggest budget and so was looking for the best alternative.  I have raced Formula BMW in 2009 and I think the progression after that is Formula 3.  I have been speaking to Ian Richards for a while and thought it was a good concept.  I had seen it on TV but until you actually get into the car you are not sure what the Championship will be like.  I am glad that I have taken the chance as it is a really good series and I am with a really good team.  They have been welcoming and given me time to develop.  They haven't forced me to do what the more experienced guys are doing and they have been a really big help to my career.  I am looking forward to the rest of the season and hoping to do it again next year.
As you said, it is expensive to go motor racing – how do you support your racing career?
I work with my father.  We have a solar panel company (I am driving to work now!) and we install solar panels.  I've had opportunities to help him out – and I'd rather help my dad out than let someone else help him out so it works for the both of us.  I finished school in 2009 so I am not looking for an apprenticeship, as I want to be a racing car driver.  There is always something I can fall back on and that is what I have been doing and it is how I have been able to afford the season.  There have been a few others here and there with a few grand, which has helped a lot.  The major money has come from us and we are always looking for more sponsors.  Now that I know I will be doing F3 for the remainder of the year, we can look at getting more sponsors on board.  At the start of the season we didn't know what we were doing so it was difficult to plan the sponsorship,.   I hope we can get someone on board shortly.
I think the real turning point in my Championship was at Morgan Park.  I knew I had to step up there and I did.
Finally, looking longer term, what are your aims for your future career?
My aim has always been to get to Formula 1 and be the World Champion.  I understand some dreams don't come true but that is what it is.  I believe that I have the abliltiy to get there but there are a lot of other things that need to happen – like sponsorship and opportunity.  We are still working on that.  We also might have a few deals for next year or the year after.  That is the dream though and I think I have the ability to get there.
Thanks for your time, much appreciated.
Thanks.
Interview and article (c) Sam Tickell, September 2011