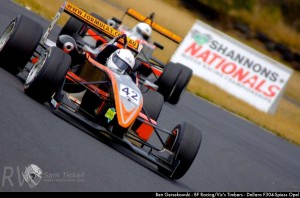 Ben is a young Australian driver trying to make his way up the ladder in the F3 Australian Drivers Championship.  Like most young drivers money is tight and work commitments can take precedence over racing.  This weekend Ben is racing at Eastern Creek and in a tight class title with Steel Guiliana.  We caught up with Ben on his way to the track.
Hi Ben, thanks for joining me.  You have had a great year so far and you're in a tight battle with Steel Giulliania for the National Class Championship.  What have some of your highlights been this year?
It would definitely been at the first round at Winton.  The third lap in the clutch went and I had to put round, take it real slow and so I finished last.  For race two, I managed to come back and pass them all and take the win – that was pretty memorable.
In Darwin, it was a great memory.  It was good fun, I had some great battles with Steel and the others too.   Really, I have enjoyed the whole season to date.
You have Sandown this weekend – how will you tackle that race and the rest of the season given the title battle?
I have had to  miss practice this weekend due to work commitments so I will go straight into qualifying.  The tactics will be to take it easy for the first half of qualifying to get used to the car and the track again and then do my best to see what happens.  For the race, you never know what can happen.
There is also the question of the Forpack F3 scholarship.  What would winning that scholarship mean for your career?
It would undoubtedly be a great boost.  The $50 000 for next year – to have that support for next year would be unreal.  Also to drive the 2007 cars would be great as they are Australia's premier open wheel cars and they are internationally recognized, to be a part of that would be fantastic.
As young drivers go through, they pick different routes – why did you choose to race Formula 3?
I chose Formula 3 instead of Formula Ford or any other category as we think the more time with the F3 the more time I get to learn aerodynamics and slicks the better.  My dream is to race in Indycar and we figure to have more time in F3 will help me prepare for the open wheeler cars in the USA.  Myself and my dad really enjoy the look of these cars and they are really enjoyable to drive.
Your dream is to go to the States, do you have a timeframe and plan to achieve that?
Yes.  At the moment, I am completing an apprenticeship.  I plan to stick out the four years of the apprenticeship in F3 and once I finish the trade I will look at my options.  In four years I will look at whether to go to America or stay in Australia.  The plan though is to have the apprenticeship behind me incase the dream doesn't work out.
My dream is to race in Indycar and we figure to have more time in F3 will help me prepare for the open wheeler cars in the USA
Undoubtedly going motor racing is expensive – how do you as a young driver fund your career?
Looking for sponsors is really hard and we haven't been successful yet.  What my dad has done – he owns a sawmill at Cecil Plains and he will use this as his advertising instead of TV ads or homeshows – this will be his advertising.
Finally, the last round at Morgan Park didn't go so well with a DNS in race three.  How do you go into this round considering that and that you missed practice?
Just to try my best.  I don't go to race meetings with expectations.  I always go to win but I try my best and I have fun and whatever happens, happens.  As me and my dad say, winning in just a bonus.  I am looking to gain  more learning experience and have a fun weekend.
Thank-you very much Ben and best of luck.
Thanks
Article and interview (c) Sam Tickell, September 2011