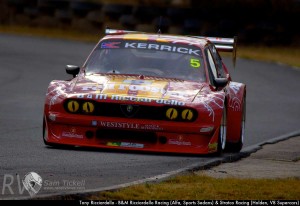 Tony Ricciardello is an enigma in Australian motorsport.  A massively successful Sports Sedans driver, he has never really received the kudos or futher career opportunity that usually comes with seven career titles.
Particularly as his 2011 title came, like the rest of his titles in a Chev powered 19 year old Alfa Romeo Alfetta GTV.
The West Australian driver did have a shot at V8 Supercars, competing full time in 2010 – for the mid field Kelly outfit.  As Tony explains, it was a difficult year.
"Look – it was definitely enjoyable doing it.  The results didn't go the way we anticipated and wanted them to go. "
"Unless you are in a top 10 car, you aren't really going to have much success in V8s.  A good example is Warren Luff, in the Jim Beam car is was in the top 5 in the enduros but in a car that is struggling a little bit, he is at the back of the grid and a couple seconds off the pace everywhere he goes."
"As much as it is disappointing, I know if I did jump into a good car, the results would have been different.  We have to forget about the past and concentrate on the future, look at what we are doing and proud of what we are achieving."
Concentrating on the future saw Tony finish on the podium in each race he competed in, in 2011 – winning 10 out of a possible 15 races.
He set lap records at many circuits, in a car that is often times quicker than a V8 Supercar.
Sports Sedans in Australia are much like a Trans Am car in the States – they are built for power and speed.
The Alfa however, is keenly quick on tight racetracks despite being powered by a six litre Chevrolet engine.
"Yeah [Morgan Park] is very tight and very bumpy and if anything this car suits that kind of track because the way the car puts the power down is very, very good.  On a tight track, it is brake, turn and get on the power, so it is a good track for us to race at."
Team Manager Basil Ricciardello explained further to Racer Views – "The car is short wheelbase and the track is very bumpy.  If it wasn't bumpy here we'd be a lot quicker.  The power to weight is very good, we have a good motor and a good driver."
It is somewhat unexpected that a car like this suits a tight track more than a fast flowing track, that does suit some of the longer wheelbase cars like the Saab or Audi bodied cars.  Tony, however can take the fight to the field at those tracks too.
"Phillip Island probably doesn't suit our car as much as say the Audi.  At Eastern Creek though we showed a short wheel base car on a fast flowing circuit that we could still win and break the lap record."
[mudslide:picasa,0,racerviewsphotos,5673950026637948257,512,center]
Unless a better offer comes through, Tony will continue to race the now legendary Alfa in Sports Sedans.  Some say that a new car should be one the cards.
Tony disagrees.
"This year though we have stepped up and our times have proven that.  The competition has probably found it difficult to keep back the Alfa.  We are pretty proud of what we are achieving.  The car is 19 years old!  Some say we should get a new car but maybe you need to start beating us first!"
 Article and interviews (c) Sam Tickell.  August and November 2011