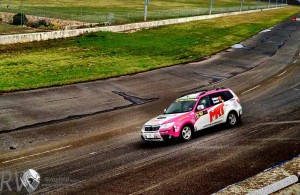 Click here to download the Brett Middleton interview (right click and 'save as')
Click here to subscribe to RacerViews iTunes channel
We caught up with MRT Performance's Brett Middleton after the debut rally of the Subaru Forester at Rally Calder.
Brett talks about rallying a new car – and in partiuclar the challenges with driving a turbo diesel.
We also discuss the strengths and weaknesses of the car – which gives an interesting insight into the differences in the cars and the differences in rally stages and how the compromises drivers make in rallying.  We also talk Rally Calder as an event and look forward to the QUIT Forrest Rally coming up in Perth.
For more information on Rally Calder and MRT Performance's rally, see MRT takes maximum points in ECB Australian SUV Rally Championship  and the Australian Rally Championship's news section.
Videos from Rally Calder
httpv://youtu.be/86AKZ8O7zeY
httpv://youtu.be/qqmbugCrhSU
httpv://youtu.be/e2fIufXqS-w
—
Interview by Sam Tickell, March 2012
RacerViews was established in 2011 and with the aim of delivering a new web experience to motorsport fans.  We bring exclusive interviews and photos from motorsports finest drivers of yesterday, today and tomorrow.  Our team has over 30 years of experience in the motorsport field.  With a heavy presence on Facebook, Twitter and iTunes where we have over 2800 followers,  our mission to bring exclusive content is in safe hands.  We have partnered with motorsport teams like Stig Richards Motorsport, One of a Kind Motorsport, Dark Horse Racing and MRT Performance in order to give you the best exclusive motorsport coverage.
We are always looking for new people to join our team.  If you are a motorsports photographer or journalist looking for additional exposure or a great place to learn your trade, contact us