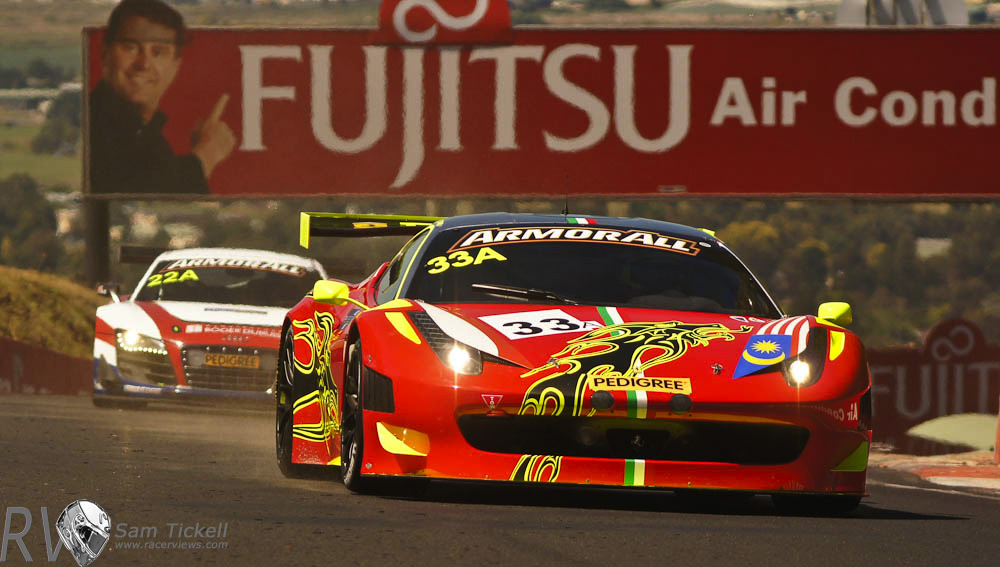 Earlier this year, we were able to catch up with New Zealand's Craig Baird as he competed at the Armor All Bathurst 12 Hours.
Racing with the Malaysian Clearwater Racing team  in a Ferrari 458 GT3, Baird had jumped in a Ferrari – a different cockpit to his normal Porsche.  At the Bathurst 12 Hours, there is a qualifying time that you are not to break – if you do break it, you get an automatic ballast penalty.  Baird was the only driver to break it – and only did it due the the unfamiliarity of the Ferrari cockpit.
Baird has won over 20 motorport titles in his native New Zealand and an additional two in Australia.  He has also competed in the BTCC for Ford and in the V8 Supercars Championship,  Craig's dry sense of humour has made him an ideal TV anchor, a role which does with Channel 10 in Australia.
Over his career, Baird has competed in over  700 races, winning more than 160 of them.  Baird was awarded the New Zealand Order of Merit in 2010 for his services to motorsport and in 2008, he was the winningist driver in the world in professional motorsport.
For a true idea of his career in motorsport, see his Motorsport DB profile.
Click here to download the interview with Craig Baird  (right click and 'save as')
Click here to subscribe to RacerViews iTunes channel
—
Interview by Sam Tickell, March 2012
RacerViews was established in 2011 and with the aim of delivering a new web experience to motorsport fans.  We bring exclusive interviews and photos from motorsports finest drivers of yesterday, today and tomorrow.  Our team of photographers, writers and driver has decades of experience in the motorsport field.  With a heavy presence on Facebook,  iTunes , Pinterest and Twitter where we have over 2900 followers,  our mission to bring exclusive content is in safe hands.  We have partnered with motorsport teams like Stig Richards Motorsport, One of a Kind Motorsport, Dark Horse Racing, Andreas Wirth Racing and MRT Performance in order to give you the best exclusive motorsport coverage.
We are always looking for new people to join our team.  If you are a motorsports photographer or journalist looking for additional exposure or a great place to learn your trade, contact us