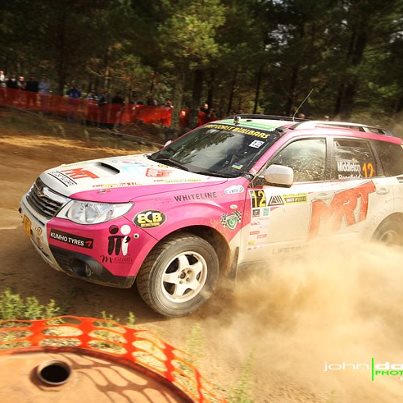 Rally cars will make a surprise appearance at the Rolex Australian Formula 1 Grand Prix as SUV rally champions of 2012 the team of Brett Middleton and Andrew Benefield will drive their MRT Subaru Forester turbo Diesel rally car around the Albert Park rack this Sunday at 11.30.
Combined with all other CAMS champions, the team will stand out with their bright pink Subaru featuring the McGrath Foundation colors!
"It's a unique opportunity to show how fast a Subaru Diesel can lap the F1 track," Brett said.  'However the strict parade 60 km/h speed limit will stop us making those little f1 engine cars look slow!"
The MRT Subaru has over 430 Nm of torque – an interesting statistic when you consider that an F1 car only has 377.
The 2 litre engine of the Subaru is tuned by Sydney Subaru specialists MRT performance and has a stock standard engine, with a factory ECU tuned using EcuteK software.
It has 40% more Torque than the standard Subaru Outback or Forester turbo diesel.
The car has Running 30 psi of boost the car is tuned for 100% reliability and maximum performance.
The fact the car weighs over 1600 kg is interesting when a modern F1 car weighs "only" 620 kg
MRT's Forester is partnered with suspension specialists Whiteline and shocks are supplied by MCA, and designed leading rally champion Murray Coote. East coast Bullbars supply the nudge bar and Kumho the tyres.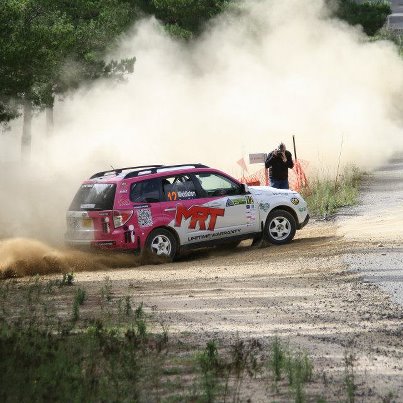 The next event for MRT is the Quit Forest Rally in Perth – taking place on some of the stages that made up Rally Australia for so many years.
"We expect a solid result in Perth as we are now on our second run through these events with the opportunity to improve our pace notes, last year we were a little rusty, but with an improved car and team, we should do well," Brett said.
The team of Brett Middleton and Andrew Benefield have been together for over 20 years and have competed and won numerous events and championships in Australia, NZ and Jamaica.
The MRT Forester showed an increase in pace at the first round of the ECB Arc 2 weeks ago in Canberra, partially due to new driveline and engine tuning mods.
—
RacerViews was established in 2011 and with the aim of delivering a new web experience to motorsport fans.  We bring exclusive interviews and photos from motorsports finest drivers of yesterday, today and tomorrow.  Our team has over 30 years of experience in the motorsport field.  With a heavy presence on Facebook, Twitter and iTunes where we have over 2800 followers,  our mission to bring exclusive content is in safe hands.  We have partnered with motorsport teams like Stig Richards Motorsport, One of a Kind Motorsport, Dark Horse Racing and MRT Performance in order to give you the best exclusive motorsport coverage.
We are always looking for new people to join our team.  If you are a motorsports photographer or journalist looking for additional exposure or a great place to learn your trade, contact us