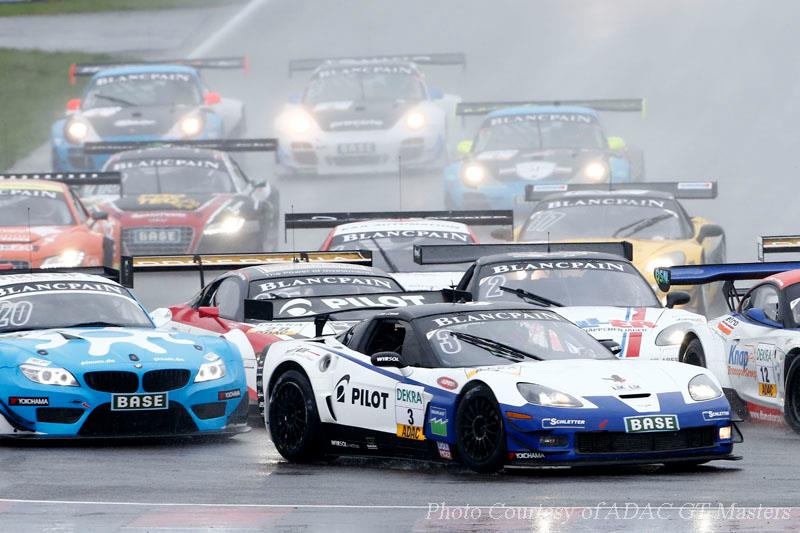 German Andreas Wirth had a disappointing opening round of the ADAC GT Masters over the weekend at Oscherselben.  Despite his quick pace, events again conspired against him and co-driver Christian Hohenadel.
We explore the weekend's events with Andreas, along with previewing the next race at Spa.  We also ask Andreas the first of our listener questions.  Patrik Würzburger via the ADAC GT Masters Facebook page, we look to explore why the Corvette doesn't have side windows, but the rest do.
Fancy some Andreas Wirth/RacerViews merchandise? 
Head here to check out our shop!
Click here to download the Andreas Wirth interview  (right click and 'save as')
Click here to subscribe to RacerViews iTunes channel
For more information on Andreas, click here
For more interviews with Andreas, click here
Andreas' race in brief
Returning to the ADAC GT Masters for his fourth full season, his second with Callaway Competition, Wirth approached this new season with new hope and a desire to put the disappointments of 2012 behind … moving forward for positive results.  Paired this year with his veteran GT co-driver, Christian Hohenadel, Wirth is rightly optimistic about the possibilities 2013 holds.
Testing earlier this month proved that Callaway's work over the off-season is paying off, and the Z06 R GT3 Corvettes turned out to be among the strongest in the field. This weekend however Wirth and Hohenadel had mixed results in the #3 asthey qualified 6th and 16th respectively for the firsttwo races of the year.
Before the weekend began, Wirth expressed but one wish … dry weather for the season opener at Oscherselben. Unfortunately not all wishes come true, and rain played its part in serving up a less than satisfying result for Saturday's race. While the rain-drenched track served up exciting racing for the fans, several teams saw more off-roading than is intended for GT cars. After having made it cleanly through the most chaotic laps of the race Wirth began pushing for a better result. After the race Wirth explained, ""It was a tough start today, we did what we could but had to play a bit safe in the rain. In the end we had nothing else for the Porsche's and Audi's in the wet – 10th place was our best. I pushed as hard aspossible today, and at one point a little too hard and spun. Unfortunately, it looks like the testing that we did last year didn't work out with the tires that we have this year – the compounds are different –  so we'll have a bit of work to do. Overall though, I guess we can be happy – we're in a better place than we were last year, and it's always good to start off with some points. Tomorrow will be tough though, and we'll have to push hard.
Despite sunny skies for Sunday's race Hohenadel and Wirth weren't able to make any great gains. During the first stint, Christian managed only to hold position mid-pack in 16th place. At the driver change Wirth was served a drive-thru penalty for leaving pit lane 4/10ths too soon. Upset by the mistake and time penalty Andreas pushed aggressively to try to make up for it. Despite running some fast laps, the best Wirth could do was 13th place. Obviously disappointed, Wirth commented, "What can I say – I'm definitely not happy – we finish 13th and our teammates take the victory. I'm happy for Danieland Diego but it would feel better if we were in their shoes. We'll take as much data from the weekend as possible and learn all we can. I really hope we can come back strong for Spa – we need to keep strong and consistent if we want to have a good result this season. I know the team will be working hard over the next couple of weeks to make things right, so I just look forward to getting back out there and getting in the fight for a win."
Andreas returns to the track for the second ADAC GTMasters event in less than two weeks, May 10 – 12, as the ADAC GT Masters runs for the first time at Sap-Francorchamps in Belgium.
The ADAC GT Masters Series will bebroadcast live and full-length in 2013 on Cable 1 (Kabel1 –  www.kabeleins.de) in Germany, Austria and Switzerland, and we will do our best to provide updates throughout the race weekends via Facebook and Twitter to his fans from around the world.
—
Interview by Sam Tickell, April 2013
Picture by ADAC GT Masters
Release by Gail Shankland.
RacerViews was established in 2011 and with the aim of delivering a new web experience to motorsport fans.  We bring exclusive interviews and photos from motorsports finest drivers of yesterday, today and tomorrow.  Our team has over 30 years of experience in the motorsport field.  With a heavy presence on Facebook, Twitter and iTunes where we have over 2800 followers,  our mission to bring exclusive content is in safe hands.  We have partnered with motorsport teams like Stig Richards Motorsport, One of a Kind Motorsport, Dark Horse Racing and MRT Performance in order to give you the best exclusive motorsport coverage.
We are always looking for new people to join our team.  If you are a motorsports photographer or journalist looking for additional exposure or a great place to learn your trade, contact us