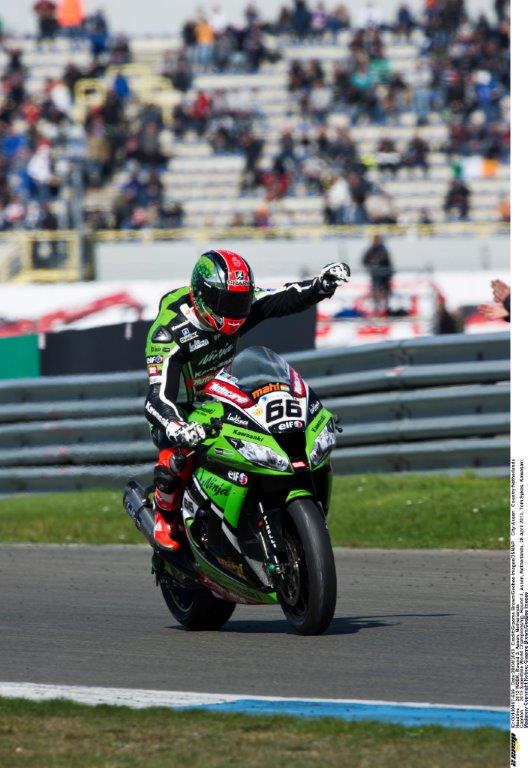 The WSBK teams headed to Assen for the TT. The fast circuit suited the Aprillia and Kawaskais, which took the wins. We took to Twitter to see what happened.
Moto GP has Marc Marquez. WSBK will have Sam Lowes – another special talent
Kenan Sofuoglu and @samlowes11 have already qualified for #WSBK Superpole with their laps. Wait, this is Supersport isn't it? Ouch!

— Jared Earle (@jearle) April 27, 2013
Though to be honest, anyone would have a hard time beating these guys on a superbike
Front row tomorrow: @therealtomsykes – @jonathanrea – @eugenelaverty #WSBK #Assen @ttcircuitassen twitter.com/Lauret46/statu…

— Lauret (@Lauret46) April 27, 2013
Some took issue with the TV presentation
#Eurosport #WSBK Neil Hodgson and James Haydon must be worst, most boring, studio guests ever used during WSBK tv coverage. #justsaying

— Bill Lindsay (@wgl50) April 28, 2013
But the racing was epic
Best #WSBK finish I've seen in years!

— Shane BC Racing (@ShaneBCRacing) April 28, 2013
Honda had a good round
Liked reading the "experts" slating the Honda then boom 2nd place lol #wsbk

— Scott Newitt (@ScottyNewitt) April 28, 2013
But no one had a better weekend than Kawasaki
Tom Sykes takes the first win of the day at Assen. #WSBK twitter.com/AfterTheFlagUK…

— After The Flag (@AfterTheFlagUK) April 28, 2013
The Brits were happy
Good to hear god save the queen on a podium celebration!!! @therealtomsykes #wsbk

— ducatidamo(@damoxx) April 28, 2013
Though the weekend came to a fiery end for the Grillini team
Klein ongeluk(je) in de Haarbocht tijdens 2e race Superbikes. Rider OK. #wsbk #ttcircuit twitter.com/JohnGalliard/s…

— John Galliard (@JohnGalliard) April 28, 2013
Photographers hunt in packs…
Veel pers bij de #wsbk maar live op TV ho maar! twitter.com/JJB_Krabbenbor…

— Joris Krabbenborg (@JJB_Krabbenborg) April 28, 2013
And the Assen circuit is just great. I do hope they don't try to 'improve' it again
Watching world superbikes replay from the 'cathedral of speed' – #Assen. #BritishEurosport #WSBK

— Mosh Waza (@moshwaza) April 28, 2013
For those without a catchup TV option, here are the highlights of the three races…
YouTubeで「2013 FIM Superbike World Championship – Asssen (NED)」を見ませんか youtube.com/watch?v=QL1oei…

— ほろよか(bo ld'or勝利記念) (@horoyoka) April 29, 2013
—
Compiled by Sam Tickell, May 2013
RacerViews was established in 2011 and with the aim of delivering a new web experience to motorsport fans. We bring exclusive interviews and photos from motorsports finest drivers of yesterday, today and tomorrow. Our team has over 30 years of experience in the motorsport field. With a heavy presence on Facebook, Twitter and iTunes where we have over 2800 followers, our mission to bring exclusive content is in safe hands. We have partnered with motorsport teams like Stig Richards Motorsport, One of a Kind Motorsport, Dark Horse Racing and MRT Performance in order to give you the best exclusive motorsport coverage.
We are always looking for new people to join our team. If you are a motorsports photographer or journalist looking for additional exposure or a great place to learn your trade, contact us