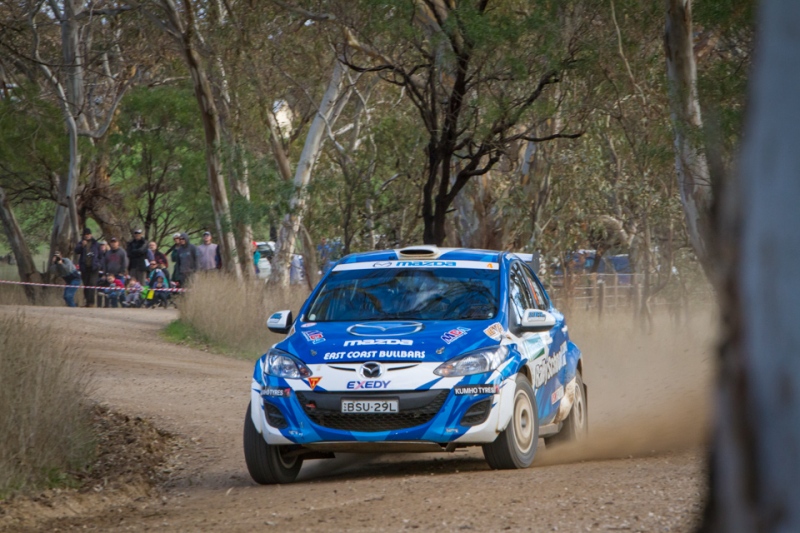 After finishing third in  Heat 1 of Scouts Rally SA, round 3 of the ECB Australian Rally Championship, Victorians Brendan Reeves and Rhianon Smyth backed that up with a second third place in heat 2.  We catch up with the Mazda pair.
Brendan Reeves is Australia's top young international rally driver.  At 23 years of age he completed his first season in the World Rally Championship Academy in 2011 finishing an impressive 5th outright. Brendan and his co-driving sister Rhianon Smyth, 31, contested the WRC Academy again in 2012, finishing fourth outright and securing a number of podium finishes along the way.
In 2013, Brendan and Rhianon will contest the ECB Australian Rally Championship in a RallySchool.com.au Mazda2.
In this interview we talk to Brendan about the rally, his experience in the WRC and rallying a Mazda 2
You can find out more about the Australian Rally Championship here
You can find out more about Brendan here
Click here to download the interview with Brendan Reeves (right click and save as)
Click here to subscribe to RacerViews iTunes channel
—
Interview by Sam Tickell, May 2013, photo courtesy of Brendan Reeves
RacerViews was established in 2011 and with the aim of delivering a new web experience to motorsport fans.  We bring exclusive interviews and photos from motorsports finest drivers of yesterday, today and tomorrow.  Our team has over 30 years of experience in the motorsport field.  With a heavy presence on Facebook, Twitter and iTunes where we have over 2800 followers,  our mission to bring exclusive content is in safe hands.  We have partnered with motorsport teams like Stig Richards Motorsport, One of a Kind Motorsport, Dark Horse Racing and MRT Performance in order to give you the best exclusive motorsport coverage.
We are always looking for new people to join our team.  If you are a motorsports photographer or journalist looking for additional exposure or a great place to learn your trade, contact us