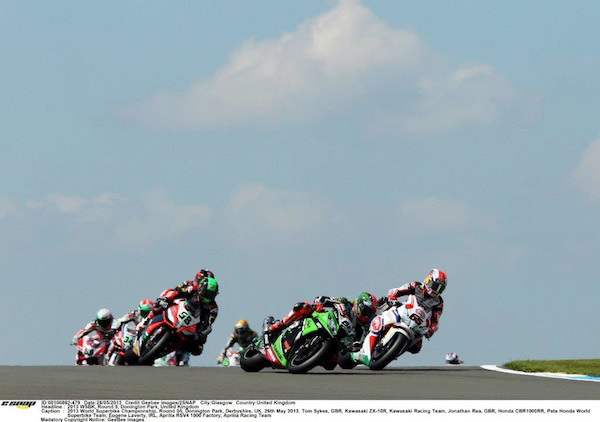 The WSBK boys and girls were at Donington over the weekend and this is how Twitter saw the action.
First off – what? An interesting media event where the riders get way too involved?
#WSBK – Didn't I say Idiots R Us? Superbike riders are a bit daft. twitter.com/mariencahuzak/…

— Nick Enghardt(@nick_enghardt) May 23, 2013
The best way to do a bike race 🙂
WAAAH! @si_fowler7 Today's Schedule. #wsbk #donington #bringhomethebrits@samlowes11 @jonathanrea @therealtomsykes twitter.com/Amy_Fowlerr/st…

— Amy Fowler (@Amy_Fowlerr) May 26, 2013
Agreed
No racing scheduled on a bank holiday should be punishable by death!!!! #WSBK #MotoGP #BSB

— Inconvenient Truth (@Tobesterr) May 27, 2013
Sykes was unbeatable – it is turning into another great championship fight with him and Guinters
Tom Sykes completes a dream weekend and does the double at Donington Park #WSBK twitter.com/PaddockSpyUK/s…

— Paddock Spy (@PaddockSpyUK) May 26, 2013
Guinters pushed hard and the Aprilia is a great machine but they didn't have this pace this weekend
Guintoli: "I pushed hard out there in the last Superpole session. I had a good feeling and I knew I could do well." #wsbk #Aprillia

— Franco Morrone (@franco_morronex) May 27, 2013
We agree, bike racers are crazy talented
Them #WSBK boys don't half know how to ride, truly amazing! I thought I was pretty handy on my #Ninja, their just on a different planet!!!

— Andrew Bucknell (@Andrew_Bucknell) May 26, 2013
This is surely proof
Michel Fabrizio @apriliaofficial #WSBK Monza 2013 twitter.com/sandrozornio/s…

— Sandro Zornio (@sandrozornio) May 28, 2013
Or this
@shoeiitalia @rewinuk @kawasaki_italia @sixssport @riders_onlinestaccaatoonaa!! #WSBK twitter.com/ANT8NELLIANDRE…

— Andrea Antonelli (@ANT8NELLIANDREA) May 28, 2013
Really any race fan that hasn't been to a WSBK race should try to get to one
#WSBK was great, met Keith Flint and nearly got run over by Marco melandri. The littleman enjoyed the planes more than the bikes haha

— Chris Rock (@_cHrisROck) May 26, 2013
But be warned, you'll be like this guy and find yourself still going a decade and a half later
found this radio from Brands 1998 my 1st time going to see legend @carlfogarty 125k fans #wsbk #stillworks twitter.com/Shananigan88/s…

— Shannon Olivia (@Shananigan88) May 26, 2013
Ridiculously pretty photo
New #apriliaracing2013 wallpaper available for the download from #wsbk #Aprilia website! bit.ly/12YgMR7 twitter.com/ApriliaOfficia…

— Aprilia (@ApriliaOfficial) May 27, 2013
And this, just because
@julescluzel16 @crescent_racing #wsbk Monza 2013 twitter.com/sandrozornio/s…

— Sandro Zornio (@sandrozornio) May 27, 2013
And if you missed the race on TV or want to relive it
I liked a @youtube video youtu.be/C0ZbCKZskc8?a [SBK] 2013 Round 5 Donington Park Race1

— Durwin Wallace (@DJDREDDI) May 28, 2013
And for those wanting a bit more detail on the race
#WSBK Tom Sykes now only 4 points behind Riders' Leader Sylvain Guintoli after #Donnington. More here: worldsbk.com/en/season/stan… #F1etc

— James Wimberley (@JamesF1etc) May 27, 2013
—
Interview by Sam Tickell, May 2013
RacerViews was established in 2011 and with the aim of delivering a new web experience to motorsport fans.  We bring exclusive interviews and photos from motorsports finest drivers of yesterday, today and tomorrow.  Our team has over 30 years of experience in the motorsport field.  With a heavy presence on Facebook, Twitter and iTunes where we have over 2800 followers,  our mission to bring exclusive content is in safe hands.  We have partnered with motorsport teams like Stig Richards Motorsport, One of a Kind Motorsport, Dark Horse Racing and MRT Performance in order to give you the best exclusive motorsport coverage.
We are always looking for new people to join our team.  If you are a motorsports photographer or journalist looking for additional exposure or a great place to learn your trade, contact us