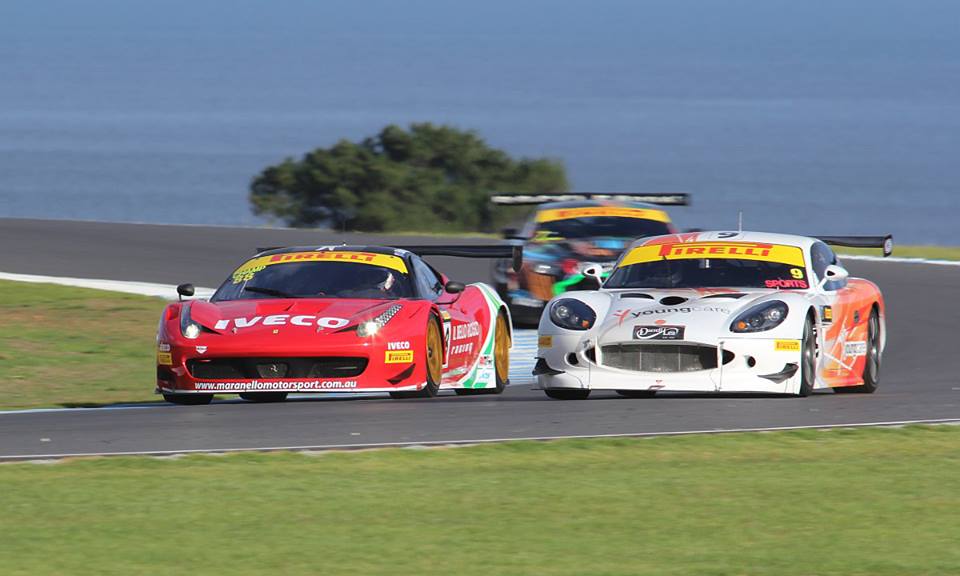 Recently we were able to catch up with John Bowe.  The Tasmanian driver has been racing in the Australian GT Championship and the Touring Car Masters over the past couple of years with great success.
Bowe who has previously won the V8 Championship and the famed Bathurst 1000 has taken the last two Touring Car Masters Championship in his 1969 Ford Mustang.  The Touring Car Masters is an Australian motor racing series open to modified touring cars manufactured between 01 January 1963 and 31 December 1976.  He is up against other legendary names such as Jim Richards and Andrew Miedecke.  So far this year Bowe has taken three wins and leads the Championship.
He has also racing with Maranello Motorsport in the Australian GT Championship alongside Peter Edwards – a gentlemen driver.  After an accident at the first round the team was forced to skip the second round.  They came back at Phillip Island with 2013 upgrades and a new paint scheme.  They took a pair of fourths to take third overall.
In this interview we chat with John about the GT round, Touring Car Masters, the talent of Jack Le Brocq and how his codriver Peter Edwards is advancing.
Click here to download the interview with John Bowe (right click and save as)
Click here to subscribe to RacerViews iTunes channel
Click here for more on John Bowe
[mudslide:picasa,0,racerviewsphotos,5883223580856411601,576,center]
John Bowe in the Touring Car Masters, photos courtesy of  Dirk Klynsmith Photography/TCM
We had a chat with John last year as well.
You can find out more about the Australian GT Championship including race results here.
To see more about the Shannons Nationals, click here
You can find out more on the Touring Car Masters here
—
Interview by Sam Tickell, May 2013, photos by Nathan Wong/Shannons Nationals & Dirk Klynsmith Photography/TCM
RacerViews was established in 2011 and with the aim of delivering a new web experience to motorsport fans.  We bring exclusive interviews and photos from motorsports finest drivers of yesterday, today and tomorrow.  Our team has over 30 years of experience in the motorsport field.  With a heavy presence on Facebook, Twitter and iTunes where we have over 2800 followers,  our mission to bring exclusive content is in safe hands.  We have partnered with motorsport teams like Stig Richards Motorsport, One of a Kind Motorsport, Dark Horse Racing and MRT Performance in order to give you the best exclusive motorsport coverage.
We are always looking for new people to join our team.  If you are a motorsports photographer or journalist looking for additional exposure or a great place to learn your trade, contact us