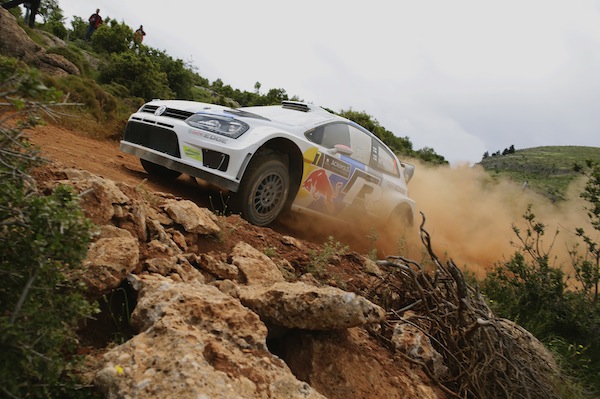 The WRC was in action at the famed Acropolis Rally in Greece last weekend. It was a rally where Ogier struggled after mechanical issues early on, and the young guys shone. We took to Twitter to find out what you thought of the Rally.
First off – this. We agree. Rallying was huge when the stages and cars were. Rally is not there to be shown live. It is there for great media, a great TV package. The current media and internet world is great for that. Though we still love what we have
#AcropolisRally RT @redleik: SS6 @acropolisrally: "Among others,rally is an adventure.Change the sprint format, now!" twitter.com/redleiK/status…

— Valmar Viisel (@paddocknews) May 31, 2013
Novikov impressed in the Fiesta – leading until a mistake put him out of contention
Evgeny is flying!!! Beautiful pic! #wrc #novikov #acropolisrally twitter.com/Moni_Maldonado…

— Moni Maldonado (@Moni_Maldonado) May 31, 2013
Sit back and enjoy
RALLY ACROPOLIS 2013 WRC PURE SOUND HD – MK2 fb.me/1W4q27v6P

— jesus deaño deaño (@DeaSuso88) June 4, 2013
It was not a great weekend for Citroen
#AcropolisRally #WRC: The best of Citroen youtube.com/watch?v=VgtULV…

— Adolfo Murrieta Glez (@adolfonline) June 5, 2013
Citroen should work with Peugeot to do what VW/Skoda have done with Mikkleson. The winner of the IRC Championship looks like a future Champ in the WRC
4th overall in @acropolisrally – the final quote … andreasmikkelsen.com/blog/4th-overa… twitter.com/AMikkelsenRall…

— Andreas Mikkelsen (@AMikkelsenRally) June 2, 2013
Nice
ACROPOLIS RALLY: There are some marvellous toggers following #WRC. Look at this!: twitter.com/justF1yna/stat… @bestofrallylive via @justf1yna

— Rallying UK (@RallyingUK) June 4, 2013
Word
Can't imagine a #WRC series without the Acropolis Rally in it, even in it's 2013 truncated form.Whilst there's no Safari the sport needs it.

— rallytravel.com (@rallytravel) June 3, 2013
If these guys got hit, it would be the fault of the Rally. The driver would undoubtedly be impacted emotionally. People like this are pure idiots. Natural selection will have its day, I just hope it is never in a motorsport event. It would be great if they grew a brain but I don't see it happening
These guys aren't too bright. Acropolis rally fans flirt with death @carmagsashar.es/wjk6g

— Sudhir Matai (@BanzaiMatai) June 5, 2013
For the first time in a while, this is true
As they say, if you want to win, hire a Finn. #AcropolisRally #Latvala @vwrallytheworld

— Valmar Viisel (@paddocknews) June 2, 2013
Latvala took his first win for VW, after taking wins for Ford in the past
#latvala #volkswagen #wrc#acropolisrally twitter.com/AlineNotario1/…

— Aline Notario (@AlineNotario1) June 5, 2013
But Citroen thought there was something else at play
@badhedgehog Volkswagen's bunnies ran on extra set of spare duracells, reports suggest. @acropolisrally

— World Rally Blog (@WorldRallyBlog) June 2, 2013
The FIA did not
ACROPOLIS RALLY: Here's what Stewards determined after meeting with @volkswagenrally and @citroenracing reps. #WRC twitter.com/RallyingUK/sta…

— Rallying UK (@RallyingUK) June 2, 2013
Kubica kept it on the road for his first WRC2 win, and a win for Citroen over the weekend
ROBERT KUBICA WINS WRC 2 CLASS RALLY ACROPOLIS 2013 fb.me/1JWtH9KYw

— Matton Yves (@MY4500) June 5, 2013
Your winners
Congrats to Latvala and Kubica! #AcropolisRally #WRC #F1 twitter.com/CrazyLeoNet/st…

— Crazy Leo (@CrazyLeoNet) June 3, 2013
For more including results, check out www.wrc.com
—
Compiled by Sam Tickell, June 2013
RacerViews was established in 2011 and with the aim of delivering a new web experience to motorsport fans. We bring exclusive interviews and photos from motorsports finest drivers of yesterday, today and tomorrow. Our team has over 30 years of experience in the motorsport field. With a heavy presence on Facebook, Twitter and iTunes where we have over 2800 followers, our mission to bring exclusive content is in safe hands. We have partnered with motorsport teams like Stig Richards Motorsport, One of a Kind Motorsport, Dark Horse Racing and MRT Performance in order to give you the best exclusive motorsport coverage.
We are always looking for new people to join our team. If you are a motorsports photographer or journalist looking for additional exposure or a great place to learn your trade, contact us