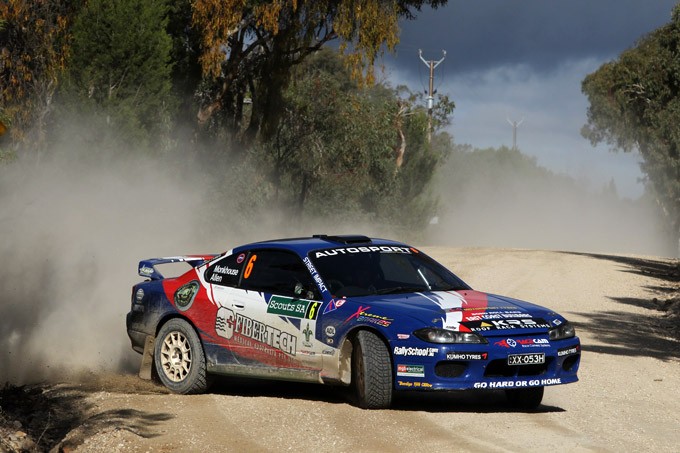 After the ECB Australian Rally Championship round at Scouts Rally SA, we were able to catch up with Jack Monkhouse, one of the most spectacular drivers in the field.
Monkhouse, who drives alongside John Allen is contesting the Championship in a rear wheel drive Nissan Silvia S15 has punched above his weight, taking stage wins and heat podiums results.  The rear wheel drive element of his car allows for the spectacular style with his sideways cornering becoming his hallmark trait – well that and his massive air over jumps.
Monkhouse hasn't always been a rally driver, having competed full time in the Australian Drift Series a few years ago.  He was also part of the Toyota Hilux stunt team for a period.  For now he is back to rallying.  Like any motorsport, it isn't cheap and he is always looking out for additional support.  If you would like to help out, head over to his Facebook page.
In this interview, we talk about his ARC campaign, rallying a Nissan Silvia, if rallying should look to a rear wheel drive formula and his future plans.
You can find out more about the Australian Rally Championship here
Click here to download the interview with Jack Monkhouse (right click and save as)
Click here to subscribe to RacerViews iTunes channel
If you need proof that Jack is spectacular, watch this video!
httpv://youtu.be/_eV_Nx7_o6o
—
Interview by Sam Tickell, May 2013, photo courtesy of ARC/Stuart Bowes
RacerViews was established in 2011 and with the aim of delivering a new web experience to motorsport fans.  We bring exclusive interviews and photos from motorsports finest drivers of yesterday, today and tomorrow.  Our team has over 30 years of experience in the motorsport field.  With a heavy presence on Facebook, Twitter and iTunes where we have over 2800 followers,  our mission to bring exclusive content is in safe hands.  We have partnered with motorsport teams like Stig Richards Motorsport, One of a Kind Motorsport, Dark Horse Racing and MRT Performance in order to give you the best exclusive motorsport coverage.
We are always looking for new people to join our team.  If you are a motorsports photographer or journalist looking for additional exposure or a great place to learn your trade, contact us