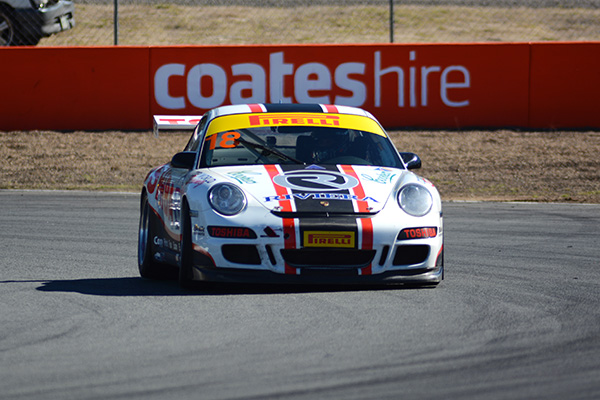 I've been around the motorsport scene for just short of a decade now, seen a great variety of cars and bikes race and rally.  Interviewed some of the biggest names, had a great time along the way.  But I'd never been in a racecar doing what a race car does.  Go fast – and more importantly, stop fast.
That was until this weekend when my hotlap 'cherry' was popped this weekend by Michael Almond – in his Toshiba backed Porsche 911 GT3 Cup.  He races in the Porsche GT3 Cup Challenge Presented by Pirelli and took out the first round of the 2013 Championship.
As many know, I am respect but don't overly embrace the stock car thing but love and adore sportscars so to have a chance to have a ride in a proper sportscar was a chance not be missed.
My ride was scheduled for about 4:30pm local time – the local track being Queensland Raceway.  Having worked the morning, I knocked off the day job at lunchtime drove to the track in plenty of time.
Coming up to hotlap time, I had a muffin and a Nescafe Blend 43 – not the most exotic of things but Richard Craill, PR for the Shannons Nationals questioned my sense of eating that close to going on track.  It was also about that time that he learnt – and was rather stoked that my hotlap cherry was about to be popped.
Come about 4pm, forms were signed, a fireproof suit and helmet were sourced.  I was strapped into the Porsche.  I must say that getting into the vehicle was not a graceful thing to do.  I was belted in, what I thought was tight – or at least, it felt like I may struggle to bear children for a while.
Almond was already in the car waiting for me.  He had been talking with another Challenge driver, comparing lines, trying to work out the best line through turn six – the hairpin onto the start/finish straight.  If you're wondering there are a couple of lines, one that is slightly faster but one that is slightly better for protecting your line.
Given no one was going to overtake us, I think we went for the faster one.
Michael and I made a bit of small talk.  I probably was a little excited – and when I get excited, I don't tend to make the best conversation buddy.  My small talk was off.
He was on the radio – he had mentioned to me that he likes to be prepared.  I assumed that it was all about the car but at one point he was confirming dinner plans – it is good to be prepared!
A couple of switches were flicked and the German power rumbled into life.
My day drive is a Citroën C4 VTS – a car that I love.  A car that doesn't have the same level of noise deadening and whatnot when compared to your average SUV lounge chairs.
You soon realise that a proper racecar is on another level.  You hear every nuance of the engine.  Once it is flicked on, any conversation between driver and passenger is rendered useless – which was probably a good thing.
The Porsche clunks into 1st and we go join the line.  The nice steward makes sure I have my wristband on and we wait.  The line of traffic waiting for hotlaps wasn't long but the controls of who could go on track and when were tight.
While we were waiting, Michael switched the Porsche off.  By this time, my sanity had returned – if only slightly and I could make some sensible chatter about the car and the racing.
For example, I learnt that Michael's father had introduced the Mitsubishi Evo to the road-racing scene at a time when they were on top of the rally scene in Australia.
I found out that Michael is passionate about racing.  He races from the heart, from the seat of the pants.  He has massive car control.  At 29, he values the passion he finds for the sport, lives and breaths the sport.
He works for the family company but dreams to be in the car.
He raced go-karts but the area can be somewhat toxic if it doesn't go well.  So he left that spent some time out of the car before returning to the Touring Car Masters.  Now in the Porsche GT3 Cup Challenge, he will soon graduate to the Carerra Cup – and will surely do well.
It comes time to fire up the car again.  Suddenly I feel a sense that I don't know what to do with my hands – or my head.  My usually large head was made even bigger by the helmet – and with the roll cage also there, I wondered what would the best thing to do with it.
Soon those thoughts were gone.  The marshal at the end of pitlane turned his lollypop from stop to go, and the Pirellis immediately broke traction and the black and white Toshiba Porsche was go.
It was a sea of noise – you could hear the tyres, the gearbox clunking up, the engine screaming.
Then I discovered what brakes feel like.
I guess, in a sense, we know speed.  We drive cars, we ride jet planes, we've been on fast trains.
But nothing drags you forward in your seat like a set of racecar brakes.  Even when the tyres and brakes are cold.
Through turn one and two; onto the back straight, Michael tightens his belt.  Part of me felt like saying 'hands on the wheel'; part of me was impressed.
If you don't know Queensland Raceway, it is essentially 90-degree corners and hairpins connected by big straights.  Turn three is a big stop.  Even with cold tyres, I was impressed.
As we went on, I took notice of what you see in a car.  The rev counter, the yellow light telling you to change gear.  Looking for the distance boards, seeing Richard hanging outside turn three with his Canon.
You'd note cars coming out of the pits, the Audi R8 LMS GT3, the other Porsche which had some sort of issue that trundled slowly back to the pits (but was back out later).  You'd watch out for pit boards – there were none.  You'd wait for the next braking move.
During the laps, Michael was making some sort of hand gestures, either for me or the car in front.  I don't know.  If it was for me, it went well over my head.
Through the corners, particularly the very fast turns one and two you felt the change of direction – the corners being fast rights.   I am by no way the fittest person in the world but I thought I was ok to maybe hold myself in the seat.
But it took a lot more core strength than I thought to keep in the seat and keep from sliding to the driver's lap or relying on the belts that only five minutes ago, you thought were tight.
The ripple strip was clipped at one point at turn two, another the car felt sideways.  To me, to feel the car like that, it felt like disaster was right there, I'm sure to Michael, it was nothing at all.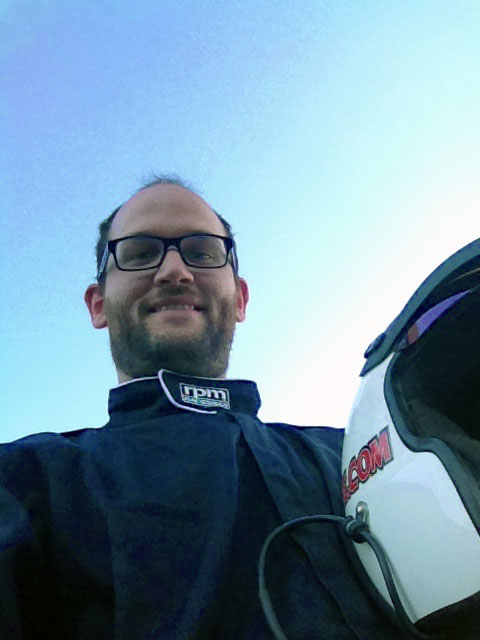 Later, he tells me that you only go 85% max on a hotlap, you must protect the cargo you see – nothing to be won by crashing the car with a guest on board.   Though you can drive with a little flair – just to make it fun.
We had four laps in total – two flyers and an in and out lap. The third lap, everyone was warm and you tell a lap pushed compared to a lap in a more confortable area.
I got used to the noise, the acceleration.  But the braking was something else.
The initial touch of the pedal brought a raw and rapid response – a term that could be applied to the whole car.
After the four laps, it was time to come in.  I never worried about my head or my hands.  I wanted to take in every sensation – it was sensory overload of all senses.
The car pulled up – I was in no rush to get out, though the Toshiba team thought otherwise, undid my belts and ordered me out.
A shake of the Michael's hand, ungracefully extract myself from the car.  The driver that Michael was discussing lines with before the ride jumps in.  I wait to cross pitlane to watch the action – being careful not be taken out on my way across.
After an experience like that you have to be careful to be careful.
I find Richard, thank him for putting it together.  I do the same for Michael later.
Now I know what it is like. Now I know what I am missing when I am not in a racecar.
I wanted the ride to go all day.  But good things must come to an end.
I know now, though – with my hotlap cherry popped, I must return.
I've been told that a Radical is quite fun.
The goal is there.
I must thank Richard Craill from the Shannons Nationals for putting this together for me.  Michael Almond of the Toshiba Team and of course the Porsche GT3 Cup Challenge presented by Pirelli for giving me the opportunity.
—-
By Sam Tickell, August 2013
RacerViews was established in 2011 and with the aim of delivering a new web experience to motorsport fans. We bring exclusive interviews and photos from motorsports finest drivers of yesterday, today and tomorrow. Our team has over 30 years of experience in the motorsport field. With a heavy presence on Facebook, Twitter and iTunes where we have over 2800 followers, our mission to bring exclusive content is in safe hands. We have partnered with motorsport teams like Stig Richards Motorsport, One of a Kind Motorsport, Dark Horse Racing and MRT Performance in order to give you the best exclusive motorsport coverage.
We are always looking for new people to join our team. If you are a motorsports photographer or journalist looking for additional exposure or a great place to learn your trade, contact us