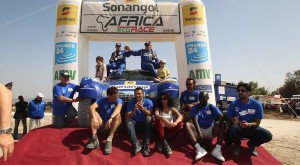 A few years ago terrorist activity ended the Dakar's run in Africa and the great desert went to its new home in South America.  Some, however refused to leave the Sahara and started the Eco Africa Race – with African petroleum firm Sonangol coming on as naming sponsor.
The rally raid takes in much of the same territory as the old Dakar, starting in Saint Cyprein in France, rallying through Spain, over the water to Morocco, into Mauritania and into Senegal – finishing on the shores of Dakar with the traditional beach ending.
The rally also takes place at the same time of year – kicking off in late December. The official start takes place on December 29 with the crews finishing in Dakar on 11 January.
The categories are also familiar with bikes, quads, cars, buggies and trucks all taking to the stages.  There is also a special allowance for cars, bikes and trucks that display eco credentials and experimental technologies.  In the past runners have included a bike that was operated with solar power and hybrid car – that ran in that terrain for 5000km without issue.
Like the Dakar of the past, there is a strong community feel with the route being worked on in conjunction with the local populations and efforts going into ensuring the local economies are benefited by the race.  The race also helps support the local areas by placing solar panels in certain areas to assist with the power needs of local communities.
Jean Louis Schlesser, in his bespoke Schlesser Buggy has won the raid in the four occasions it has run.  In other classes, names like Jan de Rooy (Iveco Truck), Tomas Tomecek (Tatra Truck) and Oscar Polli (KTM bike) have taken honours.
For this year's event Schlesser will be back.  He is favorite for victory, some serious opponents will be present like for instance Jacky Loomans  (Toyota pick up), Miroslav Zapletal (H3 Hummer), Szalay Balazs (Opel Prototype) or also the troop of french buggies  of Patrick Martin\, Gilles Florin, Michel Turon-Barrere, Jean-Antoine Sabatier, and Jean-Noel Julien.
The Truck category will be led by Czech Tomas Tomeck  in his TATRA Truck and Portguese Elisabete Jacinto in her MAN. Scania will be there with Miklos Kovacs  with MAN – Noel Essers and Gregoor Bouwens brand new IVECO.
Like the old Dakar, KTM is the bike to have with Martin Fontyn,  Nobert Dubois, Dominque Robin.  Honda and Yamaha are also represented but the most interesting bike is a Zongshen Hybrid of Willy Jobard. The Chinese bike is powered by battery and petrol power – though details on the bike are hard to come by.
We will keep you updated on the Eco Africa Race and the Dakar over the coming weeks but if you wish to learn more on the Eco Africa Race, check out their website.
httpvh://youtu.be/8a2xsHinYoU
httpvh://youtu.be/1lH-ALQQjmY
RacerViews was established in 2011 and with the aim of delivering a new web experience to motorsport fans. We bring exclusive interviews and photos from motorsports finest drivers of yesterday, today and tomorrow. Our team has over 30 years of experience in the motorsport field. With a heavy presence on Facebook, Twitter and iTunes where we have over 2800 followers, our mission to bring exclusive content is in safe hands. We have partnered with motorsport teams like Stig Richards Motorsport, One of a Kind Motorsport, Dark Horse Racing and MRT Performance in order to give you the best exclusive motorsport coverage.
We are always looking for new people to join our team. If you are a motorsports photographer or journalist looking for additional exposure or a great place to learn your trade, contact us