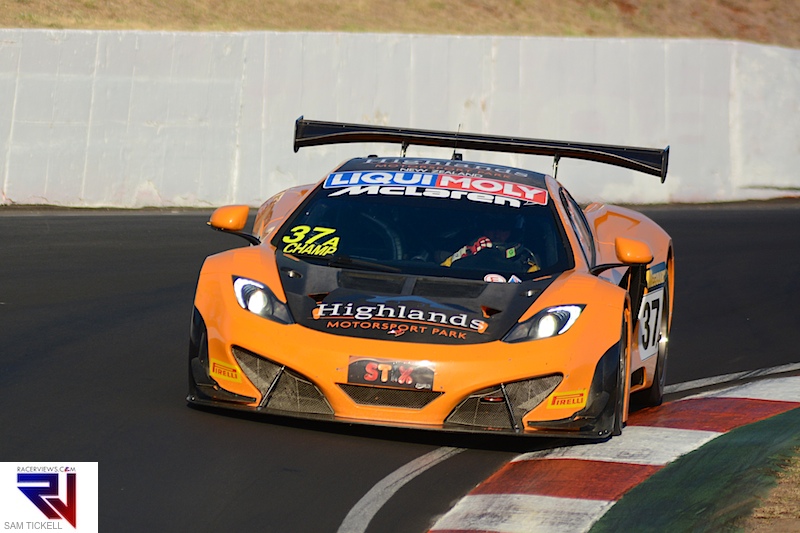 During the Bathurst 12 Hour weekend we caught up with Andrew Kirkaldy who you may know from his career at CR Scuderia, Scuderia Ecosse and most recently, leading the team to develop the McLaren MP4/12C with CRS Racing.
Kirkaldy has a long and distinguished career having taken out the prestigious McLaren Autosport BDRC Award in 1997 after a great year in the Formula Vauxhall Championship. He is best known for his GT racing, taking the British Championship in 2005 for Scuderia Ecosse.  He also finished third in the GT2 class of the 2006 24 Hours of Le Mans.
His team then went onto develop the McLaren GT3 machine, stepping away from racing.  In this interview we talk Bathurst, his career, the McLaren and the future.
He went onto finish fourth at Bathurst with Klark Quinn, Tony Quinn and Shane Van Gisbergen.
Download this episode (right click and save)
Click here to subscribe to RacerViews iTunes channel
–
By Sam Tickell,  March 2014
RacerViews was established in 2011 and with the aim of delivering a new web experience to motorsport fans. We bring exclusive interviews and photos from motorsports finest drivers of yesterday, today and tomorrow. Our team has over 30 years of experience in the motorsport field. With a heavy presence on Facebook, Twitter and iTunes where we have over 2800 followers, our mission to bring exclusive content is in safe hands. We have partnered with motorsport teams like Stig Richards Motorsport, One of a Kind Motorsport, Dark Horse Racing and MRT Performance in order to give you the best exclusive motorsport coverage.
We are always looking for new people to join our team. If you are a motorsports photographer or journalist looking for additional exposure or a great place to learn your trade, contact us