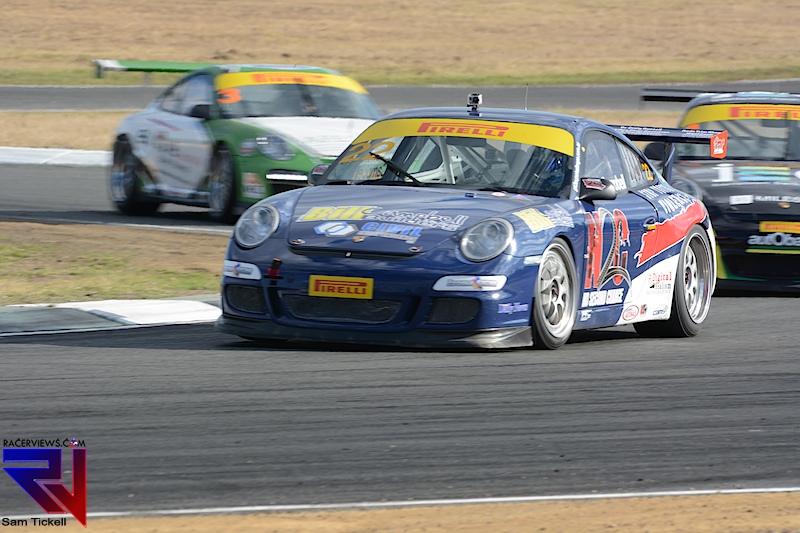 Warwick young-gun Matt Campbell wrapped up the Porsche GT3 Cup Challenge Class B title at Queensland Raceway after another successful weekend and we were able to catch up with him.
Racing with the McElrea team Campbell has had to scrimp and save, not testing once throughout the season and taking every opportunity to get out there and fundraise for his racing efforts.
It all worked and he was able to take the Championship with a race to spare.  It was part of a massive year for Campbell who also raced for the Abarth team at the Liqui Moly Bathurst 12 Hours earlier this year – which didn't quite go to plan with mechanical issues. He also, on occasion races a historic McLaren, proving quite rapid in different forms of machinery.
In this interview we have a chat about his year and on winning the Class B title in the Porsche GT3 Cup Challenge.
Download this episode (right click and save)
Click here to subscribe to RacerViews iTunes channel
[mudslide:picasa,0,racerviewsphotos,5977845578474137457,1,640,center]
Matt Campbell was also a part of the Fiat 500 Abarth effort at the Bathurst 12 Hours
[mudslide:picasa,0,racerviewsphotos,6035434084817194465,13,640c,center]
Campbell, third in line in the orange McLaren also competes in historic open wheelers
—
By Sam Tickell,  August 2014
RacerViews was established in 2011 and with the aim of delivering a new web experience to motorsport fans. We bring exclusive interviews and photos from motorsports finest drivers of yesterday, today and tomorrow. Our team has over 30 years of experience in the motorsport field. With a heavy presence on Facebook,Twitter and iTunes where we have over 3000 followers, our mission to bring exclusive content is in safe hands. Additionally we have over 1 million views on our G+ page. We have partnered with motorsport teams like Stig Richards Motorsport, One of a Kind Motorsport, Dark Horse Racing and MRT Performance in order to give you the best exclusive motorsport coverage.
We are always looking for new people to join our team. If you are a motorsports photographer or journalist looking for additional exposure or a great place to learn your trade, contact us