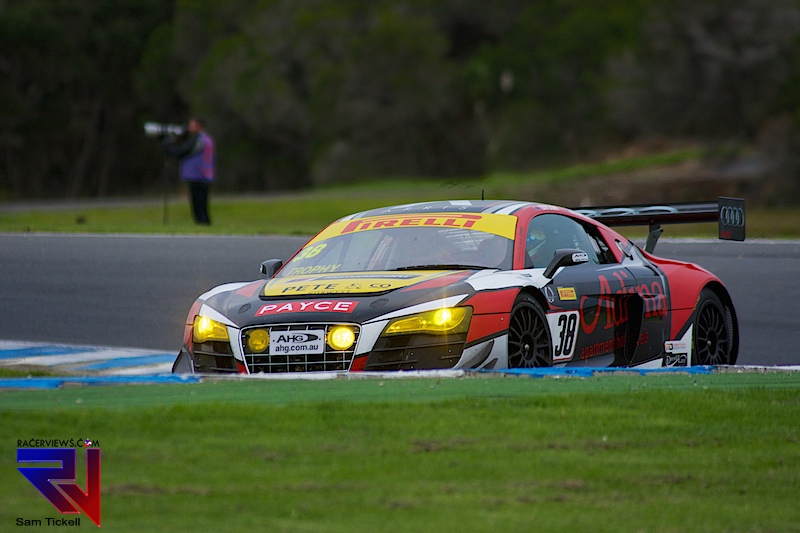 It seemed like an easy day for Barton Mawer in the Wall Racing Audi R8 LMS, who took out the Trophy Class at Phillip Island's Australian GT Championship but it wasn't all it seemed.
Barton, together with co-driver Greg Taylor ran a superb race, having built up a lead in class and using their undoubted pace to pull the car far above where it rightfully should have been.  The Wall Racing team is an up and coming team, with former Champion, David Wall at the helm. The current Volvo pilot in the V8 Supercars is running and Audi and Porsche in the Championship at the moment.
Mawer is an extremely underrated driver having achieved success in the British Formula 3 Championship and Formula Atlantic in the past.
He put his pace to work over the weekend. And he needed all of his experience as in the final three laps of the Phillip Island 101, he had a tyre go probably due to debris on track. It was tight and Mawer had to nurse the car back to the pits and then race a slightly damaged car to the line, all while holding off the other class contenders.
It wasn't easy but he did it and together with Taylor, kept uo their 100% win record in the class for the year
[mudslide:picasa,0,racerviewsphotos,6152426285862324001,10,640,center]
Download this episode (right click and save)
Click here to subscribe to RacerViews iTunes channel
—
By Sam Tickell, May 2015
RacerViews was established in 2011 and with the aim of delivering a new web experience to motorsport fans. We bring you more than just the news.  Our exclusive interview and galleries brings you the views from the track, from the racers. Our extensive race review collection allows you to keep up with the action from around the world. Our team of passionate pros have decades of experience in the motorsport field. Our social media presence on Facebook, Twitter and iTunes  bring you more, a holistic experience.  We have more than 3100 followers on Twitter and more than 1.5million views on Google Plus.  Our mission is to bring exclusive content is in safe hands. Over the time we have partnered with motorsport teams like Andreas Wirth, Stig Richards Motorsport, One of a Kind Motorsport, Dark Horse Racing and MRT Performance in order to give you the best exclusive motorsport coverage.
We are always looking for new people to join our team. If you are a motorsports photographer or journalist looking for additional exposure or a great place to learn your trade, contact us