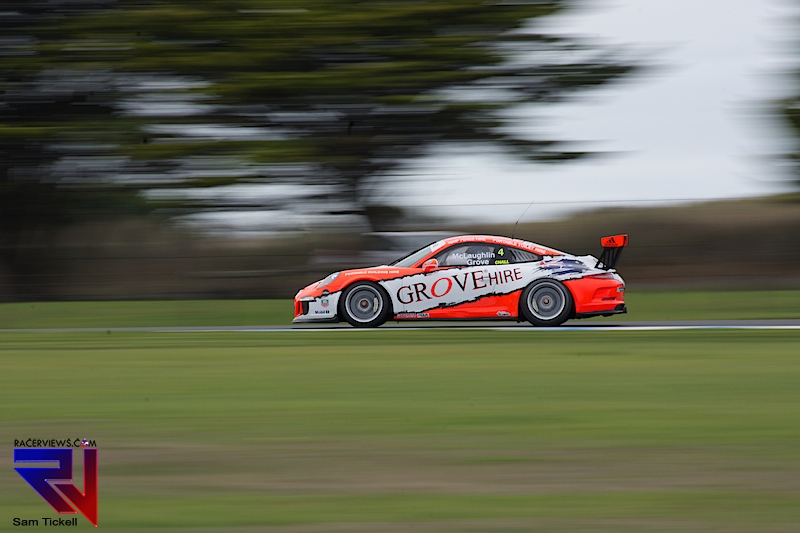 Scott McLaughlin has been a revelation in the V8 Supercars, immediately coming a fan favourite and a leading driver in the GRM Volvo. As such, a lot was expected of him when he raced in the Pro-Am Porsche Carrera Cup Championship at Phillip Island.
He would be racing alongside Steve Grove in the Grove Group Porsche.  In a weekend that was attended by many V8 Supercar drivers – by their own admission, a weekend that was pressure free.
It didn't mean that they didn't race hard.
He was quick all weekend but his true pace came out in race two.  After an early race spin by his codriver, McLaughlin got in the car at half distance and drove the thing hard.  On a set of Michelins that were beyond the normal usage life – and suffered a spin, he set the lap record right near the end of the race.
He battled through the field to finish sixth.
In race one he would have a titanic battle against fellow V8 racer, Nick Percat. The duo relishing their sportscar experience. It could be something that McLaughlin could do more of in the future…
Download this episode (right click and save)
Click here to subscribe to RacerViews iTunes channel
http://gty.im/471874154
—
By Sam Tickell, June 2015
RacerViews was established in 2011 and with the aim of delivering a new web experience to motorsport fans. We bring you more than just the news.  Our exclusive interview and galleries brings you the views from the track, from the racers. Our extensive race review collection allows you to keep up with the action from around the world. Our team of passionate pros have decades of experience in the motorsport field. Our social media presence on Facebook, Twitter and iTunes  bring you more, a holistic experience.  We have more than 3100 followers on Twitter and more than 1.5million views on Google Plus.  Our mission is to bring exclusive content is in safe hands. Over the time we have partnered with motorsport teams like Andreas Wirth, Stig Richards Motorsport, One of a Kind Motorsport, Dark Horse Racing and MRT Performance in order to give you the best exclusive motorsport coverage.
We are always looking for new people to join our team. If you are a motorsports photographer or journalist looking for additional exposure or a great place to learn your trade, contact us