Craig Breen and the Peugeot 208 have hit their stride and the Championship lead after a commanding performance on the FIAERC SATA Rallye Acores
ERC
Craig Breen has won the SATA Rallye Açores, making it three FIA European Rally Championship victories in a row for the Peugeot Rally Academy 208 T16 driver.
Co-driven by Scott Martin, the Irishman had been in a close battle for the win with Kajetan Kajetanowicz, with both drivers leading the event three times. Kajto was 11.9s behind Breen with only the final loop of three stages remaining, and felt he had to take a different tyre compound to Breen, regardless of his rival's choice, if he was going to have a chance of victory. While Breen kept his hard Michelin tyres on, the LOTOS Rally Team Fiesta R5 driver took soft Pirellis. The gamble didn't pay off, and Breen was able to turn his small advantage into a 1m02.1s winning margin, and also take the lead in the ERC Gravel Masters.
"I came to the Azores with one objective, and that was to win the rally," said Breen. "I'm on top of the world at the moment. This weekend has been good for us. We have been fast when we needed to be fast and clever when we needed to be clever, so I'm chuffed to bits."
Ricardo Moura suffered from brake pressure problems on the longer stages in his Ford Fiesta R5 and had to pump the brake pedal two or three times at each corner to slow down. It cost the seven-time Azorean rally champion a lot of time, and his first Rallye Açores victory still eludes him, as he finished third – but scores maximum points in the Portuguese championship.
After two days of problems, in which he'd changed the engine mapping, throttle and turbo on his Peugeot 208 T16, two-time event winner Bruno Magalhães was pleased to finish fourth. Robert Consani pushed as hard as he could on his first gravel rally in his Citroën DS3 R5. Constant brake problems delayed him, but the number of times he damaged his rear bumper illustrated how hard he was trying, as the Frenchman came home fifth. After several years away circuit racing, it was the first time José Pedro Fontes had contested Rallye Açores since 2008, and he was happy finish sixth, and score second-placed Portuguese championship points, despite brake problems.
A poor Qualifying Stage hampered Sam Moffett's progress throughout the event, as he ended up running near the front of the field on all three days in his Fiesta RRC. After his brother Josh crashed out, Sam upheld family honours to finish seventh, ahead of the leading ERC2 driver, Dominykas Butvilas. Charles Martin endured a difficult gravel debut in his Peugeot Rally Academy 208 T16, going off the road and picking up a puncture on SS8. He eventually finished equal on time with Jaroslav Orsák (ŠKODA Fabia S2000), who reached the finish in Azores for the first time in three attempts.
Joaquim Alves lost 16 minutes on SS12, when the throttle cable broke on his ŠKODA Fabia S2000 and he had to stop mid-stage to repair it. Jean-Michel Raoux, who finished third on SATA Rallye Açores last year, stopped near the start of SS7 with gearbox failure in his Fiesta R5.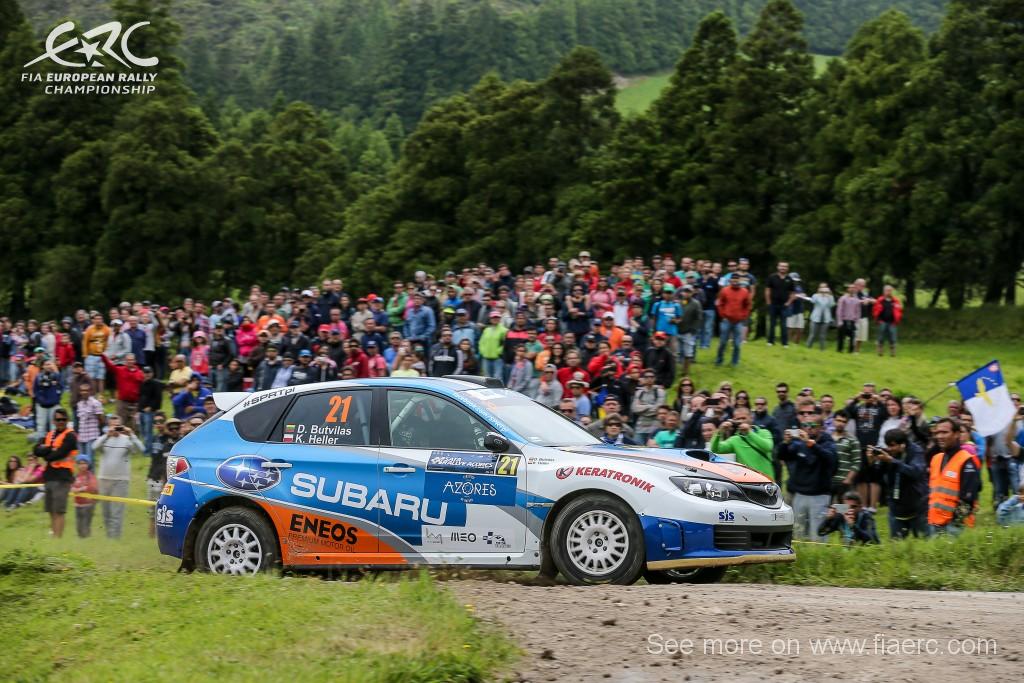 ERC2
Butvilas wins, as gravel rookie Štajf maintains ERC2 series lead
Dominykas Butvilas claimed an outstanding ERC2 victory in his Subaru Poland Rally Team WRX STI, despite a lack of hilly gravel rally experience. He had to switch intercoms on SS12, as he couldn't hear co-driver Kamil Heller at a crucial time. "It was a bit stressful with no intercom in the fog, because I couldn't see and couldn't hear anything," said Butvilas. In the end he took a comfortable 4m12.2s victory, after last year's SATA Rallye Açores class winner, Luis Rego, could drive to the Ponta Delgada finish and claim second, after his Mitsubishi lost its brake fluid on the final stage. Dávid Botka finished runner-up in his Mitsubishi, after battling through much of the final day without power steering. His great effort wasn't enough to prevent Vojtěch Štajf from maintaining his ERC2 lead, as his 173rd rally, but his first on gravel, was rewarded with third place in his Subaru Duck Czech National Team WRX STI. Peter Ranga lost all hopes of ERC2 victory on Thursday, when the Hungarian was forced to drive with only second and fifth gears in his Topp-Cars Rallye Team Mitsubishi. It dented his confidence for Friday's stages, and he managed to reach the finish, despite turbo problems on the closing stages.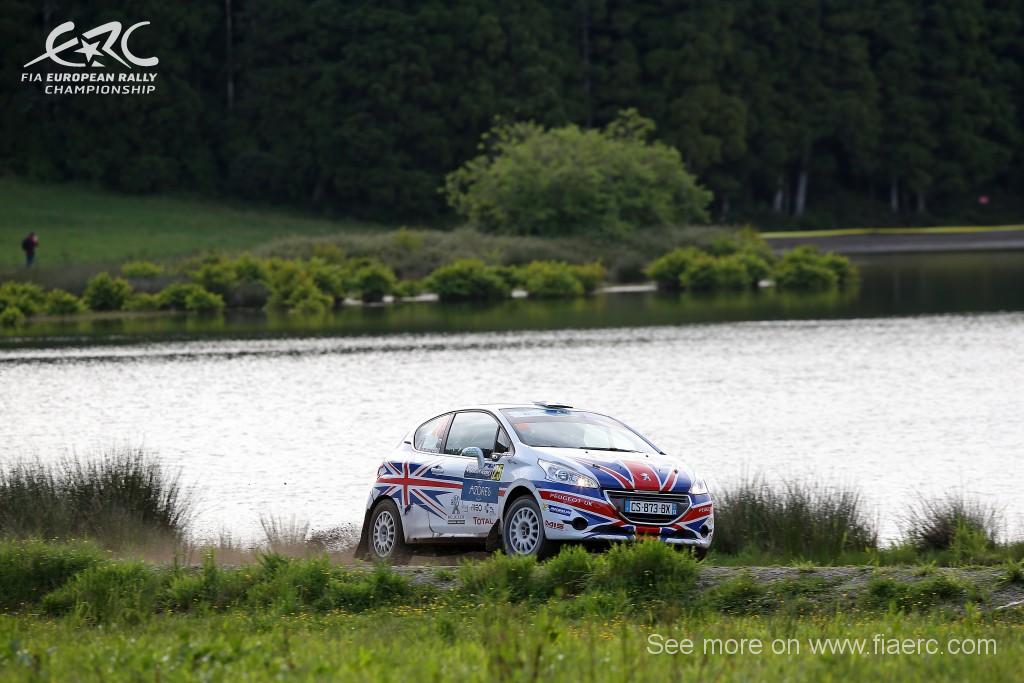 ERC Junior
Ingram battles food poisoning to take first ERC Junior victory
Chris Ingram battled food poisoning on the final day of SATA Rallye Açores to score a sensational first ERC Junior victory of his career. The Peugeot UK 208 R2 driver had finished leg one in a slender 22.4s lead, but a spaghetti bolognese dinner was to keep him awake all that night. He didn't want his rivals to know he was down on energy on the final day, and digging deep for inner strengthen, his stage times didn't give away his sickness either – and he eventually won by 30.4s.
Despite putting his 208 on its side on SS7 and losing almost 40s, Diogo Gago drove brilliantly to fight back. The Portuguese Peugeot Rally Academy 208 driver secured second after setting three fastest times on the last four stages, and after Steve Røkland picked up a slow puncture on the last stage. Third was still an excellent result for the Norwegian, who had no pre-event testing and hadn't even sat in his 208 for six weeks.
Emil Bergkvist looked on course to finish second, until his Adam R2 was left with only first and second gears for the last three stages, dropping him to fourth. It was even more bad luck for his ADAC Opel Rallye Junior Team team-mate Marijan Griebel, who had driven exceptionally well on only his second ever gravel rally, only to retire his Adam after the final stage with a broken driveshaft.
Mattias Adielsson's "crazy rally" continued until the very end, when he had to do all the final day with broken front right suspension and, finally, a gearbox problem in his 208. He was understandably delighted to finish fifth. Emīls Blūms lost the front right wheel of his Fiesta R2 on the Grupo Marques superspecial, and arrived at the final mid-day service on three wheels. His LMT Autosport Academy team did an amazing job to get him back out again, as the young Latvian driver reached the finish on his ERC debut.
Florin Tincescu beached his Napoca Rally Academy 208 on SS12, and, despite being only slightly off the road, there were no spectators to help him get back on. Jon Armstrong was enjoying a good run before he stopped on SS11 when his 208's engine started to overheat. The second run through Sete Cidades also ended Łukasz Pieniążek first gravel rally, when he damaged his 208's suspension and then hit a wall, breaking the  radiator. Aleks Zawada retired his Adam with on SS15 with broken steering.
Both of Sports Racing Technologies 208s got stuck just off the road and without spectators around, were in big trouble. Vasily Gryazin regretted handing his time card in on Thursday after getting stuck off the road on SS3 for 17 minutes. As leg one continued the following day, the Russian driver had to wait until Saturday's leg two before returning under Rally 2 rules. Team-mate Ralfs Sirmacis was third, and battling for ERC Junior victory, when he hit a rock on SS11. It squashed he exhaust and he had to complete the test with the engine refusing to rev over 3,000rpm, losing seven minutes. Then, on the first stage of the final day (SS12), he slipped off the road and got stuck.