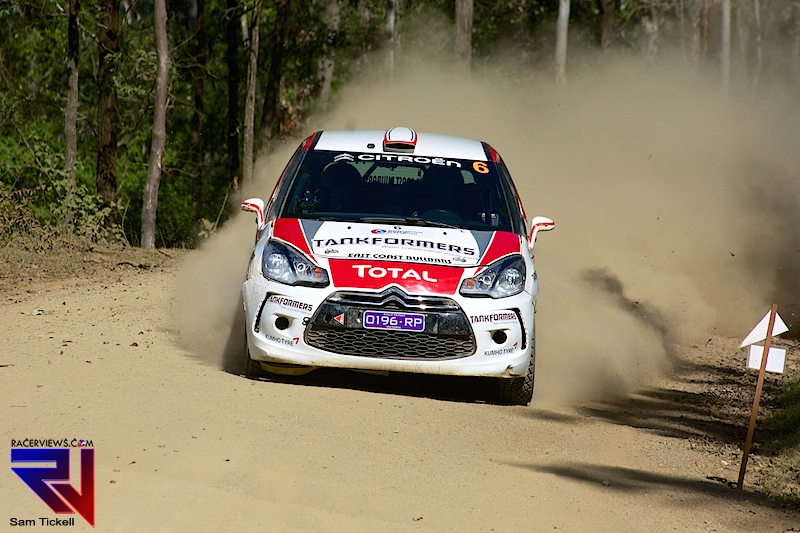 Citroen's Eli Evans was in commanding form at the International Rally of Queensland.  With Glen Weston sitting alongside the duo punched well above their weight, and made the rest of the Australian Rally Championship field realise why he went for seasons at a time without losing a rally.
You can listed to Eli Evan's interview below!
The ARC endurance event at IROQ meant that there was points for the overall win, plus points for each of the two days. He was untouchable on Heat 1, pulling out minutes on his rivals as they hit problems.  He was not without issue himself as he ran wide at one point and was lucky that a tree halted his journey into a ditch.  The car had slight damage but he was able to continue.
It was a bit of a wakeup call for the former Champion as he had been battling with the 4WD cars in the Asia Pacific Rally Championship battle. Soon though he would tone it down and fight just for the Aussie prize.
That being said, he would still finish fourth overall and easily took the overall win, a heat win and second in the other – finished just behind his brother, Simon in a Honda Jazz.
His performance must, undoubtedly send a shiver down the spines of his rivals – Molly Taylor and Simon Evans. They are all fighting for the title and a performance like this must make it a tough prospect.
Next up is WRC Rally Australia, which features a monster 50km stage. This now plays on Eli's mind. As he says in this interview, it can make or break a rally or a Championship.
Find out more of his rally and why he has already switched his mind to the next round…
Download this episode (right click and save)
Click here to subscribe to RacerViews iTunes channel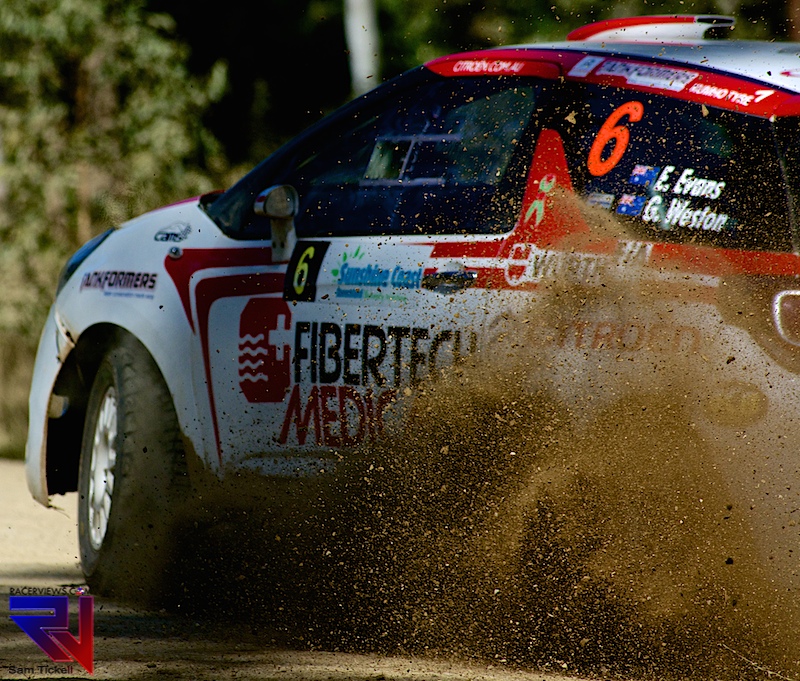 By Sam Tickell, June 2015
RacerViews was established in 2011 and with the aim of delivering a new web experience to motorsport fans. We bring you more than just the news.  Our exclusive interview and galleries brings you the views from the track, from the racers. Our extensive race review collection allows you to keep up with the action from around the world. Our team of passionate pros have decades of experience in the motorsport field. Our social media presence on Facebook, Twitter and iTunes  bring you more, a holistic experience.  We have more than 3100 followers on Twitter and more than 1.5million views on Google Plus.  Our mission is to bring exclusive content is in safe hands. Over the time we have partnered with motorsport teams like Andreas Wirth, Stig Richards Motorsport, One of a Kind Motorsport, Dark Horse Racing and MRT Performance in order to give you the best exclusive motorsport coverage.
We are always looking for new people to join our team. If you are a motorsports photographer or journalist looking for additional exposure or a great place to learn your trade, contact us