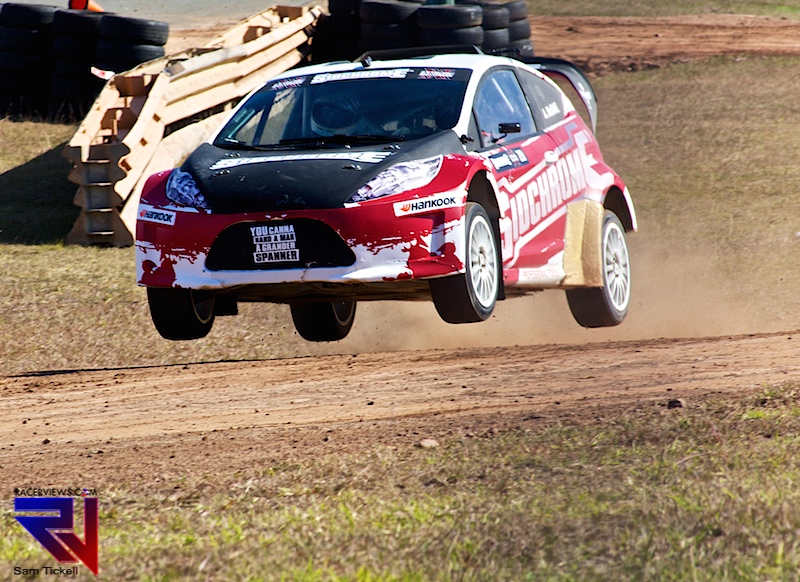 It is with some disappointment that we heard last week that Australian Extreme Rallycross Championship has come to a premature end for 2015 having just have one round of their proposed 2015 – 2016 season. We talked a lot about why the Extreme Rallycross can be great and we had great hopes for it but what went wrong why did the season not happen and will we see it is erected in the future?
1. The leadtime was simply too short.
The championship was meant to happen in just a matter of months from conception to reality. And in the beginning has some great wins – they got Lakeside onside, they got Alister McRae and got Sidchrome. This early momentum gave them some confidence and perhaps it was well placed but it meant that they aim too high to quickly perhaps another year to get more RX lites cars, to get more four-wheel-drive cars and more two-wheel-drive cars.
2. A strange calendar
The final test day was held on the same day as a Queensland Rally Championship state round. The first round was held one week before Rally Australia. The second round in Queensland was to be held on the same day as the Queensland Rally Championship season finale. When the main source of your competitors is going to be from gravel stages it is best not to clash with the big events.
3. They wanted a big commitment for an unproven product in Australia
it is a long time for rallycross to get established in America and in Europe and is not going to be any different here – and they did acknowledge that, to their credit. But the franchise fee / car purchase fee for the RX lites cars was just too steep and then the competitors didn't come for the other classes. They may do over time, but it means a longer commitment.
4.  The wrong car won first time out
A Mitsubishi Evo won the first time not the RX lite car of Alister McRae. This is possibly the worst result that they could have gotten full round one when there want people to commit to an RX lite car. Obviously this is out of their control but it is what happened.
5.  Did they have the capital to run at a loss?
Sidchrome bailed out quite early in the project after it was established that there was just not going to be the cars and interest in the championship that they had hoped. The Americans had the benefit of Red Bull money to build and build it in its infancy something that the Australian championship just didn't have. A few million extra may have helped. #obviously.
6. Will comeback in the future?
We certainly hope that there's probably an appetite for rallycross in this country but it is a country that is struggling to know where its motorsport is going at the moment and rallying is struggling to determine its future. The organisers promised an announcement in December and 2016 season and we hope it comes through. We hope that with the extra lead time they have to discuss entry is to get other people onside and enter the Championship. It certainly was not without trying, without a huge amount of will and skill from the organisers and a spectator focused series in Australia is exactly what the sport needs.
—
RacerViews was established in 2011 and with the aim of delivering a new web experience to motorsport fans. We bring you more than just the news.  Our exclusive interview and galleries brings you the views from the track, from the racers. Our extensive race review collection allows you to keep up with the action from around the world. Our team of passionate pros have decades of experience in the motorsport field. Our social media presence on Facebook, Twitter and iTunes  bring you more, a holistic experience.  We have more than 3100 followers on Twitter and more than 1.5million views on Google Plus.  Our mission is to bring exclusive content is in safe hands. Over the time we have partnered with motorsport teams likeAndreas Wirth, Stig Richards Motorsport, One of a Kind Motorsport, Dark Horse Racing and MRT Performance in order to give you the best exclusive motorsport coverage.
We are always looking for new people to join our team and we are always looking to publish stories, photos and audio in world-class publications around the world. If this interests you contact us