It was a third Australian Rally Championship for Eli Evans and Glen Weston. Evans overcame a valiant challenge from Molly Taylor at Scouts Rally SA.
From PR materials

After four stages at Scouts Rally SA Eli Evans has continued to expand his points lead over title rival Molly Taylor to 39 points.
With the short Heat starting on Friday afternoon, with the fourth and final stage of the day held in full darkness, Molly Taylor started with determination, claiming the opening stage win by 1.9 seconds over Tony Sullens.
Sullens himself was in fine form, bouncing back from the hydraulic issues that had blunted his charge at the last event out in Coffs Harbour, while Citroen teammate Evans was back in third.
On the very next stage though it was all to come unstuck for Sullens, finding his Citroen DS3 stuck in second gear. "It's the same problem as at Rally Australia," Tony fumed.
That allowed Molly to once again claim the stage win, opening a small but important buffer of 3.5 seconds, Eli up to second.
On the third and final day light stage it was the turn of Steve Mackenzie to pounce, surging to a strong stage win in his Ford Fiesta ST, while Molly struggled and dropped from the lead back to second behind Eli.
With just the night stage to run Eli made some setup changes to his Citroen, hoping to benefit from his road position, and looking for better turn in on corners. The changes worked, by the stage end he had blitzed a time 17.4 seconds faster than Molly.
"I had a great run!" he beamed at the finish. "Molly and Steve put some pressure on us early today, it was great to have a fight on our hands. But on that last stage we managed to build a gap and take the win for today.
"We now have a 39-point advantage, but there are 50 points on offer tomorrow so if were to have a problem it's highly likely Molly could be in the lead," Eli added.
Molly was left shaking her head with her Renault Clio developing an issue where it would drop revs during gear changes. "I don't know what's going on. Particularly in this car if you lose all your revs then you lose your momentum and you have to build it back up again. It just kills you right on the exit of the corners."
Third placed Steve Mackenzie admitted to driving untidily at stages during the afternoon, particularly on his first run through the Crawford stage. "We were off the road half the time!"
With a work around believed to be found for his gear shift concerns Tony Sullens rejoined for the night time stage, only to find that he was once again stuck in gear, this time fourth.
"I had to be so careful not to stall it," he explained. "So all the slow corners, the hairpins all I could do was slip the clutch to keep it going. We'll try to fix it back at service and start again tomorrow, but if it gets stuck in gear again that will be it, weekend over."
Well back Ashlea James was ruing a lack of pre-event testing, describing issues with the intercom, dust on his windscreen, the setup on his VW Polo and last but not least hitting a bump right at the start of the night stage and seeing his driving lights go from pointing directly ahead to pointing straight down at the ground.
"It's frustrating but we're here and that's what matters," Ashlea commented. " We're only a second a kilometre off the pace, so considering the issues and the lack of testing that's not bad."
In the 4WD's the star of this morning's ARMOR ALL & STP Power Stage, Marcus Walkem, was quickly back up to speed, claiming three of the day's four stages to finish 35.1 seconds up on Mick Patton.
The only downside for the Tasmanian was seeing Harry Bates claim his maiden ECB ARC stage victory on SS2, where Walkem had to settle for second fastest.
"Totally trouble free day, we're actually not used to that so it's a nice change," said Marcus. "The short gap between Coffs and here has definitely helped, it usually takes us a day to get up to speed but we're right on it from the first stage this weekend."
The day was going exceptionally well for Bates, apart from his stage win he'd managed to work his way into second. That was until the night stage, where 200 metres in his driving lights flickered, and then died altogether.
"We tried to reboot them but nothing worked, so we had to drive with just the cars lights. Then the brake pedal started to go soft, and with about five kilometres to go I had no brake pedal at all. We lost second, but finished third, so I'm still happy," commented Harry.
An absolutely worry free day for Classic contender Jeff David with only himself to beat. "It's been great, heaps of fun, so glad to be back out in the Porsche!" he beamed.
And lastly to the Side-by-Side Challenge, where Michael Guest once again proved the outright pace of the Can-Am with a win on the opening stage, only to once again prove the fragility of the car as he parked it up on the second.
That allowed archrival Cody Crocker to scoot through for the Heat win and in doing so clinch enough points to award him with the title for another year. "Yeehah!" Crocker exclaimed.
Heat Two of Scouts Rally SA continues tomorrow with twelve stages awaiting drivers, including three passes around the spectator friendly Gawler Special Stage tomorrow evening.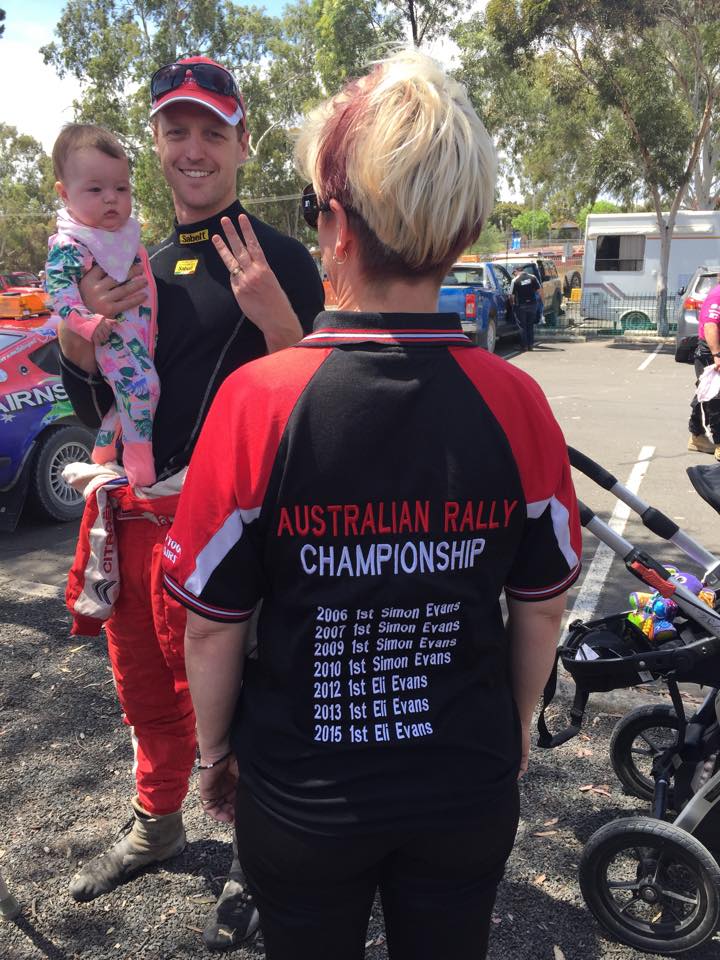 All Eli Evans had to do during today's second Heat of Scouts Rally SA was to finish no lower than third to wrap up his third Australian Rally Championship.
And at the conclusion of the days twelve stages he was celebrating his latest title victory with family, friends and service crew, having won the day's Heat by over 25.7 seconds to second placed Steve Mackenzie.
Having claimed yesterday's opening Heat win Eli began the day with the fastest stage time, just one second quicker than Mackenzie.
"If we win today we've won the Championship," said Eli. "The team has decided to throw the new tyres we've got at the car today to try to do that. Mathematically that means we'll only have two new tyres left for tomorrow, but we should have some good spares left."
"Happy with that, I didn't think there was much left in there. I always thought this stage would suit our car. I couldn't have gone much quicker," said Mackenzie.
Molly struggled on the opening stage of the day, admitting to trialing a tyre combination she hadn't ever run previously on the Renault Clio. "It was really tailey to begin with, but I worked out what to do and it was much better on the second two thirds," she said.
A relieved Tony Sullens also made it to the end of the stage having made significant part substitutions during last night's final service as he tries to rectify the gearshift problems that halted his run yesterday.
"We've got gears for the whole stage which is good!" laughed Sullens. "So far so good. We changed all the second hand bits on the car last night. Old switches and bits and pieces, and if it doesn't fix it we've got nothing else."
But as luck would have it on the very same corner on the very same stage as yesterday Sullens found his Citroen DS3 stuck once again in fourth gear. "Ten kilometres into the twenty something kilometre stage the same thing, stuck in fourth. Amazingly the stage time wasn't so bad, but that's it, weekend over."
From the mid-morning regroup drivers tackled three of the fastest stages in Australian rallying taking to the notoriously rapid shire roads. "Unbelievably fast, the fastest roads in Australia, and the biggest white gums on the edge of them you've ever seen," Molly's co-driver Bill Hayes laughed nervously.
Unsurprisingly Evans was quickest on the first two of the three stages, but then had a moment and finished third on the last of the trio of stages, allowing Molly to claim her first stage win of the morning.
"A really fast section, at 185 to 190 kilometres an hour, for maybe twenty seconds and then a crest into a junction. I hit the brakes and we were just way too deep in. I did a pretty poor hand brake turn, back through our dust and off again," exclaimed Eli.
Despite the stage win Molly said she had found the mid-morning stages incredibly tricky. "Very difficult to judge, you're in sixth gear so much," she said. "It was really tricky those few stages, but we just tried to keep it really neat and that seemed to work."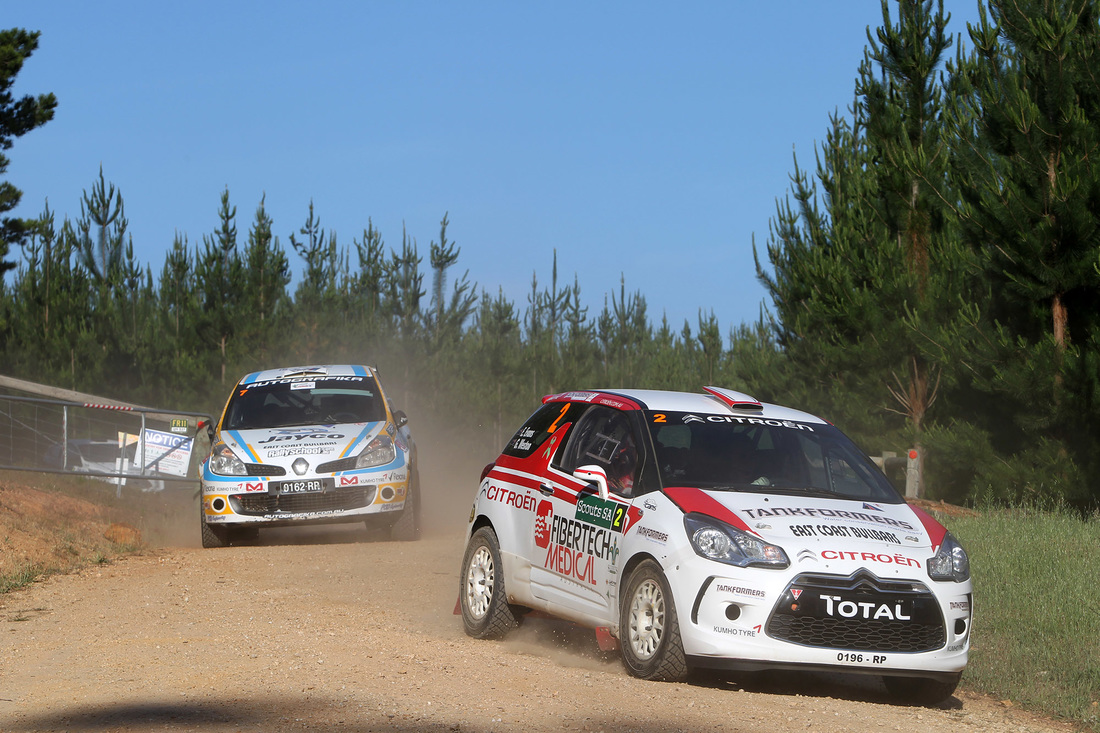 Sitting in third Mackenzie said he'd struggled on the 18.51km Corryton Park stage. "We struggled to find a groove. We had a few moments and lost ten seconds. We'll be having a big push this afternoon to try to get the Heat on her."
After battling through a series of issues yesterday Ashlea James was feeling far more confident with his Volkswagen Polo, even thought admitting he was still battling with an intercom that wasn't allowing him to hear co-driver Dennis Neagle.
"I don't know how everyone else is going but I think the biggest issue with this car I need to get on top of is traction. It has plenty of power and plenty of go, and we're pushing it along pretty well, losing a bit of time here or there with little mistakes," Ashlea commented.
With three forestry stages and three runs around the Gawler Showgrounds remaining, Steve Mackenzie charged out of the blocks to set the fastest time on Stage Ten before Eli hit back on the following two stages to increase his lead out to 19.7 seconds.
Molly Taylor continued to hold down second, keeping Mackenzie at bay, despite Molly continuing to struggle with the engine cut problem she began to experience yesterday afternoon in her Renault Clio.
"Every time we change from second to third it just dies, it's incredibly frustrating!" Molly laughed in irritation.
On the final true forest test of the day, the 7.72km QH1, Mackenzie once again powered ahead but by just four tenths of a second over Evans.
"I said earlier I was going to be kind to the car but that's gone out the window, we were bouncing off banks in there!" commented Steve at the stage finish.
In disappointment for the rally fans who had amassed at the Gawler Showgrounds the very first run of three passes around the spectator friendly stage was cancelled after the first four drivers struggled with thick dust.
The organisers had worked a loop into the course, with drivers finding themselves having to come to a complete stop to allow the thick dust to clear before they could continue on again. The decision was made to remove the loop for the subsequent two runs, which Eli Evans duly won.
The major loser though was Molly Taylor, who popped a strut top on her Renault, dropping a total of 19 seconds over both stages, allowing Mackenzie to sneak past for second.
She'd made a make shift strap to hold the strut but it'd managed to break free on the first lap around Gawler. "The force of the strut moving around is too much. As long as we don't let the spring decompress, as long as it stays with some weight on it it should all stay more or less in position and the wheel in the wheel well."
The day though was all about Eli Evans and his third Australian Championship. "What a feeling, I don't even know how to describe it!" exclaimed Eli.
"It's my third Championship now with Glen (Weston, co-driver). It's a pretty proud moment. This year with Citroen, it was a whole new challenge, I hadn't driven the car at the start of the year. To be standing here right now winning the Championship is something Glen and I worked hard to earn and I feel like we're deserving winners," he continued.
Experienced navigator Glen Weston was full of praise for Eli and his driving record. "I can easily say the partnership I've had with Eli has been the most successful, I've been with a lot of good drivers but Eli is a cut ahead at the moment. I think he can win anything he gets in."
"I plan on winning tomorrow too!" Eli added.
In the 4WD's Harry Bates claimed victory on the opening stage. "A good confidence boost after last night's stage. Really happy pushing, it felt like a really good stage."
By midday though Marcus Walkem, who comfortably won yesterday's opening Heat, had reasserted his authority to hold a sixteen second gap over Bates. "We came out with a defined plan this morning, we wanted to keep Mick on a string," explained Walkem's co-driving brother Scott.
"We really wanted to keep a safety buffer between himself and ourselves, and so far it's worked. We took it quite easy on those fast stages before lunch and used the power of the car to get us through," Scott added.
Second placed Bates was optimistic of his chances in the afternoon after a half spin on the second stage. "We're still in the hunt, positive things going into this afternoon.
Over a minute off the pace though was Mick Patton, cursing himself a little for a gamble to go out with hard compound tyres on his Mitsubishi Lancer Evo X. "A few of the other guys in 4WD's went out on mediums, where as on hards was the slipperiest ordeal ever. So you can only try, it could have gone in our favour."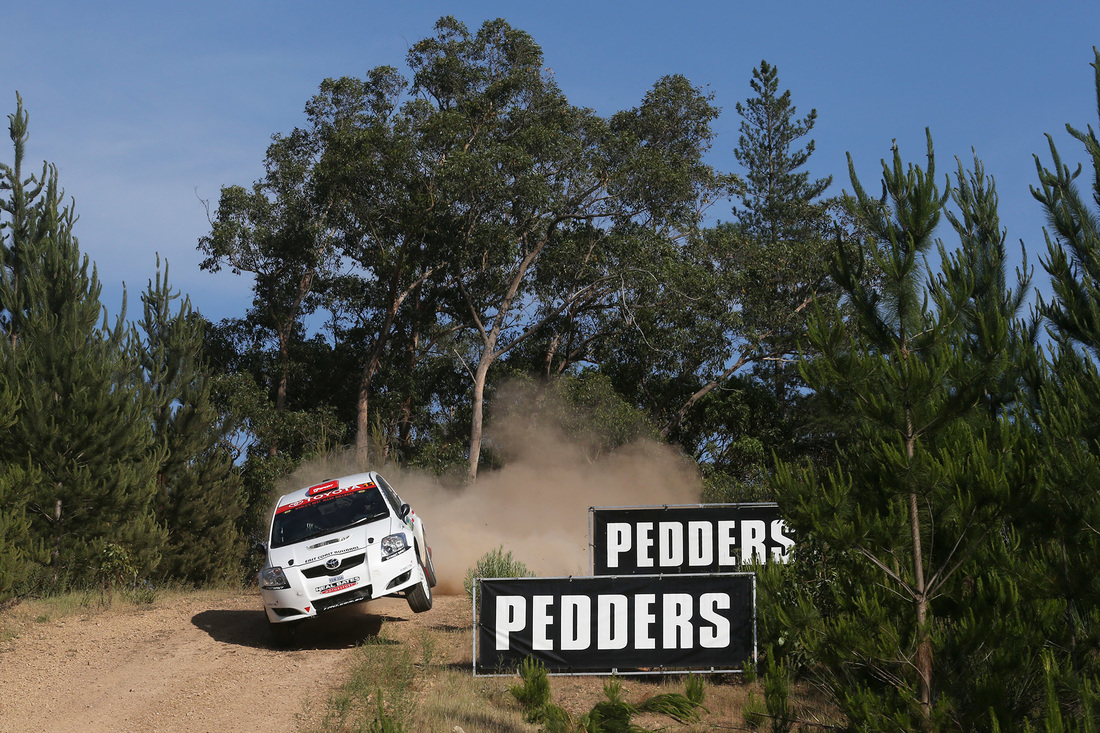 During the afternoon's stages the battle continued to seesaw between Walkem and Bates, the pair locking out the fastest time on each of the six tests, with Walkem once again finishing the heat with a relatively comfortable advantage of 28 seconds.
Patton and Pedder dueled it out for third, eventually split by just 3.3 seconds the way of Patton in his Mitsubishi.
Bitter disappointment in the Classics with the one and only contender Jeff David retiring his Porsche 911 on the return to midday service with clutch failure.
Side-by-Side Champion for the fourth year in a row, Cody Crocker and Greg Foletta celebrated their latest memorable achievement overnight, and continued that success today claiming another Heat win.
"It has been a tough a fight this year, Guesty has actually had a lot of pace. Fortunately he's had some reliability issues, and we've been incredibly consistent," commented Cody.
"Last night was like the biggest relief, so today we just got out there and had some fun, tomorrow too," added Foletta.
Today's Heat win though went the way of Can-Am driver Nathan Chivers by 3.4 seconds to Crocker and Iain Hughes, with Michael Guest once again sidelined due a drive belt failure.
The third and final day of Scouts Rally SA begins with the fourth pass over the 20.45km Crawford stage, followed by a further six stages including two passes around the Gawler Showgrounds. The top ten fastest drivers from all categories over the weekend will then fight it out for the Gawler Cup.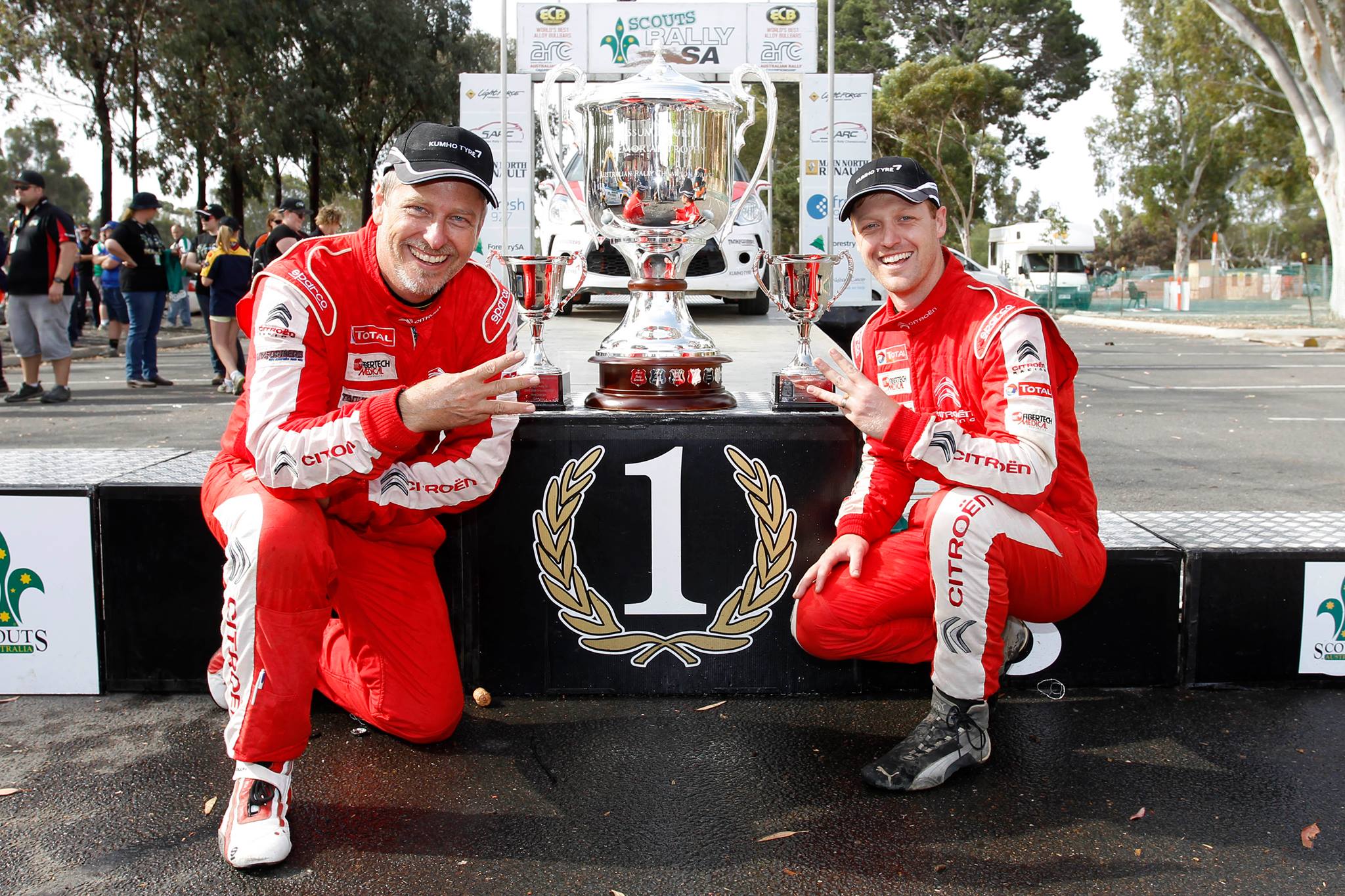 Eli Evans has completed the weekend clean sweep at Scouts Rally SA, winning the ARMOR ALL & STP Power Stage and all three Heats.
Evans arrived at the end of the day's opening stage, the 20.45km Crawford stage, with the rubber on his Kumho tyres worn down to the canvas. "Just belts hanging off, I think the front right, but also the front left – that was a bit challenging!" he said.
"I made some suspension changes last night, some big ones, so it was hard to tell if it was better or not because the tyres blew off. The last three or four km I had to back off because I could hear clang, clang, clang, clang, clang of the rubber coming off the tyre," Eli added.
Evans' time was 8.6 seconds faster than Molly Taylor, with Ashlea James third, with Steve Mackenzie a non-appearance at the stage finish.
"He seemed to be off after a fairly decent jump, but I couldn't see what the problem is," said Ashlea James of Mackenzie. "It looks like he's arrived at the next corner too quickly, there's a dirty big pair of skid marks."
Recovery crews went into the stage once it had finished, finding Mackenzie off the road. "We were having a real crack on that stage, I reckon we were ten seconds up on our previous run through and we would have been on the money, but on a cut earlier in the stage I think I've hit something and slightly bent something," Steve explained.
"Coming up over the jump down the road there once we landed the wheels broken something, ripped the wheel off eventually and here we are parked here. We've had a really tough year and the guys have had to work at every event quite hard."
"Credit to the boys to come away with third this year is excellent. It didn't start out to well, but we managed to get a few points the last couple of events. A few unfortunate things held us back this year," Mackenzie added.
After the morning service Eli continued his surge, claiming stage wins on the three following stages until Molly finally broke his grip on stage victories with a win on SS21, the 15.47km Goldfields stage.
With just two final passes around the short Gawler Showgrounds stage Evans claimed one final win, before Ashlea James powered to a win on the final stage of the event.
"It's a pretty good way to finish off a really, really difficult year," said Ashlea at the finish, securing third on the podium.
"Moral was pretty low, even after the last event, and I went back to the team and said I wasn't really fussed to go to the last Round. But with the undying support of my wife and my dad, at the last Round you've done this much and gone this far we wanted to try to get there and finish on a high," James added.
Completing second for the weekend, and second in the East Coast Bullbars Australian Rally Championship, Molly Taylor endured a tough weekend even having to resort to push starting her Renault Clio through the day after a clutch fault.
"A lot of runner up's," said Molly. "Hopefully we'll be able to change that next year. At the end of the day we're really happy with our season. It was my first time coming back to the Championship, a new car, a new team, and we did everything on an absolute shoestring."
"It's been an incredible year, we did our best at every rally, and Eli did a fantastic job and was a great benchmark for us. We enjoyed battling with him, and congratulations to him and we're proud of what we've done," continued Molly.
But the winner for the event and the year was Eli Evans. "I think we've won the last six Heat's now. To top it off winning today was the icing on the cake!"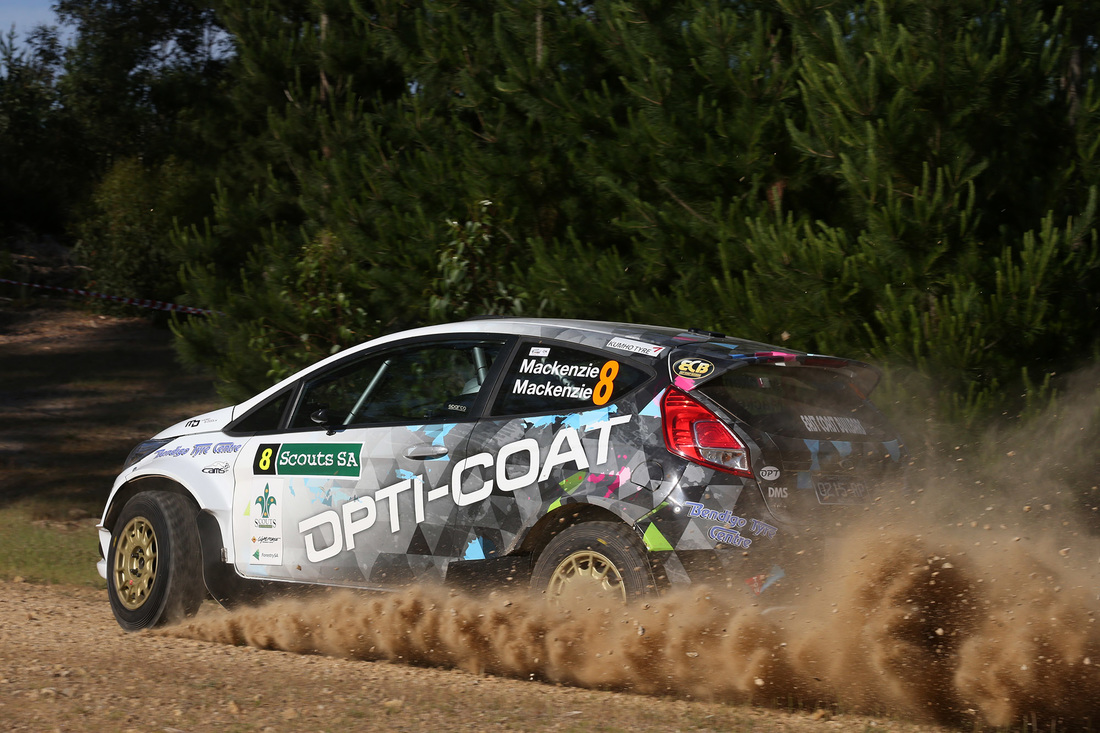 "The Championship yesterday, the win today, it really wanted it, and I wanted t the clean sweep. We couldn't be happier right now!"
"Molly Taylor did well all year, Steve Mackenzie had the pressure on too, he's always improving, and to knock off big brother Simon Evans, who unfortunately wasn't here, but on the first four rallies that was something special," said Eli.
In the National 4WD Series Marcus Walkem arrived at the event with everything to play for, and having won the Power Stage and the opening two Heats Walkem was in full control.
"That was a great stage to start the day on, I really enjoyed that stage, it's really fast and flowing. Got into there, got stuck into it, and really happy with that time," said Marcus.
On the flip side of the equation Mick Patton arrived at the event with a solid track record of results, but was starring down the barrel of having the 4WD title snatched away from him.
"Our second hand tyres are rapidly diminishing. A couple of really big jumps in there, we probably didn't realise we were going that ten to fifteen km quicker but the old girl landed really well and off we went," said Patton.
Walkem opened an immediate advantage, five seconds faster than Patton on the opening stage, which also saw local young gun Guy Tyler drop over three minutes in his Mitsubishi Lancer Evo V.
Amazingly Tyler was able to get immediately back up to speed, claiming the next four stages in a row.  The advantage at the front though shifted the way of Harry Bates after he played a gamble on keeping a set of new tyres up his sleeve.
By the end of the Heat though Patton was forced to settle for third and the runner up position in the National 4WD title, with Bates second for the weekend and Walkem taking an unexpected win.
"Coming from a horror year last year we're actually pretty happy," admitted Patton despite falling just short of his goal of claiming the title. "We can only go up and get better from there."
Having started the weekend with testing in mind Bates went on to claim a spectacular debut Heat win. "It's been an amazing weekend! We came in to learn as much as we could and the win is a bonus I suppose."
But the winner Marcus Walkem from Tasmania. "We knew we had a big job to do this weekend. We kept chipping away, from the Power Stage to each Heat, and we managed to come away with the win," exclaimed Marcus.
Finally to the Side-by-Sides, and another Heat win for newly re-crowned Champion Cody Crocker, who held a 32.9 second advantage by the end of the day over Polaris team mate Iain Hughes with Nathan Chivers Can-Am a further minute back.
"Pretty happy about that!" smiled Cody. "It's been a big season, we were almost the underdogs but we've come through. We're more than rapt!"
With Jeff David retiring his Porsche 911 from action during yesterday's second Heat there were no Classics running today.
And so that ends season 2015 with two newly crowned Champions (Marcus Walkem and Clay Badenoch) and two returning Champions (Eli Evans and Cody Crocker). Thanks to all the drivers, co-drivers, team, events and officials a big thank you, it's been incredible from start to finish. We'll see you all again in 2016!