It was a gamble, a huge commitment to raise funds in a short amount of time but it paid off for Brendan Reeves and Rhianon Gelsomino who took 2nd in the DMACK Fiesta Trophy at Rally Spain.
By Sam Tickell, photos @World, supplied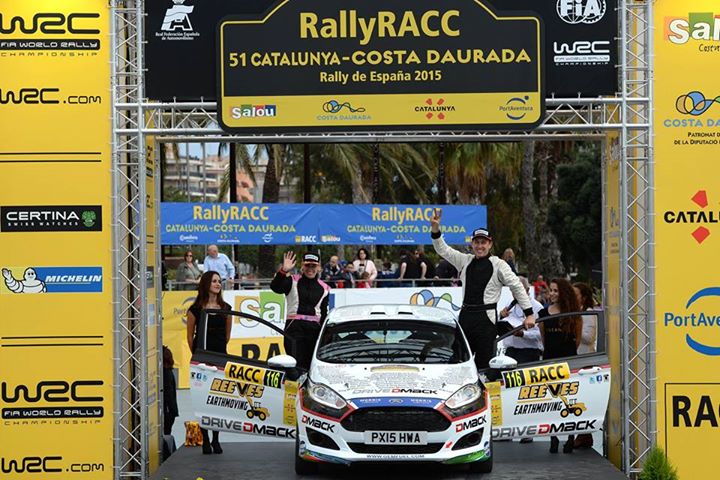 It was a sensational end to the RACC Rallye Espania.  Andreas Mikkelsen sitting at the stop point, talking to the media.  He had just fended off Jari-Matti Latvala for second.  Then Sebastian Ogier sticks it in the barriers.
Queue the following:
Mikkelson and Ova Florne win their first rally, live TV, massively unexpected.  Tears flow.  Commentators go crazy.
Nasser Al Attiyah and Matthieu Baumel beat out Armin Kremer by 0.1 of a second to wrap up the WRC2 Championship
Marius Aasen wraps up the Drive DMACK Fiesta Trophy
Brendan Reeves and Rhianon Gelsomino take a sensational second in the the DMACK Trophy.
The pair started the day in a safe third place behind Aasen and Tom Cave – the duo fighting for the Title and a chance to rally the Drive DMACK Fiesta R5 next year.  Reeves and Gelsomino had been careful to not get in their way, not scoring points.
But the title fight would be a blessing in a way as Cave sensationally went off early in the day, promoting Reeves and Gelsomino to second.  Cave would miss a breaking point and end up in a ditch.  He lost over seven minutes and Reeves would now concentrate on closing on Aasen.
Through the day, Reeves tried many things, different ECU settings, trying things with the DMACK tyres to make up time on the leader – something that they would do.
Reeves explains the morning, exclusively to RacerViews, at the mid-day regroup.
As the afternoon got underway Reeves and Gelsomino had a scare on SS22 – the 19.3km stage Pratdip stage.  They cut a corner and the car lost power.
While they had a gap over Cave, with a long stage and SS23 to go, there were hearts in mouths as they continued through the stage but with luck, and a few kilometres of competition, the Ford Fiesta R2T returned to full power.
And it would turn out to be the last stage of the day.  Ogier's crash ended the rally, showing the challenging conditions that the Spanish roads provided.  It also showed that the are no issues with exceeding track limits here.
"The second loop of stages was probably the trickiest of the week as there was so much gravel on the tarmac and severe cuts, with the top WRC drivers getting punctures," Reeves said.
So as it was, Reeves and Gelsomino were celebrated their podium at the start of SS23, rather than at the end.  The duo and the rest of the DMACK drivers were sitting at the start of the stage when it was cancelled.
The brilliant podium finish also provided Reeves and Gelsomino a 'Wild Card' for the Vatanen Touch Shootout. It is at the Shootout that Reeves hopes to prove his potential to DMACK Tyres and secure a drive in 2016 for one World Rally Championship event.
"It's been amazing to compete at Rally Spain and the feeling is even sweeter with getting second place in DDFT. Now we need to see what we can work on for the future, but we certainly proved that we have great pace in the car and it would be great to get a program together for next year," he said.
The effort was made possible by a crowd funding event – with over 110 people chipping in to raise the money. RacerViews was proud to be a part of this effort and are extremely proud to see Brendan and Rhianon take a podium position.
Undoubtedly, it had to be one of the most sponsored cars in WRC history, proving the value of the sport and the support that Brendan and Rhianon have built up over their careers.
Well done!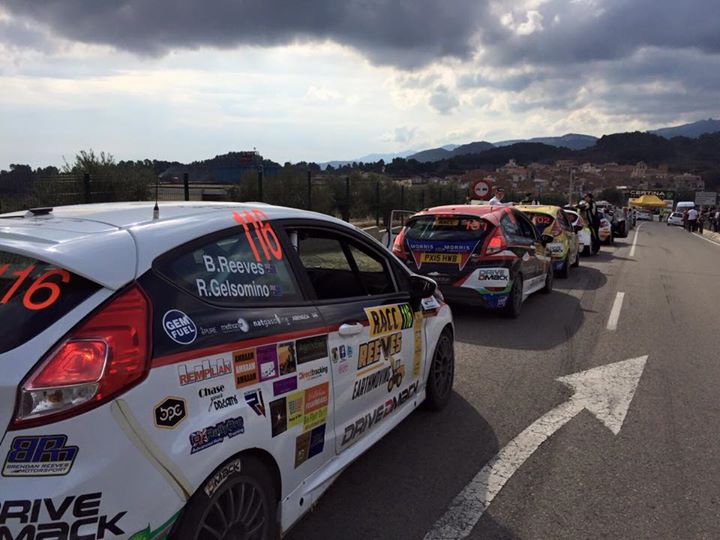 SS18    Guiamets 1 –    6.80 km
4:34.5    (3rd in class)
SS19    Pratdip 1 –    19.30 km
12:59.9 (5th in class)
SS20    Duesaigües 1 –    12.10 km
9:24.6    (4th in class)
SS21    Guiamets 2 –    6.80 km
4:32.5    (3rd in class)
SS22    Pratdip 2 –    19.30 km
12:57.2 (5th in class)
SS23    Duesaigües 2 [Power Stage] –    12.10 km
8:16.0    (stage cancelled, nominal time given)
Final Results for the Drive DMACK Fiesta Trophy
1. Aasen Marius – Engan Veronica    3:53:52.2
2. Reeves Brendan – Smyth-Gelsomino R. 3:55:31.5 +1:39.3
3. Cave Tom – Parry Craig 4:02:45.7 +8:53.5
4.van Deijne Kevin – Verschuuren Hein 4:08:56.0 +15:03.8
5. Vatanen Max – Renucci J. 4:15:05.1 +21:12.9
—
RacerViews was established in 2011 and with the aim of delivering a new web experience to motorsport fans. We bring you more than just the news.  Our exclusive interview and galleries brings you the views from the track, from the racers. Our extensive race review collection allows you to keep up with the action from around the world. Our team of passionate pros have decades of experience in the motorsport field. Our social media presence on Facebook, Twitter and iTunes  bring you more, a holistic experience.  We have more than 3100 followers on Twitter and more than 1.5million views on Google Plus.  Our mission is to bring exclusive content is in safe hands. Over the time we have partnered with motorsport teams likeAndreas Wirth, Stig Richards Motorsport, One of a Kind Motorsport, Dark Horse Racing and MRT Performance in order to give you the best exclusive motorsport coverage.
We are always looking for new people to join our team and we are always looking to publish stories, photos and audio in world-class publications around the world. If this interests you contact us