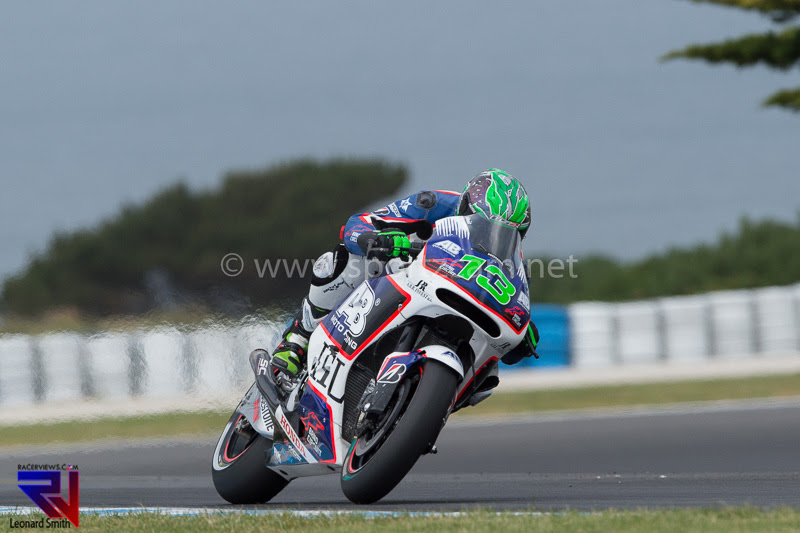 By Leonard Smith, Sam Tickell
Ant West hasn't had the easiest of motorcycle careers, being embroiled in personal controversy, a drug ban and now an argument with Moto2 team he riding with that potentially put him on the sidelines.
But that is not something you've ever let stop him in the past and this time it has been the same. Fighting back from being released by the QMMF Moto2 team he found himself without a ride and that is where an injury to Karel Abraham came in handy for the Australian where he took the Czech riders seat for the final rounds of the MotoGP Championship.
It would be an adjustment to come back to the MotoGP bike not having ridden one since the Kawasaki days of 2007-2008.
Despite his experience the leap back to the more powerful MotoGP bike would always be difficult.
"Obviously going from Moto2 to MotoGP is quite different. It is going to be difficult. The bike is new, the team is new. It is going to be difficult. I am going to try to do the best i can – keep it up, go step by step – try to get faster. Get out there and enjoy it.  It is going to be a challenge."
"I have ridden MotoGP bikes before. I have ridden the Aprillia MotoGP bike. I did a year and half on a Kawasaki and I have ridden a very old Honda V500 MotoGP bike. I have experience on big bikes – on MotoGP bikes.  The last time I rode one was 2008 and things change every year with these bikes.  Suspension, brakes, electronics, the engines."
http://gty.im/492717818
Coming back to MotoGP, even if it is not a Moto2 bike would not have the power and the fun that the MotoGP bike holds for West, saying that the bike would have more power to make it more enjoyable. It is a class with a spec engine supplier meaning that there is limited opportunities for this chassis developers to make the difference.
That being said though West has been able to develop his team  from a pure back of the grid asset to one that can battle for points in every round.  Through his time with the QMMF team he has used undoubted wet weather expertise  to full by further up the grid then it should be even taking win at the 2014 – TT.
"I have been doing a few years on the Moto2 class.  Those bikes have no power at all. To us they feel like they're really slow. They only make lap times due to chassis and suspension.  The engine feels really slow."
http://gty.im/83333739
But he relished the chance to jump back on the bike and readjust. Despite being thrown in the deep end he will achieve a similar results to Abraham of whom he took over from in the class.
"The challenge is electronics and power – getting it to the ground. It means that the riding style has to be different for a MotoGP bike. The lines you take are different. How you brake and how you hang off the bike are also different. I am going to have to change my style very quickly to adjust as quick as I can to the bike and learn the team, and they need to understand me and what I want from the bike as quick as they can. I have to understand how they work.
I have to take it as a challenge, a fun weekend and an opportunity to deliver."
http://gty.im/82791511
The ending of the relationship with the QMMF was an obvious disappointment for West but it had proven to be a difficult relationship borrow long time.
It was interesting position of not having to pay for his ride but also not being fully supported by his team in his view. In the end it made his life more difficult than it necessarily had to be and in an exceptionally tight class made results harder to come by.
"Biggest low for me – the team I was with – they didn't really look after me how I expected and made my life difficult within the team. They helped out the other guy. They gave him the suspension technician to help him on his bike and he never talked to me."
"A lot of other things to make my life harder at the races and Moto2 the races are so close – if you're a second off you are in 20th position. You need everything to be 100% perfect and they tried to make my life difficult."
But as West explains most of his team were supportive  and is in so many organisations it just takes one disagreement or one poor relationship between key people to destroy the relationship between a rider and the rest of the outfit.
It also meant that West's approach to racing had to be different and his mental preparation was far from where he would have liked it.  It resulted in that his preparation  was far more based on managing personalities  and his approach to managing some of the key people in the life rather than dealing with what was going to happen on track during the weekend.
http://gty.im/451374676
West was extremely open about this when he talked to RacerViews.
"One guy in the team didn't want me there anymore and it disappointing as I don't have a problem with the guys that own the team.  I am thankful of the opportunity they gave me for the past four years, otherwise I wouldn't be racing."
It was also where has personal financial position and his position as a paid rider was always going to be more difficult.
"I have no sponsors. I am happy with the chance they gave me but I am disappointed with how I was treated this year. You have good guys and bad guys in the team and I was screwed over by the bad guy. It made it difficult mentally."
"Other than that, I was still happy to be going racing in Grand Prix. To put up with people that don't want you there it is difficult to go in and do a good job.  You try to put on a smile. There are a lot of things that you can't say and you have to deal with it as best you can."
http://gty.im/1015404
Beyond his temporary ride in MotoGP,  West is now in a difficult position for 2016. He is lacking a budget  that is needed for most rides in MotoGP,  which makes it difficult.
"It is not looking very good [for 2016]. This is a good opportunity to keep my name out there and hopefully something will come of it. People will see I am still raicng and I am still fast. Though without sponsorship it is near impossible and it is late to get a ride for next year."
"A lot of the teams have signed riders and every team asks for a minimum of 300 000Euro or more to pay them and normally when I get to the teams I ask them to pay me.  When I get to a team and they ask how much I am going to bring, they have 10 other riders bringing $0.5million to a team so I have to compete against that type of money."
As such he is open to a career in superbikes be it in WorldSBK, AmericanSBK and BritishSBK,  the latter two national rounds having a greater chance of getting paid ride rather than having to pay for a ride.
He is hoping that their AmericanSBK the rebounds  from its lows of the previous couple of years To get more manufacture and sponsor interest.  Together with the BSB,  it is an attractive championship that offers good TV coverage and a lifestyle to match.
http://gty.im/102202757
"So I am looking at American SBK and World SBK. My chances are quite difficult to stay here unless I find a sponsor to help me out.  I will take whatever I can get at the moment."
He had a brief appearance in the BSB this year racing for the MV squad  And although the outing did not go the way he wanted he was thoroughly impressed with the professionalism of the team and the series as a whole.
He was also impressed to be arriving in country where he spoke the language, something that he did find difficult when racing for a team and living in a country that with language barriers.
"It feels like everything is 10 times harder – you have to do things harder than the rest of the riders where Europe is home. For me is on the other side of the world. Everyday life is a challenge."
But even if nothing comes he can return to Australia a return to Queensland  where his family resides and catch up on so much missed time with them. He can indulge his other passion of drift cars and continue building his V8 Ute. This is something that keeps him mentally stable and we hope something that will only be a part-time gig for we would like to seem have a chance a Superbike championship somewhere across the globe in 2016.
—
RacerViews was established in 2011 and with the aim of delivering a new web experience to motorsport fans. We bring you more than just the news.  Our exclusive interview and galleries brings you the views from the track, from the racers. Our extensive race review collection allows you to keep up with the action from around the world. Our team of passionate pros have decades of experience in the motorsport field. Our social media presence on Facebook, Twitter and iTunes  bring you more, a holistic experience.  We have more than 3100 followers on Twitter and more than 1.5million views on Google Plus.  Our mission is to bring exclusive content is in safe hands. Over the time we have partnered with motorsport teams likeAndreas Wirth, Stig Richards Motorsport, One of a Kind Motorsport, Dark Horse Racing and MRT Performance in order to give you the best exclusive motorsport coverage.
We are always looking for new people to join our team and we are always looking to publish stories, photos and audio in world-class publications around the world. If this interests you contact us