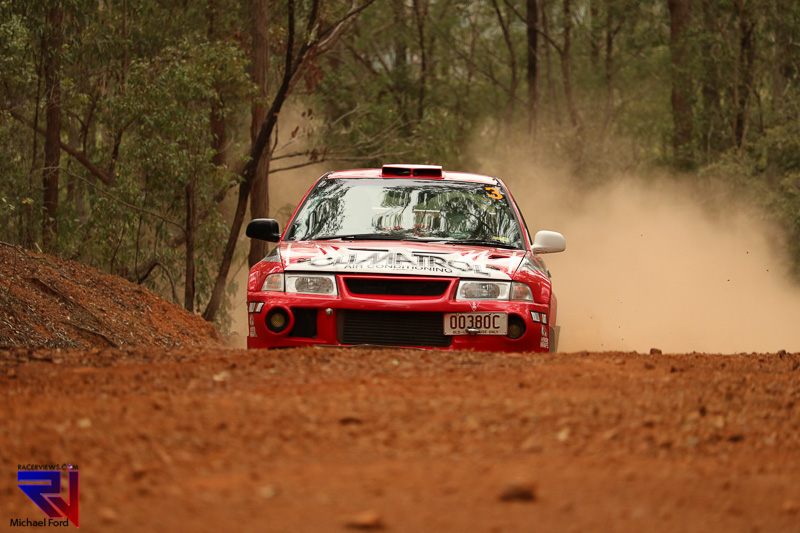 We were at the final of the Queensland Rally Championship – the P3 Solutions Benarkin Rally.  The rally was held in the forests around 90km north west of Brisbane and the event started out as an 11 stage rally run over one day.
The weather was fantastic as stage one got underway but it soon turned. Very heavy rain and lightening ended the rally after three stages.  While the rain was short lived, its intense nature meant that many roads became unpassable and many officials were even cut off for a short time.
So as such, the rest of the stages were cancelled but the organisers did manage to hold a 5km stage at night to make it worth the effort.  As only about 30km of competitive stages were run, half points were awarded.
Ian Menzies and Robert McGowan have won, with Kim Ackworth and Ian Swinbourne second, Todd Webster and Ryan Preston third.  Menzies and McGowan were also the 2015 Queensland Rally Championship winners.
[mudslide:picasa,0,racerviewsphotos,6216977988741623601]
—
Photos by Michael Ford
RacerViews was established in 2011 and with the aim of delivering a new web experience to motorsport fans. We bring you more than just the news.  Our exclusive interview and galleries brings you the views from the track, from the racers. Our extensive race review collection allows you to keep up with the action from around the world. Our team of passionate pros have decades of experience in the motorsport field. Our social media presence on Facebook, Twitter and iTunes  bring you more, a holistic experience.  We have more than 3100 followers on Twitter and more than 1.5million views on Google Plus.  Our mission is to bring exclusive content is in safe hands. Over the time we have partnered with motorsport teams likeAndreas Wirth, Stig Richards Motorsport, One of a Kind Motorsport, Dark Horse Racing and MRT Performance in order to give you the best exclusive motorsport coverage.
We are always looking for new people to join our team and we are always looking to publish stories, photos and audio in world-class publications around the world. If this interests you contact us