Two-time F1 Champion Fernando Alonso makes Daytona debut, five-time Rolex 24 Champion Scott Pruett announces retirement & more from day 1 of the Roar Before the Rolex 24.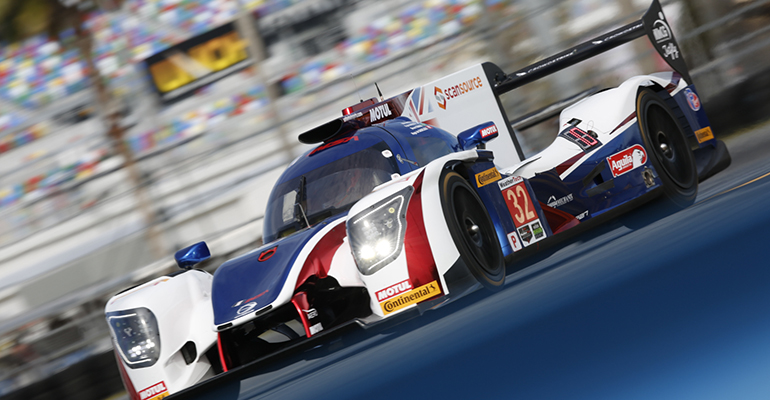 The annual "Roar Before the Rolex 24" offers teams vital preparation for the Rolex 24 at DAYTONA, the season-opening race for the IMSA WeatherTech SportsCar Championship.
This time around, the "Roar" is all about that – and a whole lot more.
Friday set the tone with high-profile news-making appearances by two of the biggest names in motorsports over the last two decades holding respective press conferences – with completely different storylines. Two-time Formula 1 world champion Fernando Alonso, making his Daytona International Speedway debut, talked enthusiastically about his first laps around the 3.56-mile DIS road course. Five-time Rolex 24 champion Scott Pruett spoke thoughtfully about his impending final laps here, in announcing his retirement after 50 years of racing.
"It was good fun," Alonso said after initial laps in the No. 23 Ligier LMP 2 Prototype fielded by United Autosports. "Unfortunately I'm missing a little bit of track time … but, so far so good.
"You feel, you smell motor racing here so that's a good feeling for any driver. The speedway is amazing size. Everything is just huge."
Alonso, F1 champion in 2005 and '06, will make a special "one-off" appearance at the Rolex 24 on Jan. 27-28, co-driving with Phil Hanson and Lando Norris. This follows another highly anticipated cameo by the Spaniard at last year's Indianapolis 500 where he started fifth and finished 24th.
"The goal here is more or less the same as at Indianapolis," Alonso said. "The goal is to try to learn different driving techniques, try to learn from the specialists of endurance races, try to be a better driver when the Rolex 24 [is held]. For me, it's the first time in an endurance race, the first time in a Prototype car, the first time driving at night – many new things will come, step by step. It's quite a big challenge."
Pruett, 58, started racing at the age of 8, in go-karts. All these years later, he is a true American legend in road racing, thanks in large part to his five Rolex 24 At DAYTONA victories, an all-time record he shares with Hurley Haywood. Pruett holds the record for Rolex 24 class victories, with 10. He'll try for an 11th class victory this year co-driving a Lexus RCF GT3 in the production-based GT Daytona class.
"Daytona is a magical place … I love it," Pruett said. "What better way to say good-bye to a sport I love than at this revered place surrounded by my respected peers and diehard fans. Here we go. I'm so excited about the next chapter of my life and so excited about getting on with the Rolex 24 here in a few weeks.
"I have so many great memories here. My very first race here in '85 … a lot of things have changed since then. The accommodations have changed. I was sleeping in the back of a van. The muffler fell off [my car] about halfway
through. The thing I can say is the excitement that I got coming in that day is no different than the excitement I got coming in here this weekend. This is such a great place, it's such a great track."
In addition to special star power, this year's Roar is distinguished by having a season-opening race complementing Rolex 24 testing. The IMSA Prototype Challenge Presented by Mazda will kick-off 2018 on Saturday with a one-hour, 45-minute race (1:25-3:10 p.m.).
This most different kind of Roar will also feature a special round of qualifying on Sunday for Rolex 24 teams that will establish pit and garage stall selections. Separate sessions for Prototype, GT Le Mans and GT Daytona classes will run from 11:25 a.m.-12:30 p.m.
On Friday, there were two practice sessions for Rolex 24 teams. Felipe Albuquerque, co-driver of the No. 5 Cadillac DPi Prototype, led both sessions. In the first he posted a fast lap of 1 minute, 37.266 seconds (131.756 mph). He improved upon that in the second session, at 1:37.196 (131.851).