Three-time defending WorldSBK champion Jonathan Rea believes the new technical rules introduced for the 2018 season won't make a huge difference to the speed of his Kawasaki ZX-10RR as final preparations begin for the Yamaha Finance-backed season opener at Phillip Island next weekend, February 23-25.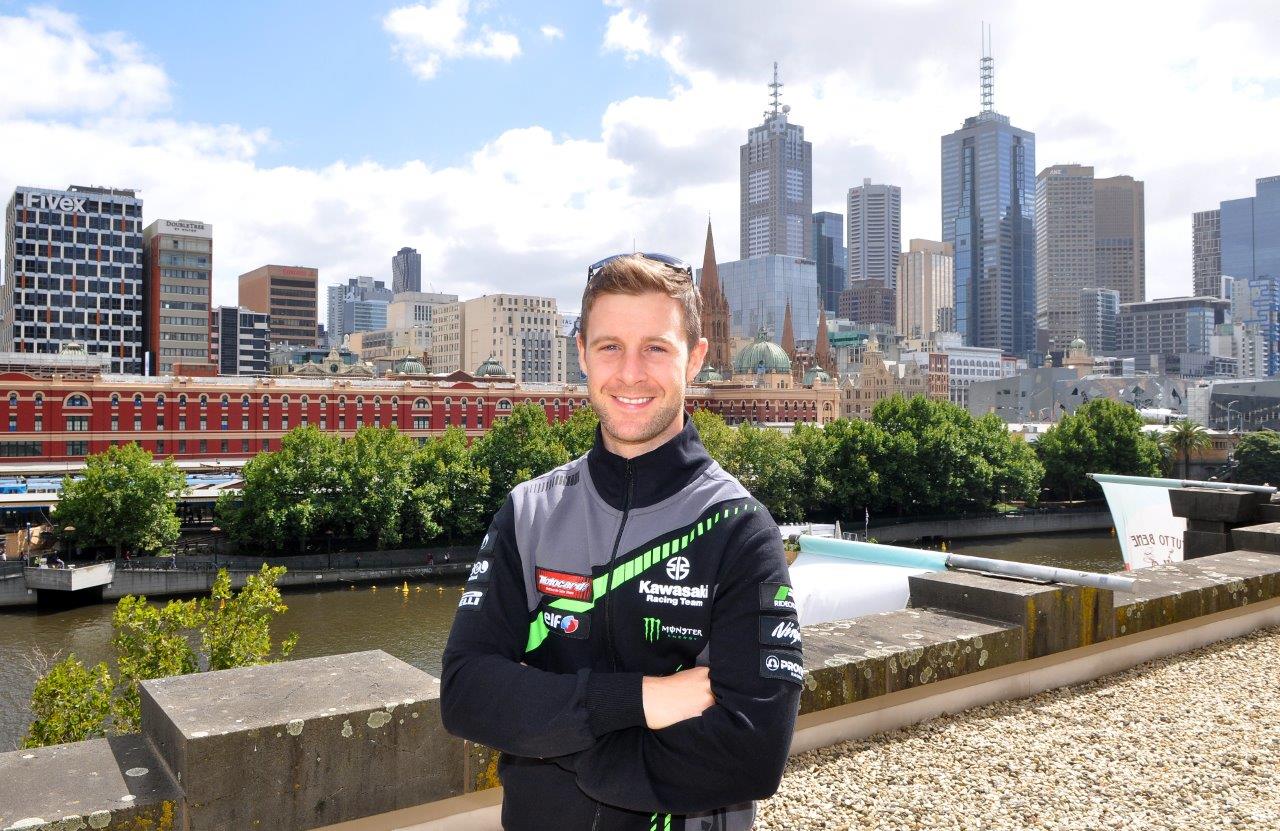 Under the new regulations for the 2018 MOTUL FIM Superbike World Championship, rev limits effectively replace weight penalties and air restrictors, meaning the all-conquering Kawasaki factory team of Rea and Tom Sykes is initially restricted to a rev limit of 14,100rpm – a 1000rpm reduction from the 2017 season.
However, Rea who arrived back in Australia earlier this week and was at Melbourne's Langham Hotel today speaking with media, is adopting a positive outlook.
"RPM equals power, so we had to redesign the tuning spec of the engine so our bike is now producing a lot more torque at lower in the rev range," said Rea, who spends time in the off-season at Phillip Island in the home he shares with his Aussie wife Tatia and sons Jake, 4, and Tyler, 2.
"For me and my riding style that's quite good – it's more manageable with less peaky power.
"I don't see it being a disadvantage at many tracks, because there are not a lot of places where we are in sixth gear the whole time. When we are, we might suffer a little bit."
However, Rea knows that if he dominates the early part of the 13-round championship – as he has during his stellar three-year reign at the top – there could be more penalties dished out in 250rpm handicaps on the way.
"The new regulations have tried to balance the field, which is a huge challenge for all the manufacturers. But at the end of the day, it's cutting-edge superbike technology and the more we simplify it sometimes I think the less appeal there is," said 31 year-old Rea.
"Time will tell – and I hope it's closer racing because it's not nice seeing the chatter outside the championship about it being not cool to watch.
"From an engineering point of view it's hard to manage the new rules because we have a fixed gearbox – and we calculate that by understanding our maximum rpm and the demands of each circuit.
"We then design the gearbox accordingly. So if we suddenly lose 250rpm after three races or 500rpm after six races – or worse still, 750rpm after nine races – then our gearbox is completely wrong and we can't change it. That's where it ties the hands of the engineers a little bit, but I really hope it won't get to that and common-sense will prevail.
"Like always though, after three or four races most of the riders and teams will find their place in the championship – and I can't see it being too dissimilar to last year as regards to who's at the front and winning races."
Other than working his way around the new character of the Kawasaki engine, most of the pre-season has been about refining an already potent package.
"From a chassis point of view we have changed some things, and I've managed to feel a little bit better with that. Our suspension company, Showa, has been working hard on developing new product, and I have a new front fork which gives me a little bit more feeling.
"The bike is in a really good window, and we find that if we go too far out of that window I start riding in a completely different way – so we try to keep it simple."
From exhaustion to exuberance
Rea was a spent man at the end of the 2017 season – where he became the first rider to win three titles in a row in the production-based series – but he's now rediscovered his mojo in a big way.
"At the end of last season I was very tired physically and mentally. I kind of didn't know where my motivation level was, as I was very busy at marketing and post-season events.
"But then I started training and I'm in a very good place now to fight for a fourth title.
"Everything is in place to win again, but there's also a part of me that worries that one day I am not going to be that guy.
"I can't continue this forever, but I feel like barring any silly mistakes, and I remain healthy, we should be able to fight for the title until the very end."
Awards season
Rea who was born and bred in Northern Ireland also enjoyed some personal highlights during the off-season, such as being awarded an MBE at Buckingham Palace by Prince William and finishing runner-up in the prestigious BBC Sports Personality of the Year crown behind distance runner Mo Farah.
"At the BBC awards I got to ride my ZX-10RR onto the stage and banged it off the rev limiter a few times which was good fun!"
Testing times
In the final European WorldSBK test before the paddock packed up and began the long-haul to Australia, Rea was fastest ahead of Alex Lowes (Pata Yamaha), Leon Camier (Red Bull Honda), Michael van der Mark (Pata Yamaha), Toprak Razgatlioglu (Puccetti Kawasaki), Sykes, Eugene Laverty (Milwaukee Aprilia), world No. 2 Chaz Davies (Aruba.it Racing – Ducati), Marco Melandri (Aruba.it Racing – Ducati) and Jordi Torres (MV Agusta).
Next up is a two-day official test at Phillip Island on Monday and Tuesday of next week (Feb 19-20) before the season kicks off back at the GP circuit three days later (Feb 23-25).
Rea has won five of the last six WorldSBK races at Phillip Island, but he knows that everyone is starting from scratch again next week."It's the beauty of this time of year because everyone is so excited, and motivation for everyone is charged – they all believe it could be their year.
"Personally, it's always super special at Phillip Island, and to start last year with wins in Australia in front of my friends and family – that was a weekend that really sticks in my mind."
Jam-packed WorldSBK weekend
The 22-lap WorldSBK races at Phillip Island will be held at 3:00pm on Saturday and Sunday (Feb 24 & 25), which will also feature three Aussie wildcards: Yamaha pair Wayne Maxwell and Daniel Falzon, as well as Troy Herfoss (Honda).
The 18-lap WorldSSP race will begin at 1:30pm on Sunday, with even more Aussies to cheer on: championship regulars Anthony West and Lachlan Epis, as well as local wildcard Tom Toparis. All three will be Kawasaki mounted.
Twelve support races will also double as the opening round of the 2018 Australian championship for superbike, supersport, supersport 300 and YMF R3 Cup competitors,
Entries for Australian superbikes have topped 50, including the comeback king Troy Bayliss.