There have been a number of announcements coming into the 2018 Blancpain GT Series. Here are some of the recent announcements…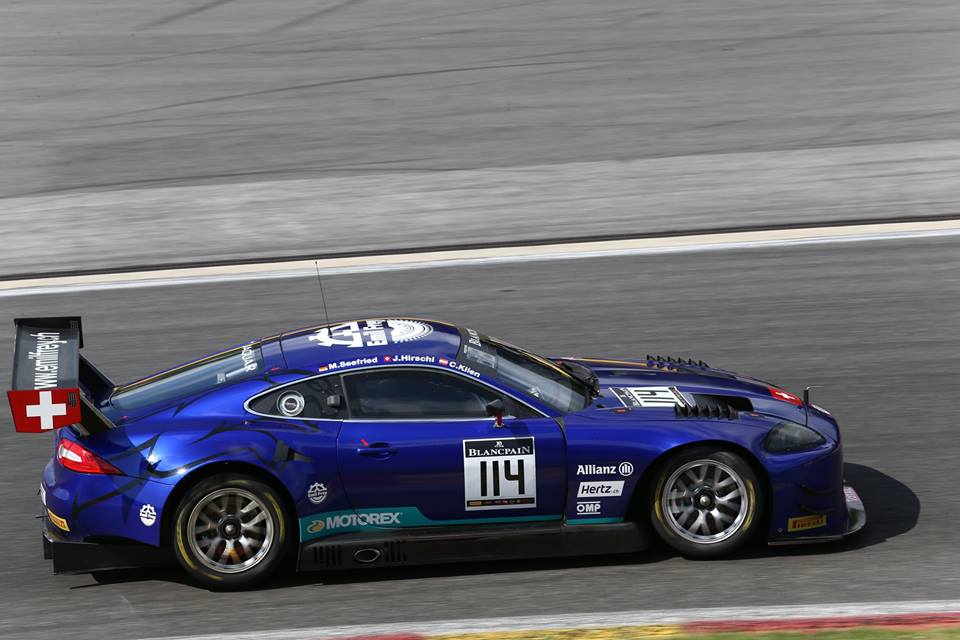 Emil Frey Racing will partner with Lexus to contest the full Blancpain GT Series in 2018, embarking on a challenge for top honours in both the Endurance and Sprint Cups with their Lexus RC F GT3. This will represent the Japanese luxury vehicle manufacturer's first assault on the Blancpain GT Series and will see the Swiss team compete as Emil Frey Lexus Racing throughout 2018. With both Sprint and Endurance campaigns confirmed they will fight for the overall title and have announced an impressive six-man driver line-up to support this effort.
In addition to the Lexus programme, Emil Frey Racing will continue their affiliation with Jaguar in 2018 by running the iconic British marque's GT3 machine at selected races. The team, which will compete as Emil Frey Jaguar Racing, will contest the Endurance Cup rounds at Monza, Silverstone and Paul Ricard, as well the Sprint Cup event at Misano.
Among their opposition for the overall title will be Saintéloc Racing, who have also revealed ambitious plans to contest the full Blancpain GT Series in 2018. The French squad, who clinched outright victory in thrilling fashion at last year's Total 24 Hours of Spa, will field two Audi R8 LMS machines in the Blancpain GT Series Endurance Cup. One car will contest the Pro category and another will compete in Pro-Am. They will also make a strong push for the Sprint Cup title, with two of their Audi R8 LMS set to compete for Pro class honours.
R-Motorsport have signalled their intent for 2018 by assembling a roster of highly accomplished drivers. The team has joined forces with Arden Motorsport and Jota Sport to field a pair of Aston Martin V12 Vantage GT3s at all five Endurance Cup rounds, returning the storied British marque to the Pro class.
Reigning Pro-Am champions Rinaldi Racing will return in 2018 and have made the Blancpain GT Series Endurance Cup their main objective this year. The Mendig-based team will field a pair of Ferrari 488 GT3s, one in the Pro-Am Cup and another in the Am class. The German squad topped the overall Pro-Am standings as well as the Sprint Cup classification in 2017 and will now switch their attention to the Endurance Cup.
Kessel Racing finished 2017 as Pro-Am runners-up in the Sprint Cup. This year they will look to go one better, with the returning line-up of Carlo Van Dam and Piti Bhirombhakdi once again representing the Swiss squad. The team will field the familiar Ferrari 488 GT3 that carried them to class podium finishes at every round of the 2017 Sprint Cup campaign, including a qualifying race victory at Zolder.
British outfit Barwell Motorsport have confirmed that they will field a Lamborghini Huracan GT3 in the Silver Cup, with three promising young drivers set to pilot the Italian machine at all five Endurance Cup events. Martin Kodric returns to the team after claiming three Pro-Am Cup victories with Barwell in 2017. The Croatian racer will be joined by his fellow Lamborghini junior driver Michele Beretta, who clinched Silver honours in the Blancpain GT Series Sprint Cup in 2016. Their three-man crew is completed by Sandy Mitchell. The 17-year-old Scottish racer graduates to the Blancpain GT Series after promising campaigns in British GT and junior single-seaters and will now look to test himself on the international stage.
Lamborghini is also the car of choice for Italian squad Ombra Racing. The team will return to the Endurance Cup and will take on Barwell Motorsports for Silver class honours this term. 2018 will represent a third successive year of Blancpain GT Series competition for the Lombardy outfit, who initially made their name as a single-seater team. The full driver line-up for their Huracan GT3 is set to be unveiled in the coming weeks.
The Oman Racing squad will also make a bid for the Endurance Cup in the Silver category. The team, who compete in conjunction with TF Sport, claimed the Pro-Am class title in 2017 and will once again field their Aston Martin V12 GT3 this year. Ahmad Al Harthy remains on board and will be joined by a pair of exciting young talents in Charlie Eastwood and Euan McKay. Both drivers are known to the team and will join Al Harthy in forming a formidable Silver Cup trio aboard the Aston.