This weekend marks the beginning of the 2018 Blancpain GT Series Sprint Cup – a weekend after the start of the British GT Championship and two weeks after the beginning of the Australian GT Championship.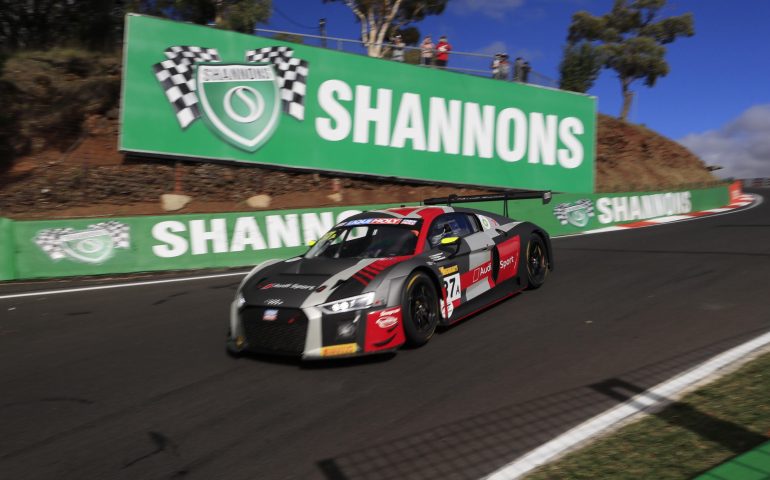 Zolder kicks off the Championship this year and the Belgian fans will be expecting more success from the WRT Team – both defending Champions and winners of this year's Bathurst 12 Hours.  They won in Zolder last year and will look to repeat that success
"You've got to take it race by race. I just want to be performing at a very high level; that's all I can really hope for. There are so many things that could happen along the way. You just need to focus on your own thing." Stuart Leonard

They return with four cars this year, the defending Driver's Champions – Stuart Leonard and Ronin Frijns are in the #17.  Will Stevens, Dries Vanthoor and Chris Mies all return to the squad this year.  A new face though is Alex Riberas with the Spaniard moving to the team after spending time in America. One lineup is still to be announced.
Undoubtedly this team will be the ones to beat – having taken out the Championship on every occasion. Their success and the success of the Audi R8 LMS is reflected in the entry list with 8 cars lining up (2 for Santeloc, 1 for Attempto, and the 4 for WRT).
"This will be the first time for me doing the full Blancpain GT Series and I'm particularly excited about the Sprint Cup. It's proper racing – one hour, flat out – so I'm really looking forward to that. We know we have a good product from Lexus and Emil Frey Racing has put all the pieces together to be successful this year."  Christian Klein
Bentley will be back with the Team Parker Racing effort, there will be 1 BMW with 3y Technology and 1 Jaguar for Emil Fry. The latter team will also field a Lexus. Ferrari join the grid with two cars for Kessel Racing. There will be 4 Mercedes AMG GT3 cars for the Akka ASP team.
Lamborghini is the other marque with cars in big numbers as 5 will line up -1 for the Reiter Young Stars team, 1 for Boutson Ginion and 3 for the GRT team. Undoubtedly those teams would take encouragement from the early season endurance success for the marque in America.
"Obviously the championship is long and it's not going to be won at Zolder. We showed last year that the potential is there, but the competition is not resting and the level is very high in the Blancpain GT Series. We'll really try to focus on ourselves and do our homework as best as possible and be well prepared. Then we need to take our chances, be consistent and quick throughout the year." Mirko Bortolotti

A total of 22 cars will line up for the first round before moving to Brands Hatch, Misano, Budapest and the Nurburgring.
The on-track action begins with free practice on Friday (6 April). Both qualifying sessions will take place on Saturday morning, followed by one-hour races on Saturday at 15.25 and Sunday at 13.30 local time.
The RacerViews info
Photos by Sam Tickell, quotes from PR sources, April 2018
RacerViews was established in 2011 and with the aim of delivering a new web experience to motorsport fans. We bring you more than just the news. Our exclusive interview and galleries brings you the views from the track, from the racers. Our extensive race review collection allows you to keep up with the action from around the world. The team of passionate pros have decades of experience in the motorsport field. Our social media presence on Facebook, Twitter and YouTube bring you more, a holistic experience. We have more than 3100 followers on Twitter and more than 2 million views on Google Plus. Our mission is to bring exclusive content is in safe hands.
This year we have full season commitments to cover the FIA WEC, British GT, Belgian Rally Championship and Laguna Seca. You will also find us at Blancpain GT, Supercars, IMSA, WorldSBK and more.
Our commitment to motorsport can be seen with unrivalled coverage of the Queensland Rally Championship. Additionally, over the time we have partnered with motorsport teams like Ben Gersekowski, Andreas Wirth, Stig Richards Motorsport, One of a Kind Motorsport, Dark Horse Racing, Nat Rallysport and MRT Performance in order to give you the best exclusive motorsport coverage.
If you have a motorsport story to share contact us!