With the first round of the Blancpain GT Sprint Series on this weekend at Zolder, we thought we would take a look at the news coming into the first round. Read a preview here
Jerome Policand's AKKA ASP outfit have added a further entry for this weekend's Blancpain GT Series season-opener at Zolder, bolstering the grid for the Belgian event to 22 cars.  AKKA ASP have now announced that they will add a fourth Mercedes-AMG GT3, which will run under the SMP Racing banner. Russian duo Vladimir Atoev and Alexey Korneev will share driving duties aboard the #35 machine, which will compete for Silver Cup honours. This will be one of two Silver Cup efforts fielded by AKKA ASP at Zolder, with Jack Manchester and Nico Bastian also in the hunt for class honours aboard their full-season #90 Mercedes-AMG GT3. The team's Pro line-up sees Raffaele Marciello and Michael Meadows sharing the #88, while Nicolas Jamin and Felix Serralles will handle the #87.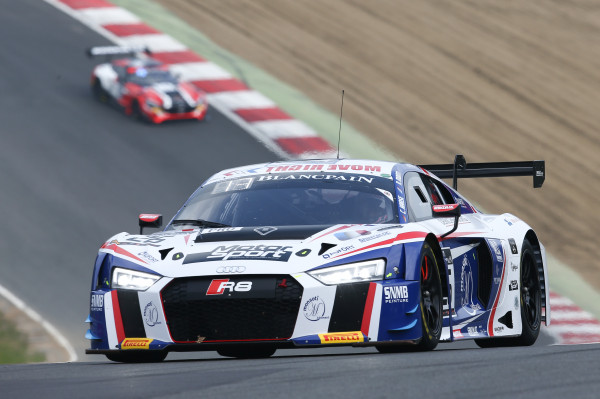 Christian Klien is relishing his first full-season Blancpain GT Series assault as he prepares for the opening round of the Sprint Cup campaign at Zolder. The experienced Austrian made his first Blancpain GT Series appearance in 2016, contesting the Total 24 Hours of Spa and the Nürburgring event for Emil Frey Racing. In 2017 he expanded his role to encompass the complete Endurance Cup schedule for the Swiss outfit and has now committed to the full 10-round Blancpain GT Series. The Emily Frey squad will begin a new chapter this year as they link up with Lexus to field a pair of the Japanese brand's RCF GT3s. Klien will partner Albert Costa in the Sprint events, with Marco Seefried joining the pair at Endurance Cup rounds
Vincent Vosse's WRT squad will field four Pro class Audi R8 LMS cars in the Sprint Cup this season as they seek to extend their dominance of the team's title to a sixth successive year. They will also defend the drivers' championship, which was clinched in dramatic fashion last season by Stuart Leonard and Robin Frijns. Both Leonard and Frijns return in 2018, with their car once again carrying their lucky #17. The Dutchman is undertaking a dual programme with Audi this term by also competing in DTM, meaning Frederic Vervisch will deputise alongside Leonard at clashing events. The #1 machine pairs Team WRT stalwart Christopher Mies with newcomer Alex Riberas. The 24-year-old Spaniard is new to the Blancpain GT Series but possesses considerable experience in GT racing, having competed extensively in Europe, the U.S. and Asia during this short career. The #2 car will see returning WRT drivers Will Stevens and Dries Vanthoor sharing once again, reprising a partnership that was first formed at the Total 24 Hours of Spa in 2016. Both are race-winners in the series and will tackle their third year as part of the WRT outfit.
Mirko Bortolotti, Andrea Caldarelli and Christian Engelhart clinched the Endurance Cup title in 2017, with Bortolotti and Engelhart also securing the overall Blancpain GT Series championship. It has now been confirmed that all three factory drivers have signed long-term contract extension with Lamborghini and will look to secure back-to-back successes this season. This forms part of a major assault by Lamborghini and Grasser Racing, with the team set to field three full-time Pro cars in both the Endurance and Sprint Cups this season. Bortolotti and Engelhart will remain together for the Sprint Cup, with Caldarelli once again joining them to defend their Endurance crown. Caldarelli will also compete in all five Sprint Cup events, linking up with Ezequiel Perez Companc. A third Sprint Cup entry sees new signing Franck Perera paired with Dutch racer Loris Hezemans.
Brothers Pieter and Steijn Schothorst will join Attempto Racing for a full Blancpain GT Series program in 2018. The German team will compete as an Audi Customer Team for the first time this 2018 season and will enter two Audi R8 LMS in the Pro-Class of the Blancpain GT Endurance Cup and Blancpain GT Sprint Series. Brothers Pieter and Steijn Schothorst will join Attempto Racing for a full Blancpain GT Series program in 2018. The German team will compete as an Audi Customer Team for the first time this 2018 season and will enter two Audi R8 LMS in the Pro-Class of the Blancpain GT Endurance Cup and Blancpain GT Sprint Series.
Sainteloc Racing has confirmed two of its line-ups for the upcoming season, with Sebastien Chetail's team announcing the drivers who will contest the Sprint Cup. The French squad, which clinched overall victory at last year's Total 24 Hours of Spa, will be present in both the Sprint and Endurance Cups in 2018. In the Sprint category they will field one Audi R8 LMS GT3 in the Pro class and another in the Pro-Am category. For the Endurance Cup, both cars will contest the Pro class. With the start of the season approaching fast they have now revealed their Sprint line-ups, with the Pro entry set to be driven by Christopher Haase and Simon Gachet. The experienced Haase remains with the Sainteloc squad for a third successive year having been part of the crew that conquered Spa last season. Having clinched the Blancpain Endurance Series title in 2012 the German enjoys a long and successful association with the championship.
The RacerViews info
Compiled from PR sources, April 2018
RacerViews was established in 2011 and with the aim of delivering a new web experience to motorsport fans. We bring you more than just the news. Our exclusive interview and galleries brings you the views from the track, from the racers. Our extensive race review collection allows you to keep up with the action from around the world. The team of passionate pros have decades of experience in the motorsport field. Our social media presence on Facebook, Twitter and YouTube bring you more, a holistic experience. We have more than 3100 followers on Twitter and more than 2 million views on Google Plus. Our mission is to bring exclusive content is in safe hands.
This year we have full season commitments to cover the FIA WEC, British GT, Belgian Rally Championship and Laguna Seca. You will also find us at Blancpain GT, Supercars, IMSA, WorldSBK and more.
Our commitment to motorsport can be seen with unrivalled coverage of the Queensland Rally Championship. Additionally, over the time we have partnered with motorsport teams like Ben Gersekowski, Andreas Wirth, Stig Richards Motorsport, One of a Kind Motorsport, Dark Horse Racing, Nat Rallysport and MRT Performance in order to give you the best exclusive motorsport coverage.
If you have a motorsport story to share contact us!