There is little doubt that Nic Minassian became a fan favourite. A stellar and strong career that, like for so many, started with open wheelers before making his name in sportscars.
There was a time that it looked like he was going to be the next great French F1 hope. Testing for Williams F1 – though ultimately losing out on a race seat to Jenson Button, he was runner up in the International F3000 Championship to Bruno Junqueria.
http://gty.im/1186924
After missing out on the F1 ride, he turned his attention to America and landed a ride – next to his F3000 rival, with the Chip Ganassi outfit.
It was at a time with CART was still riding high and Ganassi had experienced domination with Jimmy Vasser, Alex Zanardi and Juan Montoya.
But a change in driver lineup, a move away from the tried and tested Reynard Honda package meant that it was a difficult year for the team and Minassian was let go part way through the year.
Naturally a career setback but Minassian wasn't going to let it end time in the cockpit.
"It is tough, but you don't think it is tough because you want it so much. But it is not an easy sport," Minassian said.
How he clawed back and succeeded from there is central to his character and suggests that this is not a man to lie down and just let things happen.
http://gty.im/143897185
"I never told myself I won't be a racing driver ever. It was not a case of what will I do, never. There was not one season I haven't done, I have always races. I don't know what to say but there was never an option in my head.
"You cannot think that I am just going to do P2 – cause if you can't do P2, there is nothing else. You need to have your ass in the car.
"At that point, I came back from the US and I did Nascar – and I won it. I wanted to do Le Mans, I called Henri and Oreca and they called me so I did Le Mans.
"Then I wanted to do Supercars as well and I did GT. You need to get going and drive and then doors open when you do that. I called people. I was not shy. I was selling myself – no I was showing people that I wanted it. And I wanted it.
"You have to work hard, there is no other way to put it "
http://gty.im/621416
It led him back to Europe and the European Nascar series that took advantage of the newly built ovals at Rockingham and EuroSpeedway Lausitz.
He proved the point by racing with the tiny Creation team for many years, also joining Pescarolo and Oreca – making calls to get rides, not being shy and never giving up on his goal to create a career out of driving.
He would make his name in topline sportscar racing at a time when any team could succeed at the top of LMP1 competition. A time that he looks at with fondness but doesn't dwell on it or expect the sport to retreat.
http://gty.im/72042933
"In that period we were racing with a Private team and with clever thinking and engineering you had a chance of fighting. Now the category it is impossible to fight with the Toyota. The technology and thinking has changed the way racing is done. It changed very quickly.
"I love the era – I love every era – but I love the simplicity where it is less of the car and more of the driver. You can have a small crew and they are cleverly thinking what they are going to do – there is a good solution and a good race at the front. Now if you are not a manufacturer you cannot fight at the front.
"There are other categories. The LMP2 and the P1 with the privateers is great as well. It is at the time now where there is a new wave going to come. We are all waiting for the new wave.
"It has always been like this – up and down, up and down. It was like this with the diesel cars versus the petrol car. You always think it was better in the past but you cannot go there."
http://gty.im/73891628
His performances during this time caught the eye of Peugeot and who were looking to reenter the sport after a 14 year absence.
He joined the team as the first technological wave hit the sport to take the sport away from the traditional petrol engine.
It heralded an arms race between Audi and Peugeot and rendered the privateers to battle for the minor places. No longer could private team really compete for the win by being clever.
There was also the issue of politics, being French in a French team and Peugeot wanting success.
Every driver in this situation has to find their own way to cope.
"I was very proud to drive with the French team. I had French teammates and a French crew. It was like France racing against everyone els. It was fantastic.
"You know there was pressure. When you in probably the best team fighting to win overall, the pressure is at its highest and it is up to the driver to take it positively and use it as a performance gain.
"I think pressure is good. If you use it well, it makes you gain.
"In your career you always have pressure and you use it. It was a great time in my career – the ambiance was lovely and it was dominating in terms of performance. The car was fast and it was good battles with Audi – wheel to wheel, banging wheels and everything – it was proper racing.
"I loved it.
"But too, I loved my time in Creation, I loved my time in P2 as you could have a great fight. I loved every stage."
Podiums at Le Mans came along with podiums at Sebring and Petit Le Mans. There were seven wins in Le Mans Series competition before the manufacturer abruptly pulled out due to financial pressures brought on by the Global Financial Crisis.
Like before, Minassian was facing an uncertain future for his driving career but his love of driving and passion for the sport continued.
A run with Sebastien Loeb Racing before rejoining Pescarolo for their final Le Mans would follow. The race with the Dome Judd would be his final run in LMP1. Races with SMP, Pecom Racing would follow with LMP2 machinery.
He would also get the opportunity to run in the 24 Hours of Daytona, 24 Hours of Spa and the international driver rounds for V8 Supercars.
It all points to a dogged determination from Minassian and a love and desire to continue racing. This determination has existed throughout his career.
http://gty.im/81551318
"I like that there are so many (teams he has driven for). Every step you take is a career highlight.
"Whether it is in a new direction or a different direction, it is you that drives it. You have to be focused to be able to make it your work – no I won't call it work – to be in the best car. If you are in the best car and you enjoy your challenges, it is fantastic.
"There is no tipping point. I loved when I did Clio Cup as it tool me to Formula Renault. I loved when I did F3 as it took me to F3000.
"The biggest step of my career though was packing my bag and moving to England in 1996. It is the biggest step because it made me speak English, understand a different culture, and dig deep into myself to come a racing driver. "
More recently, he has shifted his attention to team management with the IDEC Sport team. Running two cars in ELMS competition and a couple more in the Creventic 24H Series keeps him busy – and importantly, in the paddock.
Indeed he has been able to race twice with the team in the European Le Mans Series this year, including the most recent round at Spa due to unplanned absences from his other drivers.
He showed the pace and was able to help the AM class drivers with setup and running in the challenging conditions.
Though it must be said, he is enjoying his new life as Team Manager.
"It is something I have always been interested in so I have always had a look at how the team is running. I just love it. In that way, the switch has been quite easy.
"I would never say I would retire from being a racing driver – I would have the chance to race a car, I would do it as I love it too much.
"But the switch to the management side of things is taking as much pleasure as when I used to driver. I have run with small teams, big teams, medium teams, French, English, Americans, Italians – so when you move around you pick up lots of information.
"You never stop learning and I am still learning. It has been a great change."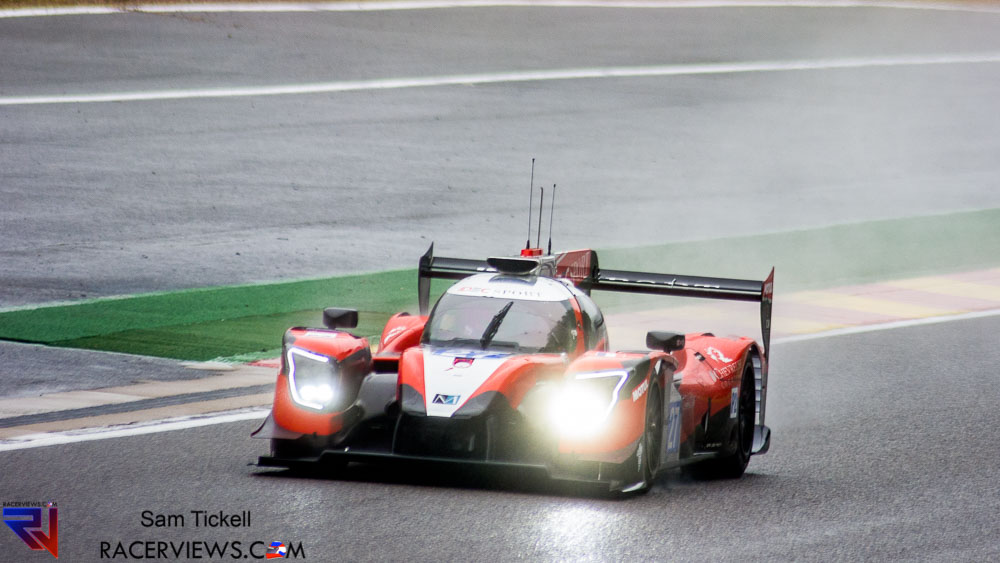 After a long and varied career that has seen him race across the world in some of the finest machinery, with many career highlights, there is an inability to pick a favouite.
It goes back to what he was saying about racing – that he loved the Clios, that you have to 'need to have your ass in the car' and that relentless attitude that sees him move seamlessly into a team management role.
"There are many – too many. For sure there is the Williams F1 from 1997 which was a wonderful car. The Champ Car from 2001 was superfast. The Peugeot 908 and also the Alpa LM Ford Cosworth – it was a Group C and I loved it. The DBA Creation was a mega car to drive. Just so many."
In the end the passion keeps him here. There is nowhere else he would rather be.
So the last words go do Nic. Why his career has been long and while he has been unlucky to not bag a haul of major trophies, why he has been a success.
"The biggest thing is that racing is in my blood. That is why I just want to be here."
The RacerViews info
By Sam Tickell, September 2018.

RacerViews was established in 2011 and with the aim of delivering a new web experience to motorsport fans. We bring you more than just the news. Our exclusive interview and galleries brings you the views from the track, from the racers. Our extensive race review collection allows you to keep up with the action from around the world. The team of passionate pros have decades of experience in the motorsport field. Our social media presence on Facebook, Twitter and YouTube bring you more, a holistic experience. We have more than 3100 followers on Twitter and more than 2 million views on Google Plus. Our mission is to bring exclusive content is in safe hands.
This year we have full season commitments to cover the FIA WEC, British GT, Belgian Rally Championship and Laguna Seca. You will also find us at Blancpain GT, Supercars, IMSA, WorldSBK and more.
Our commitment to motorsport can be seen with unrivalled coverage of the Queensland Rally Championship. Additionally, over the time we have partnered with motorsport teams like Ben Gersekowski, Andreas Wirth, Stig Richards Motorsport, One of a Kind Motorsport, Dark Horse Racing, Nat Rallysport and MRT Performance in order to give you the best exclusive motorsport coverage.
If you have a motorsport story to share contact us!