RAM Racing's successful pursuit of TF Sport resulted in Ian Loggie and Callum Macleod winning British GT's blue riband, three-hour race – the Silverstone 500 – in thrilling fashion earlier today, while Team Parker Racing's Nick Jones and Scott Malvern also sealed popular first GT4 victories after coming so close on two previous occasions this year.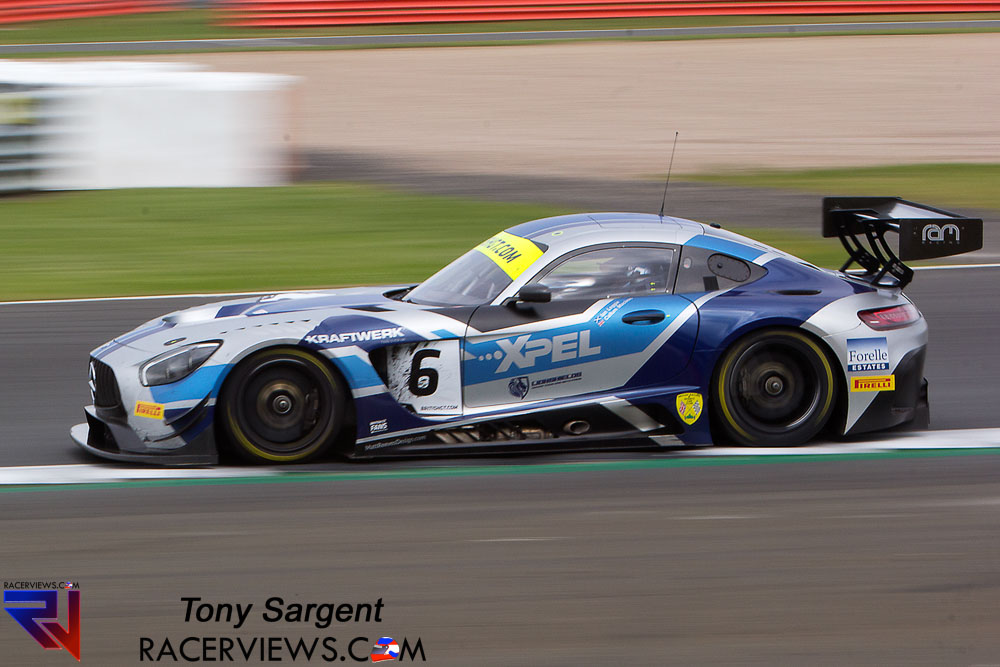 The nail-biting conclusion to a contest that mixed converging strategies with hard racing also resulted in heartbreak for Graham Davidson and Jonny Adam whose accident in the final four minutes promoted team-mates Mark Farmer and Nicki Thiim to second. JRM's Rick Parfitt Jnr and Seb Morris initially completed the podium after battling through from 11th before their Bentley's post-race disqualification – which has been appealed – handed third to WPI Motorsport's Michael Igoe and Dennis Lind.
Meanwhile, ERC Sport made it a Mercedes-AMG one-two in the GT4 class thanks to a stealthy, trouble-free drive from Peter Belshaw and Maxi Buhk who finished ahead of Seb Priaulx and Scott Maxwell's Multimatic Motorsports' Mustang. However, their 30s post-race penalty for a pitstop infringement not only promoted Beechdean AMR's Kelvin Fletcher and Martin Plowman to third overall but also ensured Pro/Am crews filled the podium places.
GT3: THRILLING FINISH TO BRITISH GT'S BIGGEST RACE
The best Silverstone 500 ever? Quite possibly, and certainly one that will live long in the memories of Ian Loggie and Callum Macleod who claimed their second British GT victories together, and RAM Racing's first, by 36s. However, such a dominant margin doesn't tell the whole story…
They faced fierce opposition all afternoon from TF Sport's #47 Aston Martin as well as Balfe Motorsport's Rob Bell and Shaun Balfe, who took it in turns to lead as different strategies built towards the race's climax.
Davidson led the opening stint from pole but was under pressure throughout as first Loggie and then Balfe harassed the Scot. RAM were the first to react by pitting Loggie after just 25 minutes before Balfe's McLaren was in 20 minutes later. TF Sport, meanwhile, elected to run deep towards the hour mark, ensuring the respective Pros were left racing the clock rather than each other up front.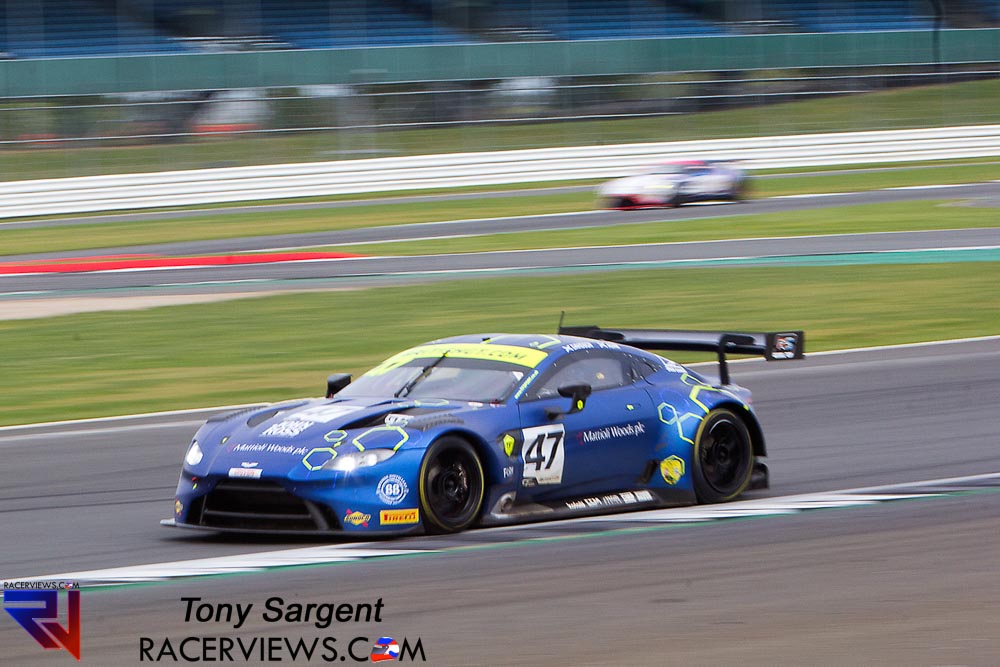 Drive time regulations saw strategies converge with just over an hour remaining when Balfe emerged fractionally ahead of Loggie. The McLaren pulled steadily clear thereafter but fell short of the 10s gap required to negate its Pitstop Success Penalty from Snetterton, which was to be served during the final driver change.
Meanwhile, Davidson maintained a watching brief five seconds behind Loggie, whose short opening stint saw him remain onboard for longer as the race ticked towards its conclusion. TF Sport's longer initial run ensured Adam could be installed earlier, and his natural pace advantage saw the Aston Martin lead Macleod by five seconds heading into the final 20 minutes. It would sadly remain a two-way scrap due to Balfe Motorsport's pitstop infringement and subsequent 10s stop/go penalty.
All eyes were on Macleod whose fresher tyres helped him carve into Adam's advantage. Five seconds quickly became just 0.5s as RAM's Mercedes-AMG desperately searched for a way past the Aston Martin. For several laps they circulated together, Macleod darting this way and that but unable to pass Adam's increasingly wide Aston Martin.
That was until four minutes remained when the leaders happened upon GT4 traffic at the fast Maggotts/Becketts section. Adam, sensing an opportunity to drop Macleod before Hangar Straight, went for the gap but made contact with the Mustang which slowed their momentum. The Mercedes-AMG shot past on the inside as Adam span into retirement after clipping the Ford while exiting Chapel.
It was a tough end for TF Sport, which looked set to claim a double podium. As it was, Mark Farmer and Nicki Thiim were the chief beneficiaries of their team-mates' misfortune after the Dane passed Seb Morris in the final stint.
JRM also finished on the rostrum but were disqualified post-race for their Bentley being underweight after Rick Parfitt Jnr and Morris had battled through from 11th on the grid and served a stop/go penalty.
Instead, WPI Motorsport claimed their maiden British GT podium courtesy of debutant Dennis Lind and Michael Igoe who executed an incredible double pass in the space of two corners early in the opening stint.
Optimum's Ollie Wilkinson and Bradley Ellis won the Silver Cup class by finishing fourth overall despite being punted into a spin in the final hour, while Andrew Howard and Marco Sorensen's Beechdean AMR Aston Martin enjoyed a trouble-free run to fifth.
Glynn Geddie's rapid opening stint helped Team Parker Racing's Bentley initially carve its way from 16th to fourth. However, a 30s post-race penalty issued in lieu of a drive-through for multiple track limits offences ultimately dropped the car Geddie shared with Ryan Ratcliffe to sixth.
Barwell's afternoon was compromised on the opening lap when championship leader Adam Balon hit the back of team-mate Sam De Haan, who was forced to pit for repairs. Balon and Phil Keen's subsequent 10s stop/go penalty and additional Pitstop Success Penalty carried forward from Snetterton restricted their #72 Huracan to seventh, one place ahead of the sister #69 car.
Davidson and Adam's stranded Aston Martin was classified ninth ahead of JMH Auto's John Seale and Jamie Stanley.
Loggie's race and qualifying performances – he was also the fastest Am on Saturday – earned him the Blancpain Driver of the Weekend Award, while Thiim set the Sunoco Fastest Lap.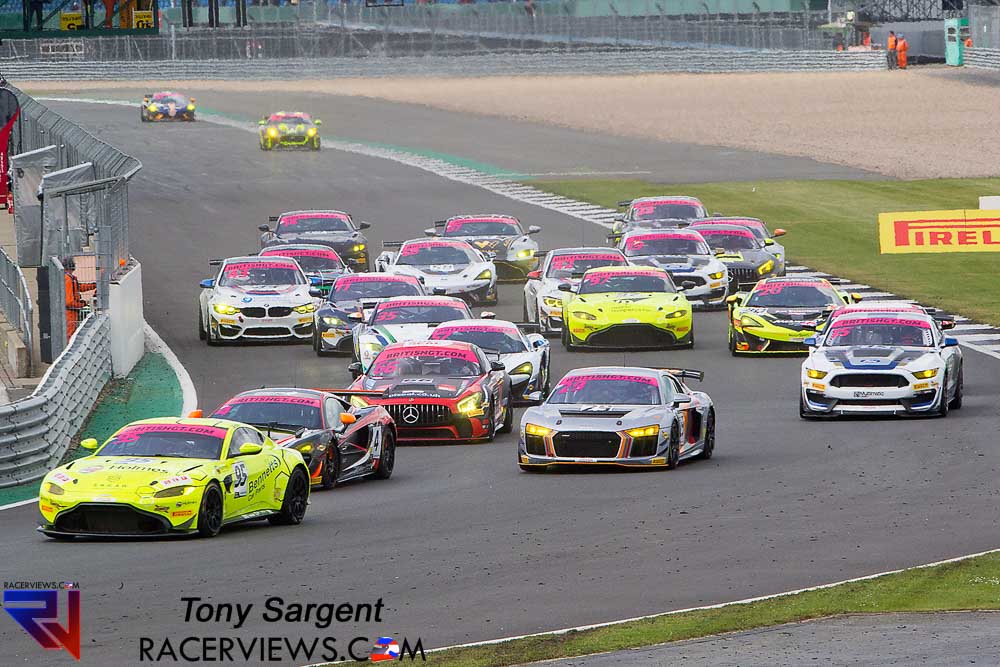 GT4: JONES AND MALVERN FINALLY COME GOOD
Few in the paddock would begrudge Nick Jones and Scott Malvern a first British GT win following a largely luckless season that, until today, had seen technical issues twice deny Team Parker's Mercedes-AMG victory. But it was third time lucky for the reigning Pro/Am champions who executed a perfect race to triumph at the biggest round of the year.
Josh Price initially converted pole into a healthy lead before the afternoon quickly unravelled for TF Sport's #95 Aston Martin, which served three stop/go penalties for pitstop infringements. At least Price's pace didn't go completely unnoticed after he was awarded the Sunoco Fastest Lap trophy.
Nevertheless, the advantage then passed to Tolman Motorsport's James Dorlin and Josh Smith, who took it in turns to lead before a technical issue side-lined their McLaren just after the final pitstop.
However, it's unlikely that trouble-free runs for either crew would have been enough to topple Team Parker, whose Pro/Am line-up benefitted from 14s shorter pitstops compared to their Silver/Silver rivals in order to balance the latter's natural driver pairing advantage.
Jones more than played his part by keeping the Mercedes-AMG in contention during the first and third stints, while Malvern's blistering pace helped to maintain a comfortable advantage over the next best Pro/Am crew.
That was ultimately ERC Sport's Peter Balshaw and Maxi Buhk who progressed from 16th on the grid thanks to similarly impressive drives from both. Buhk emerged from his final pitstop 14s behind Malvern, a gap that remained largely unchanged over the remaining 45 minutes.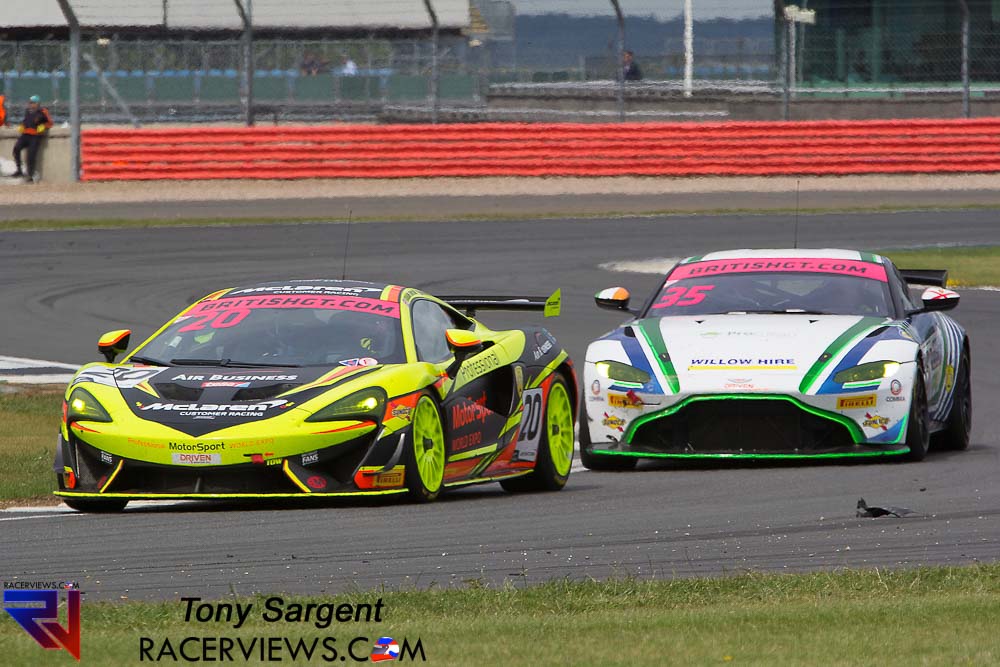 Travails for TF Sport and Tolman should have played into Multimatic's hands. Seb Priaulx and Scott Maxwell were ever-present in the top-six and ultimately found themselves best of the Silver entries after three hours. However, a post-race 30s penalty in lieu of a drive-through for a pitstop infringement dropped the Mustang to fifth.
Their loss was Beechdean AMR's gain, Kelvin Fletcher and Martin Plowman inheriting third and making it an all-Pro/Am podium.
Ash Hand and Tom Canning salvaged fourth for TF Sport, which was an impressive result given their 15s Pitstop Success Penalty, while Optimum Motorsport's Patrick Matthiesen and Mike Robinson finished behind Multimatic's penalised Mustang after featuring in the top-six throughout.
The Century BMW shared by Andrew Gordon-Colebrooke and Angus Fender, plus Academy's Will Moore and Alex Toth-Jones, completed the top-eight ahead of Fox Motorsport's Mark Murfitt and Michael Broadhurst who swapped places with HHC's #57 McLaren post-race following a flag infringement.
British GT's teams and drivers return to action in just a fortnight's time at Donington Park (June 22/23).
> Result: Silverstone 500
> Points: GT3 | GT4