The coronavirus crisis has put the sports world "on hold", but rally drives and fans should not sit still during the lockdown. The promoter of the Belgian Rally Championship, in collaboration with the RACB, will organise a virtual Jobfixers BRC on Dirt 2.0. The championship features an attractive prize pool (more than 70 prizes to win), including a real race in an  X-Cross Car from Thierry Neuville and codrives with top drivers from the Belgian Rally Championship, such as Vincent Verschueren, Sébastien Bedoret,  Grégoire Munster, PJM Cracco, Robin Maes, Niels Reynvoet, Ghislain de Mevius, Cédric De Cecco  and with two such codrives offered by DG Sport (Guillaume de Mevius and Kris Princen).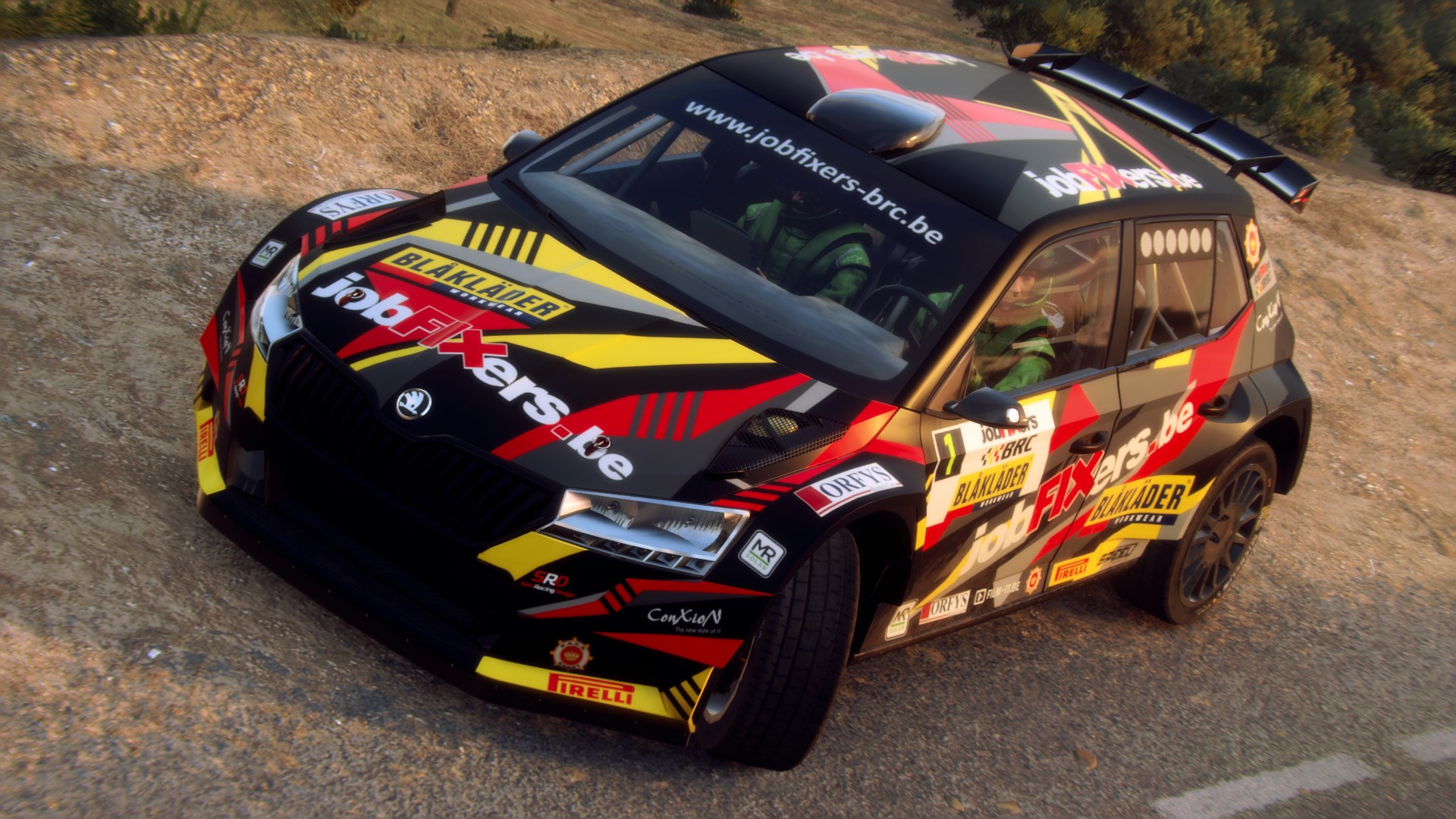 9 rallies with a R5
The Jobfixers BRC, the strongest national rally championship in the world, promised to be a great spectacle. Never have there been so many title contenders at the start of the season. Due to the corona crisis, we must wait.
However, the rally virus is unbeatable! That is why the promoter of the Jobfixers BRC, Chris and Stevy Courteyn, in collaboration with the RACB, is launching the virtual Jobfixers BRC. The virtual championship, held on the game Dirt 2.0 with R5 cars, replicates the top class in the Jobfixers BRC. It will have nine rallies and each rally has five stages, with a service after 3 stages. To give everyone the chance, a long window of time will be given for each rally.
Attractive prize pool for everyone
Registrations, online via a form with the RACB, will open on 24 April. Registration costs 7 euros, but every licensee of the RACB can register free of charge. The first race starts on 3 May.
The Top 10 of the championship will be invited to a final on an unknown rally, after which the winner will be offered a race with an X-Cross Car from LifeLive, Thierry Neuville's company, and two karting sessions together with two friends at Wavre Indoor Karting.
The prize pool is impressive and will prove to be extremely attractive. There is a chance for everyone who participates, not only for the fastest in both overall and per rally. There are some attractive prizes that will be randomly distributed among the participants.
The concept and rules of the BRC virtual Jobfixers:
Concept
9 rally's – 5 stages per rally – service after 3 stages
Type of cars: R5, top class in the Jobfixers BRC
Gameplay

Hardcore damage (extra challenge for riders)
Pilots choose their own point of view
Virtual
Roadmap to subscribe:
Register via web form on RACB's site: https://racb.com/esportreglement-1002.html
Costs 7 euros for non-RACB licensees  – free for RACB licensees
Entering the correct Nickname on the web form is essential.
Then request entry into the championship via this link: https://dirtrally2.com/clubs/club/277535
Name of the club is V-Jobfixers BRC
As soon as the rally starts one can participate via the Club Racing part of the game
Timing
Registrations open on Friday 24/04 at 09h00
Registrations close on Sunday 03/05 at 20h00
After this you can still register but you will miss the first game.
Start game 1 on Wednesday 06/05 at 18h00
14 days per game each time.
End of the virtual Jobfixers BRC on 09/09 at 6pm
Calendar
06/05 at 18h00 Monte Carlo
5/20 at 18h00 Hawkes Bay (New Zealand)
03/06 at 18h00 Perth and Kinross (Scotland)
17/06 at 18h00 Baumholder (dry or wet)
01/07 at 18h00 Jämsä (Finland)
15/07 at 18h00 Ribadelles (Spain)
7/29 at 18h00 Catamarca Province (Argentina)
12/08 at 18h00 Powys (Wales)
26/08 at 18h00 Baumholder (dry or wet)
09/09 at 18h00 End of the Championship
Final
Top 10 will be invited
Finale 1 long "Powerstage"
The prizes
Prizes in the course of the championship (via lottery system and for event winners)
7x codrive with top drivers from the Jobfixers BRC

PJM Cracco (Skoda Fabia R5)
Cédric De Cecco (Skoda Fabia R5)
Ghislain de Mevius (Skoda Fabia R5)
Grégoire Munster (Hyundai i20 R5)
Niels Reynvoet (Skoda Fabia R5)
Robin Maes (Porsche GT3)
Vincent Verschueren (VW Polo R5)

3x annual subscription Speed magazine
9x karting session 15 laps at Karting des Fagnes
1x Signed miniature helmet Stoffel Vandoorne
5x T-shirt Stoffel Vandoorne
4x backpack RACB
1x Sponsor pack Jobfixers
Entry tickets Jobfixers BRC events
9x cap Stoffel Vandoorne
Jobfixers BRC merchandising (thanks to Blaklader)
Prize pool finalists
Winner
1 race in RACB X-Cross Car
2 karting sessions together with 2 friends at WIK Karting Wavre
1 Manfred Cracco watch
Top 3
Invitation to RACB Awards with a dedicated stage
Place 2 to 10 (in no particular order)
Admission tickets to a rally
2x Codrive in a DG Sport R5 (Kris Princen and Guillaume de Mevius)
1x Codrive with Sébastien Bedoret  (Skoda Fabia R5 Evo)
2x annual subscription to Speed Magazine
1x karting session of 15 laps at Karting des Fagnes
3x free RACB racing licence 2021, subject to test success
1x RACB Backpack
The organiser warmly thanks all the partners of the championship who provide the wonderful prize pool, the RACB, the pilots who offer codrives, Wavre Indoor Karting and the Karting des Fagnes.
Link Regulations: https://drive.google.com/open?id=18ilj0Cg-kM-nXcK4yt8I6oI_Sw_FbIP6