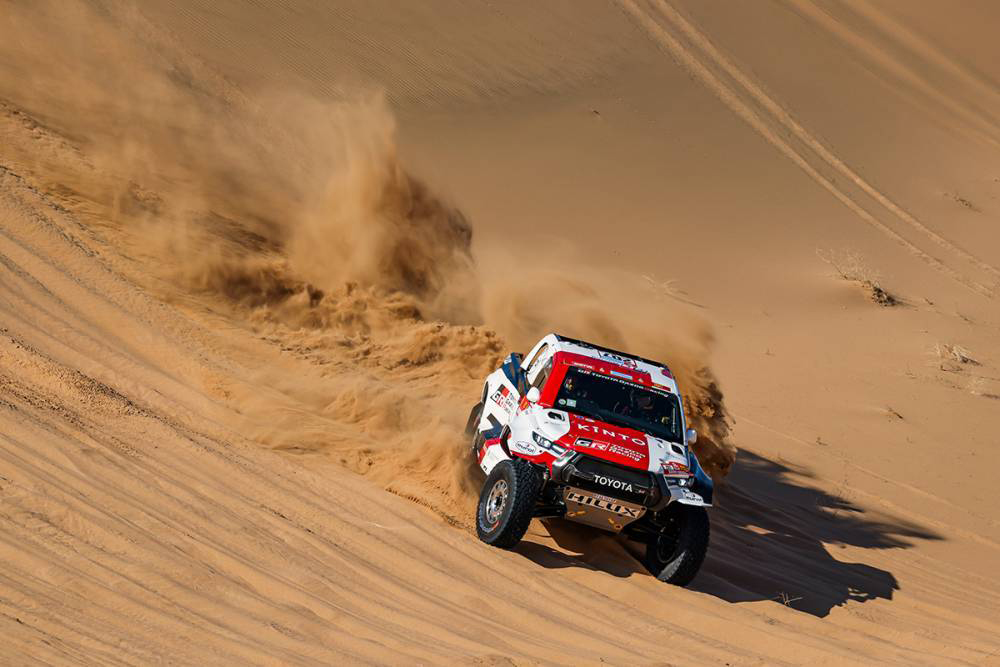 The 409 vehicles on the start list inaugurated the Dakar like never before. After departing Jeddah along the Red Sea for a northbound 225 km transfer, the starting shot for the qualifying stage was fired at the entrance to the Medina region. The opening 19 km sprint was a sign of things to come: sandy tracks and dunes in an all-sand timed sector in which the entrants crowned and gobbled up dunes, sometimes even broken ones, and climbed to an altitude of close to 400 masl. On this power hike, competitors were expected to bring their A game from the beginning, much like young biker Daniel Sanders (see Stat of the day) and the evergreen Nasser Al-Attiyah, primed for victory by a bountiful 2021 season. The caravan then headed north-east for a 614 km liaison to Ha'il, where the grand start podium awaited the participants for tomorrow's stage 1B on a
loop course.
You can't write "Sanders" without "sand"! The Australian sensation of the 2021 Dakar again showed his talent in a short, sandy stage (see Stat of the day) that also saw runner-up Pablo Quintanilla thrive in his new home at Honda. It comes as no surprise that Nasser Al-Attiyah was in his element on sandy terrain. His 42nd career stage win was also his sixth in a Dakar opener. He gained 12″ on Carlos Sainz, who put his brand-new Audi through its paces from the get-go. Two South African drivers, namely Brian Baragwanath in his CR6 buggy and Al-Attiyah's Toyota teammate, Henk Lategan, are hot on the heels of the three-time winners, with Sébastien Loeb rounding out the top 5 in his BRX Hunter. The lightweight prototype race saw an unexpected OT3-Red Bull exhibition (see Performance of the day), led by Seth Quintero, while first-time stage winner Marek Goczał and his younger brother Michał, in second place, made sure the SSV special stayed in the family. Finally, Kamaz blew the competition out of the water with a 1-2-3-4 to go with comeback kid Eduard Nikolaev's 22nd stage victory.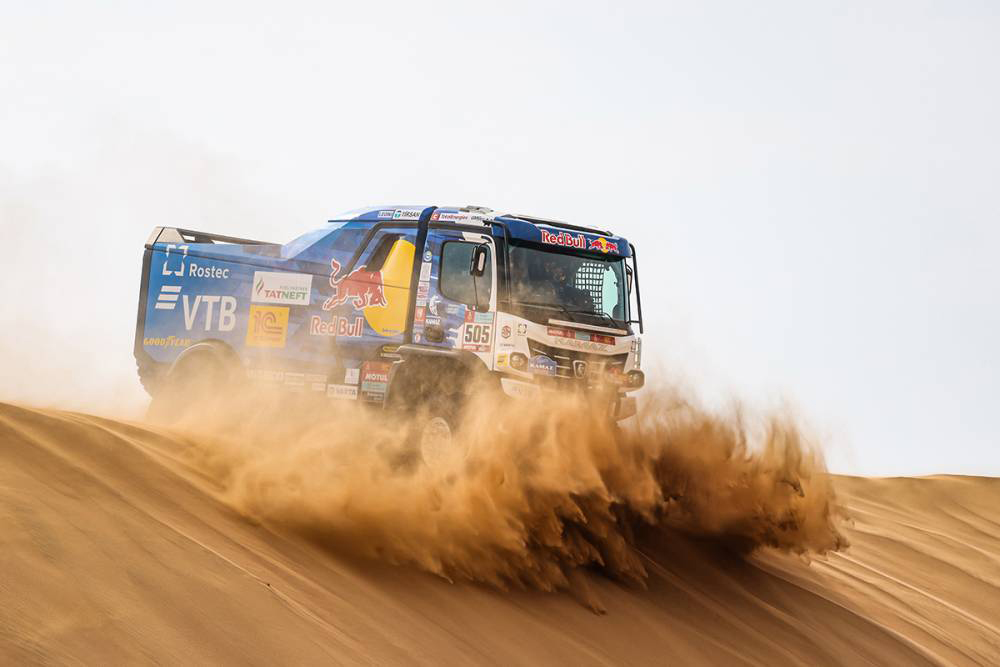 PERFORMANCE OF THE DAY
It was a grim New Year's Eve for OT3-Red Bull, still reeling from the news that Mitch Guthrie and Guillaume De Mevius's co-driver, Tom Colsoul, had both tested positive for COVID-19 in less than 48 hours, but the team bounced back to place its three cars in the top 4 of the T3 race. 19-year-old prodigy Seth Quintero led the charge with his seventh stage win in his second Dakar start. Two last-minute substitutes were called up to fill the empty bucket seats. Norwegian Andreas Mikkelsen went from enjoying a ski retreat to making his rally raid debut to posting the second fastest time in the special. Meanwhile, De Mevius was already on his way to the special when he met his new navigator: Kellon Walch, Robby Gordon's long-time co-driver, who partnered up with Austin Jones last year, had landed at 5:30 that morning after flying in from Los Angeles via Paris. The two new brothers in arms are now sitting in fourth place overall!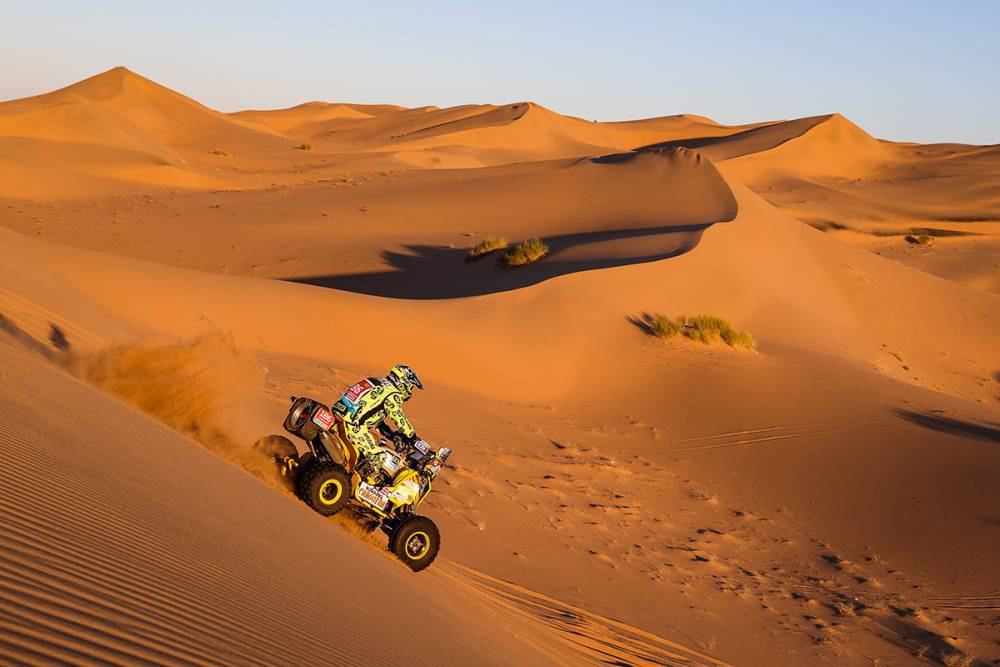 A CRUSHING BLOW
"Nacho" Cornejo's 25th place on the day, far from the top 15, which gave competitors the opportunity to pick their starting order in the following stage, may seem cause for concern. His three Honda teammates all played the little game of the qualifying stage, but only Pablo Quintanilla, second, came out ahead. Indeed, Barreda and Brabec, 10th and 12th, respectively, will have to settle for scraps when the time comes to choose their starting position for stage 1B. Nacho, instead, came to the conclusion that the only winning move was not to play! His sandbagging cost him some time (8′45″), but he will be racing from a vantage point. The biker who last year fought for victory until two days before the finish made no secret of his strategy at the bivouac in Ha'il. "Today, there was a lot to be gained, but even more to be lost in the middle of the pack of 15, so I decided to play it safe. I lost some time today, but I'll get opportunities to claw it back in the coming days". So perhaps not such a crushing blow?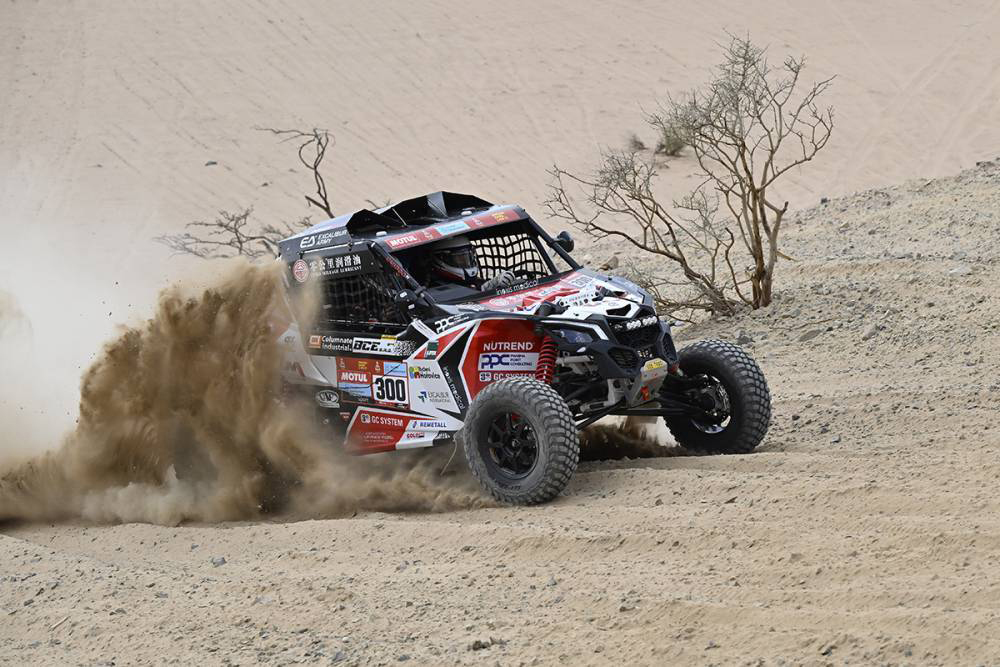 STAT OF THE DAY: 13
Daniel Sanders, who claimed top rookie honours and finished just outside the podium last year, grabbed his maiden Dakar stage win in the opener. It was a first in more than one way, as the Australian also netted GasGas its first triumph in the most prestigious rally raid on Earth. As the icing on the cake, it was the first victory for the KTM 450, the latest showpiece of the Mattighofen factory, unveiled in Morocco last year. Spain's GasGas is the 13th constructor to take a stage in the Dakar motorbike race. The rally had not feted a new winner since 2010, when Sherco and Aprilia opened their accounts.
W2RC : AL-ATTIYAH VS LOEB The newly elected FIA President, Mohammed bin Sulayem, travelled to Ha'il to witness the awarding of the very first FIA Cross-Country World Championship points. The Emirati former driver must have been delighted to see his heir take the lead at this momentous time. Not that Nasser Al-Attiyah is looking forward to an office with a commanding view of the Place de la Concorde in Paris! He is bin Sulayem's successor in the sense that the Toyota driver has won the Middle East Rally Championship 11 times between 2003 and 2021, the same race that bin Sulayem won on almost every occasion from 1986 to 2002, with 14 titles in total. The game is on, but Al-Attiyah is currently focused on his incipient struggle with Sébastien Loeb.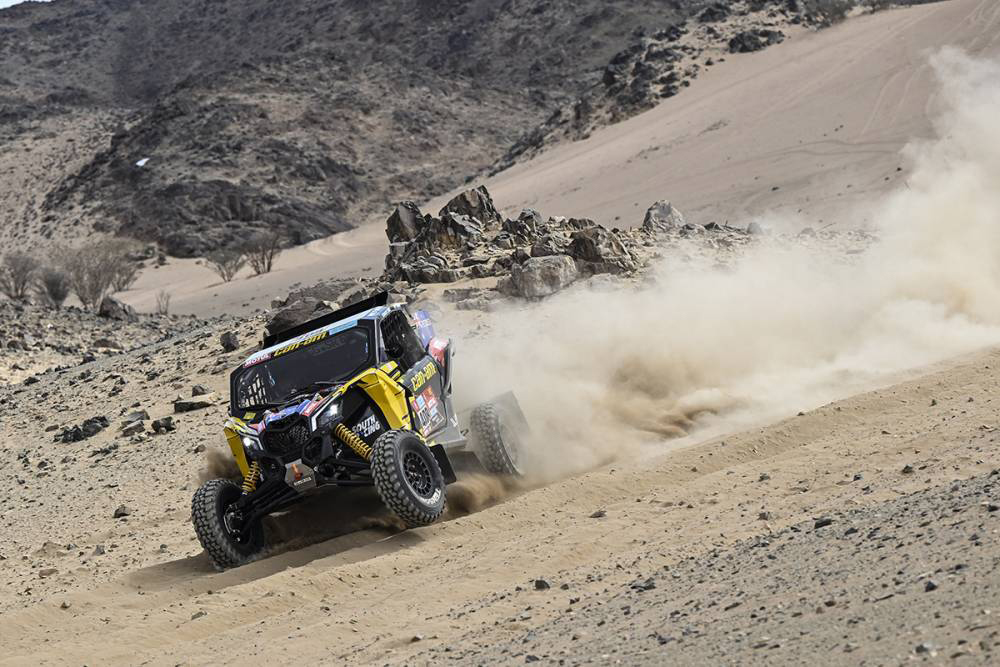 THE MAKINGS OF A CLASSIC
Yannick and Valérie Panagiotis are living the American dream in Saudi Arabia! These vintage rally
aficionados and competitors have found themselves in the lead of the category on the first evening of their
Dakar debut, along with their trusty Protruck. When not moonlighting in the Dakar, they are a married couple who runs a restoration garage in Gordes, one of the most beautiful villages in France. Nothing suggested that they would find themselves in this position. The co-driver was on the verge of panic at the thought of navigating for her husband: "I can send notes for a rally special, but navigating on a heading and managing the regularity indications is new to me". Time will tell if this is just a case of beginner's luck. Meanwhile, title holder Marc Douton is no rookie, very much the opposite, and he is back with a Porsche 911 a notch or two above the Sunhill buggy he drove last year. "I'm not here to defend my title, but to put it back into play. There are two many newcomers and sharp-looking cars to make any prediction." False modesty or not, the 2021 champion started this edition in sixth place overall, together with his new teammate Jérémy Athimon, a young tuner specialising in Porsche who drew inspiration from a vintage 1978 Martini East Safari version to create his pure 1970s-style bling-bling vision. The perfect fit for New Year's Day in Ha'il.
QUOTE OF THE DAY
Daniel Sanders (GasGas): " It's cool to win my first Dakar special"
Fourth in the 2021 Dakar, his first start, and third in the world championship, "Chucky" took his first Dakarstage win.
"I was really comfortable in the stage, the bike was handling unreal. It's cool to show some speed, but the
navigation has to start tomorrow. Looking forward to a long race. I knew I had to be fast in the prologue. Ifthere's not too much navigation, I can be in the top 3 or 5 in the prologue. This will give me a good spot to startfrom 10th to 15th tomorrow, I get to choose. It's cool to win my first Dakar special."
The RacerViews info
By Matt Hancock
We are passionate, dedicated motorsport professionals.
In 2021 you will see us trackside and stage side with exclusive coverage of
The World Endurance Championship
The World Rally Championship
Belgian Rally Championship
and more!
We aim to bring you interviews and photos you won't see anywhere else. We don't aim to break the news, rather we aim to bring the voices of the racers to you and the atmosphere of the event to you at home. Our social media presence on Facebook, Twitter and YouTube bring you more, a holistic experience. We partner with racers and professionals in the industry and give back where we can. If we can help you or you have a story to share, please contact us.
RacerViews has partnered with Championships, drivers and teams in the past. If you think we can help, have a tip or just want to say hi, please reach out.