Home hero Mārtiṇš Sesks delivered another dominant display to become the first two-time winner in this season's FIA European Rally Championship, making it back-to-back victories on Tet Rally Liepāja this afternoon (Sunday).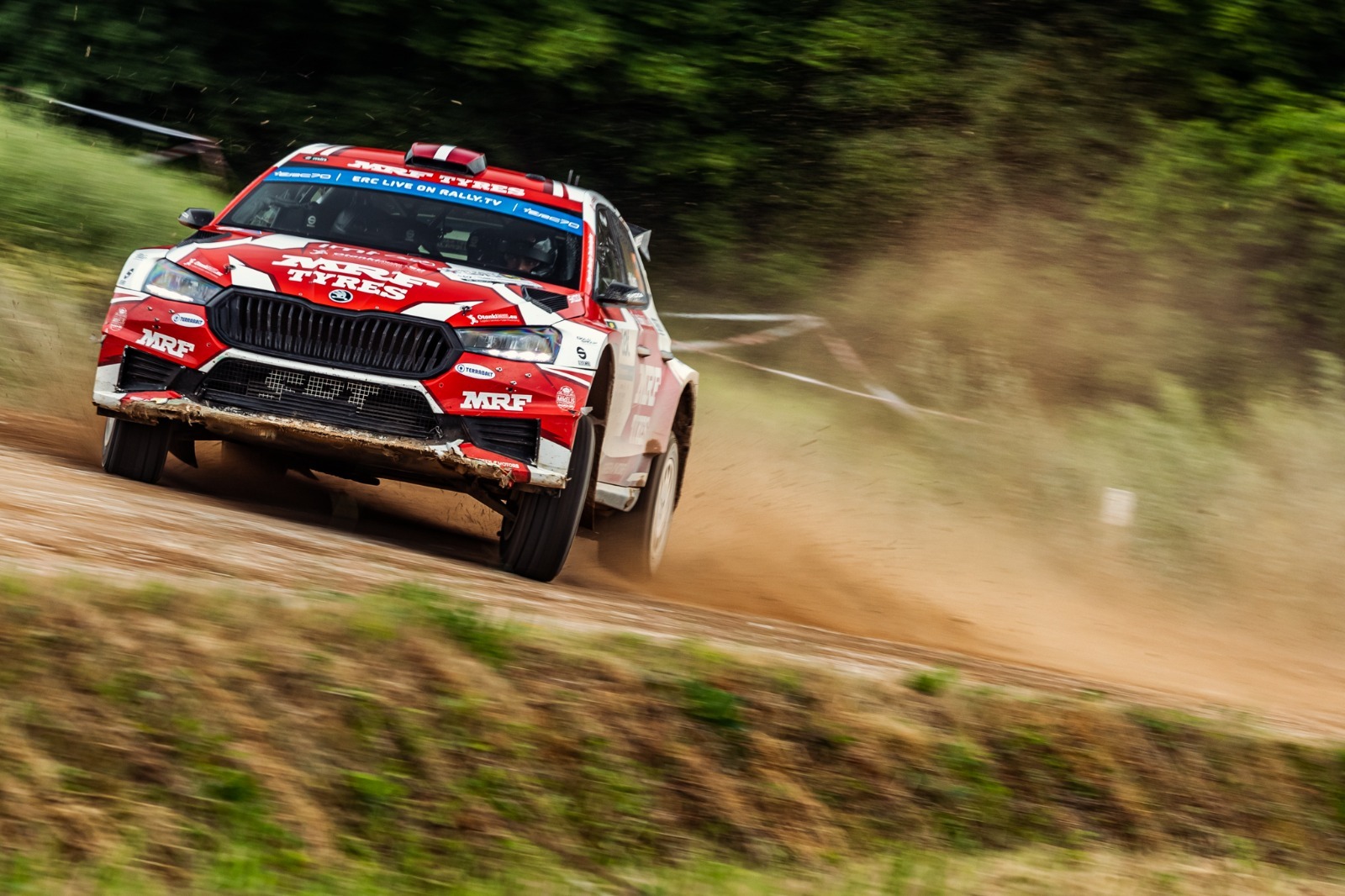 With a lead of 28.3sec starting today's closing quartet of stages, the 23-year-old Team MRF Tyres driver was in the ascendency from the outset, adding two more fastest times to grow his lead to 34.2sec prior to the midday regroup in Liepāja, the city of his birth.
Although his unbroken run of gravel stage wins alongside co-driver Renars Francis ended when he went for a cautious approach on the penultimate stage, his lead was never in doubt. That's because second-placed Hayden Paddon also dropped his pace in his bid to bag another strong haul of points by preserving second spot.
Starting the rally-ending Power Stage with a lead of 41.4sec, Sesks reached the finish in his Sports Racing Technologies-run Škoda Fabia RS Rally2 with a stage win by the absolute slightest of margins, going 0.001sec quicker than Paddon to bag a maximum five Power Stage points.
"Wow perfect," opined Sesks at the finish line pointing at his fans. "It was so special this weekend. Thanks to Team MRF tyres and thanks to everyone around us."
With the 2023 ERC title race now at its halfway mark, Sesks has closed to within 30 points of provisional championship leader Paddon, whose second place aboard his Pirelli-equipped BRC Racing Team Hyundai i20 N Rally2 was his third of the season.
Despite reporting a lack of grip from his MRF Tyres Dealer Team-entered Citroën C3 Rally2, Mads Østberg completed the podium for his first top-three finish since the Fafe opener in March. Robert Virves, the Junior WRC champion, was set to finish fourth but encountered what was suspected to be electrical issues on the final stage, seeing his Ford Fiesta Rally2 drop from fourth to fifth, promoting Irishman Josh McErlean in his Hyundai to fourth.
French gravel champion Mathieu Franceschi could not quite catch Virves, finishing 1.8sec behind the Estonian, while Mikko Heikkilä came home in seventh, winning the penultimate stage after a broken rear differential was replaced in final service on Saturday.
Georg Linnamäe was fifth overnight but struggled for form this morning. He then damaged the front of his Hyundai in the ruts of Liepieni's second pass, admitting his car was set up too low for the conditions, and reached the finish in eighth position.
European champion Efrén Llarena was a disconsolate ninth with his Team MRF Tyres' team-mate Simone Campedelli completed the top 10. Llarena, who was second in Liepāja last season, began day two with a new fuel pump fitted to his older-specification Fabia, which he elected to switch to for this event. However, he reported a lack of power at the midday halt.
Filip Mareš and Erik Cais were next up as British champion Osian Pryce scored his first ERC points at his second attempt in 13th position. Italians Andrea Mabellini and Alberto Battistolli completed the list of scorers in P14 and P15 respectively. The result was of particular significance to Battistolli, who was competing in the ERC for the first time since undergoing shoulder surgery earlier this year, although an overshoot on stage eight almost cost him a top-15 finish.
The all-new ERC Royal Rally of Scandinavia is next with Karlstad in Sweden hosting the high-speed gravel action from 6 – 8 July.