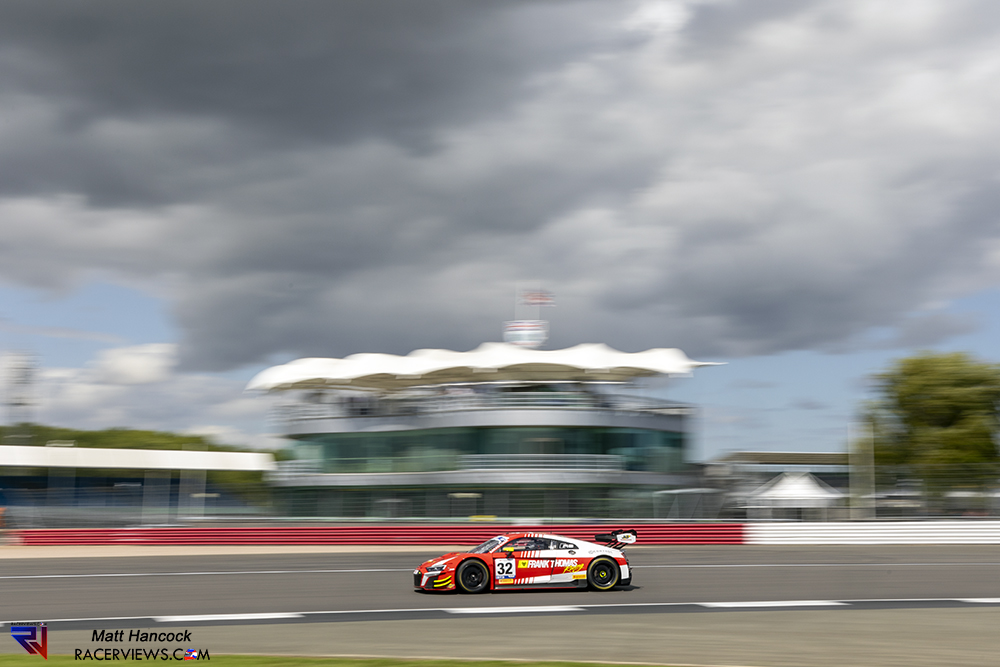 Day one of GT Cup Championship action at Silverstone ended with victories going the way of J&S Racing and Orange Racing with JMH on Saturday (29 July), while Phillip Carter had his moment of success in GTH.
The J&S Racing team struck first with Hugo Cook bagging the Sprint Race success, before finishing second to the in-form Orange Racing with JMH McLaren squad of Tom Roche and reigning champion, Simon Orange, in the Endurance contest.
Paul Bailey kept his title hopes going in the right direction with two wins in GTO, while FF Corse won out twice in GTC after a great tussle with Topcats Racing.
In GTH, the real success story was that of Greystone GT's Carter, who took a win and second place in a Driver of the Day performance.
Qualifying
The opening day in Northamptonshire began with a 15-minute qualifying session to decide the order for Round 15 of the '23 season. In GT3, another competitive field was headed by Cook who put his Audi straight onto pole position ahead of James Wallis, the latter taking up a seat at 7TSix this weekend alongside Paul Rogers.
Behind them in GTC it was a rapid start for the FF Corse Ferrari, with James Owen putting their invitational entry onto the group pole despite pressure from the AF Corse 488 and the Topcats Racing Lamborghini Huracan.
Championship leaders Kendall Developments left it late to go to the top of the times in a tight GTO squabble, Bailey getting the qualifying honours while a rapid effort while RAM Racing's Charles Dawson went to the summit in GTH.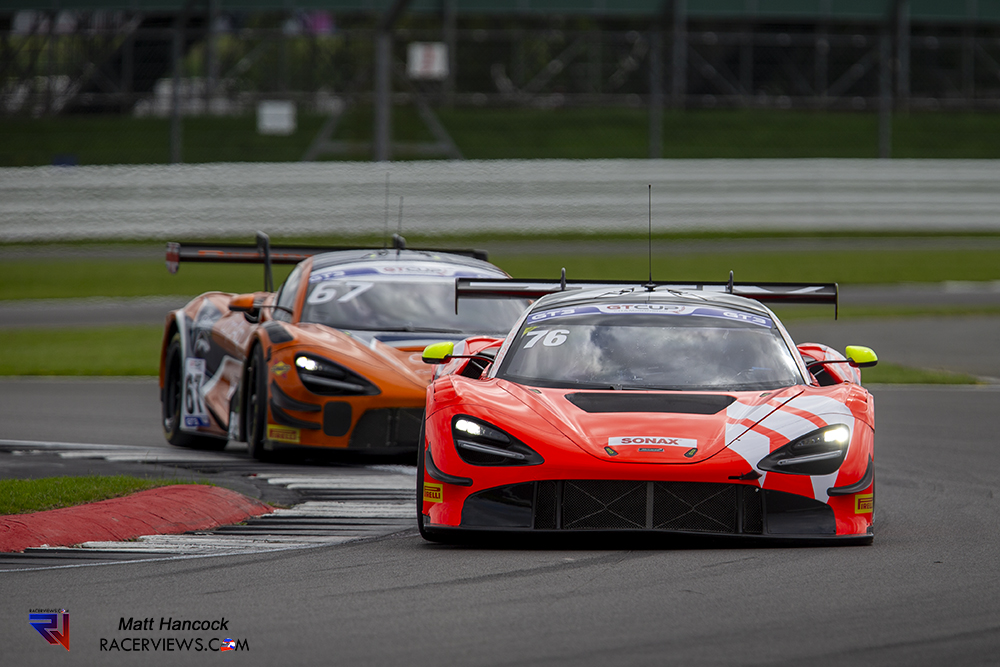 Sprint Race
A dramatic start to the first 25-minute Sprint race of the weekend began with Oulton Park winners Orange Racing powered by JMH charging to the front with a rapid getaway and dive through the middle of the front row starters by Tom Roche.
Unfortunately, it proved to be too electric as he picked up a 10-second penalty for a false start, despite pulling clear of technical leader Cook with a rampant first half of the race. While Roche sadly retired late on, Cook was unchallenged as he burst away from the chasing McLaren 720S of Wallis, while RAM Racing's GT3 Mercedes rounded out the class podium thanks to Adam Knight.
In GTC it was all seemingly looking rosy for Topcats Racing, as an exceptional stint from Gilbert Yates put their Lamborghini in prime position for group success. A fuel problem then crept in late into their race, leaving Yates crawling to an agonizing halt while FF Corse's Owen – who had been closing in on his rival – swept by the take the group win.
GTO spoils went to Bailey in his ever-improving Lamborghini, while in GTH it was a superb performance from Phillip Carter who took a long overdue Sprint win for Greystone GT in his McLaren 570s after fending off the closing Mercedes of Dawson. Feathers Motorsport's James Guess climbed to third in the group.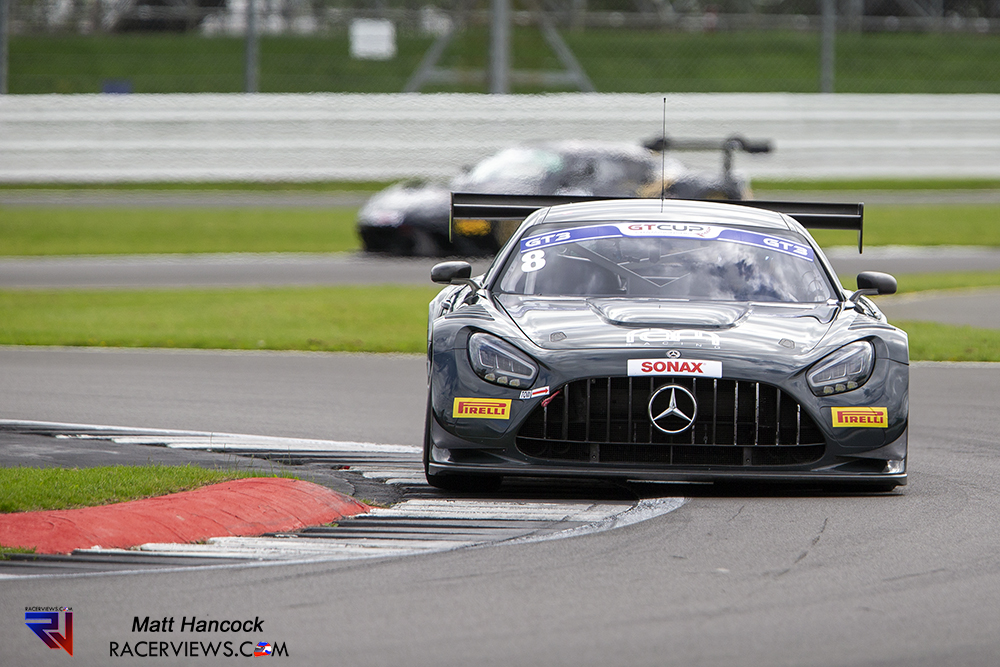 Pit Stop Race
Roche's pace meant that Orange Racing's McLaren took up pole position with Simon Orange behind the wheel, and he dived into the early lead ahead of the Audi of Sacha Kakad – sharing with Cook.
Orange would pull away from a safety car interruption to lead the car to its mandatory pit stop, after which Roche maintained the car's lead and came home an untroubled 4.1s clear of Cook – who set the fastest lap of the race late one – for a fourth overall win of the season and fifth in GT3. The 7TSix McLaren lost time in its opening stint, but a shorter pit time and the charging Wallis installed in the driving seat enabled the car to climb back up to third overall ahead of RAM Racing's GT3 Mercedes.
The GTC battle was once again a close contest, with Charlotte Gilbert and Owen battling it out up front in the group in the opening stint. The pair made their changes with the latter's Ferrari coming out ahead, after which Tom Fleming swept home to give FF Corse a double victory from the Topcats Racing team.
Bailey added more crucial points to car #28's overall tally by bringing the Lamborghini home first in GTO once more, his co-driver Ross Wylie hopping into the car in the second half and charging through the overall order to an eventual finish of seventh on the road. Chris Murphy bagged second in group for Woodrow Motorsport in his BMW M3 GTR, third going to the National Motorsport Academy Lotus Evora.
A GTH masterclass enabled RAM Racing to add their first win of the weekend, with Seb Morris aiding Dawson to victory ahead of the in-form Carter and Michael Broadhurst (Greystone GT) who trailed by just over three seconds. Third went to Morpheous Racing after a charge by Phil Keen in the second half of the contest in their Mercedes.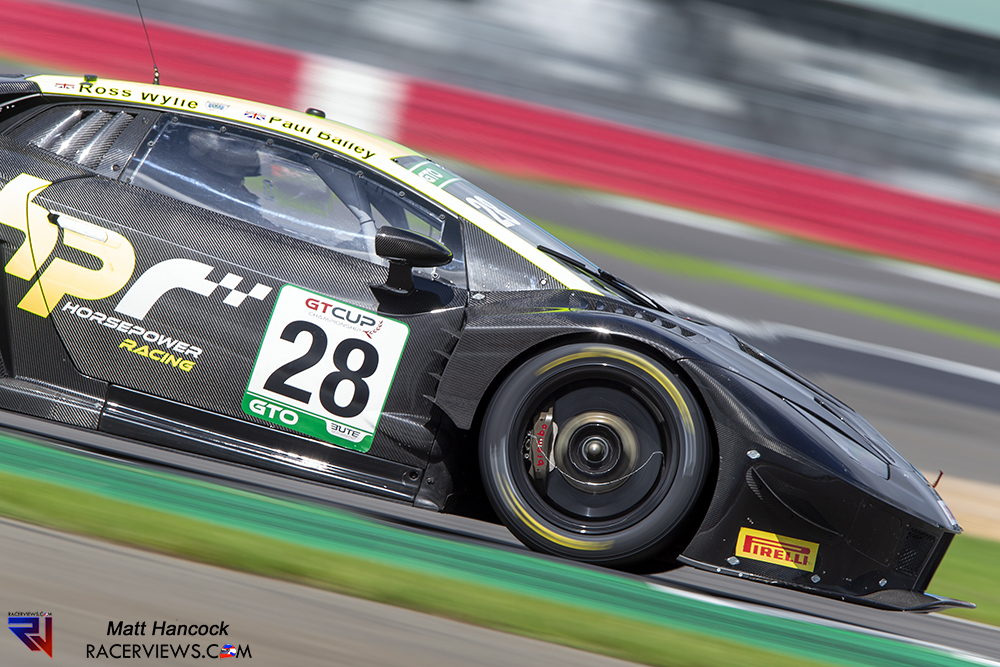 #67 Simon Orange
"We had a 20-second success penalty for the Pitstop Race so I wanted to try and get as much lead as possible and the safety car spoiled it a bit. But it was good, comfortable in the end, the lads have done a good job getting the car ready. I had 15 seconds to hand over to Tom, and that's because the lads have got the car right, it was just nice cruising round – I think Sacha had a problem with his tyre pressures which made it a bit easier. Tom was cruising around there, making no mistakes – same again tomorrow!"
#28 Ross Wylie
"It was nice to get out and dust the cobwebs off! It was good fun, I enjoyed it. We're still learning the car so that was pretty much a test session and it was fun. It's not what I'm used to driving but the guys have done a great job preparing, Paul is getting up to speed with it and hopefully we can only improve from here. Paul keeps coming away with championship points, I just keep my head down and focus on the job in hand!"
#14 Phil Carter
"First win full stop, it was good. Maximum points today, we haven't done that before – it was good, I can't quit believe it! We had a bit of luck as well so I'll take it, the whole day was excellent – really good fun."
#42 Charlie Dawson
"It could have been perfect, first in the Sprint Race would have been nice but the track changed quite a bit from qualifying and I was trying to go as fast as the morning but I was failing miserably! It's been really good competition in GTH, we're only doing a couple of Invitational starts but you've got a lot of good Pros – Tom Canning, Phil Keen, and obviously Seb [Morris] in the car with me and I'm really surprised by the level of the Ams too, it's a really competitive series!"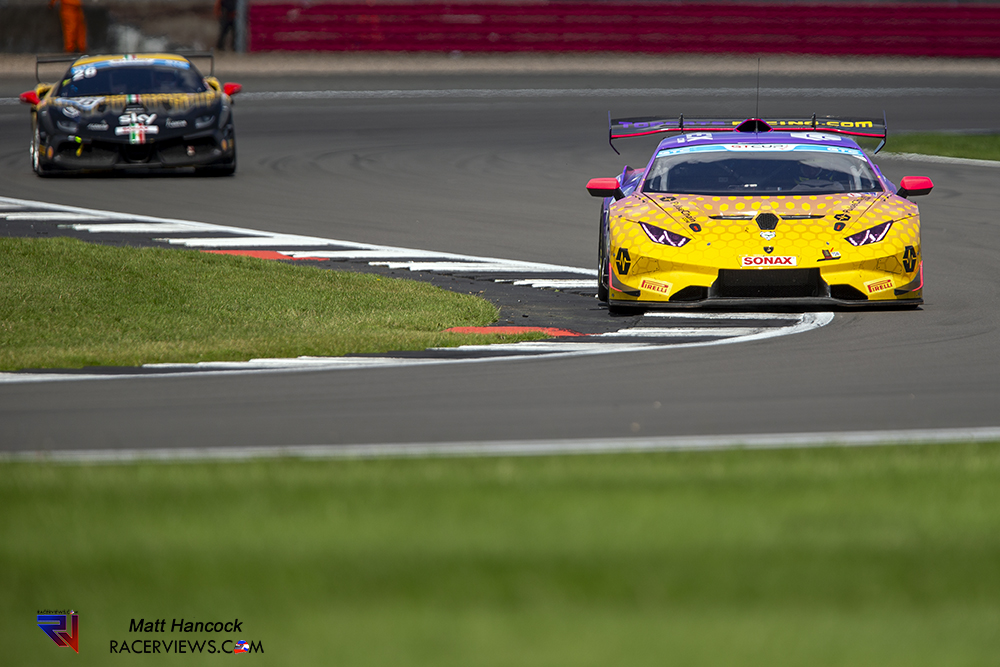 Sunday
FF Corse's GTC Ferrari of Thomas Fleming took overall victory in the Sprint race while Hugo Cook and Sacha Kakad took GT3 wins in both races for J&S Racing in a day of mixed conditions at the home of British motorsport.
In a damp opener, tyre strategy proved the key factor and despite Fleming running slicks on his Ferrari 488 Challenge, he managed the conditions perfectly to take overall glory – ahead of surprise second Chris Hart, who combined with Stephen Walton to take both Group GTH wins for Morpheus Racing.
Fleming and co-driver James Owen took a double GTC victory in a monsoon-like Pit Stop race.
Paul Bailey took both GTO wins in his Kendall Developments Lamborghini Huracan alongside Ross Wylie to extend his lead at the top of the GT Cup Championship standings.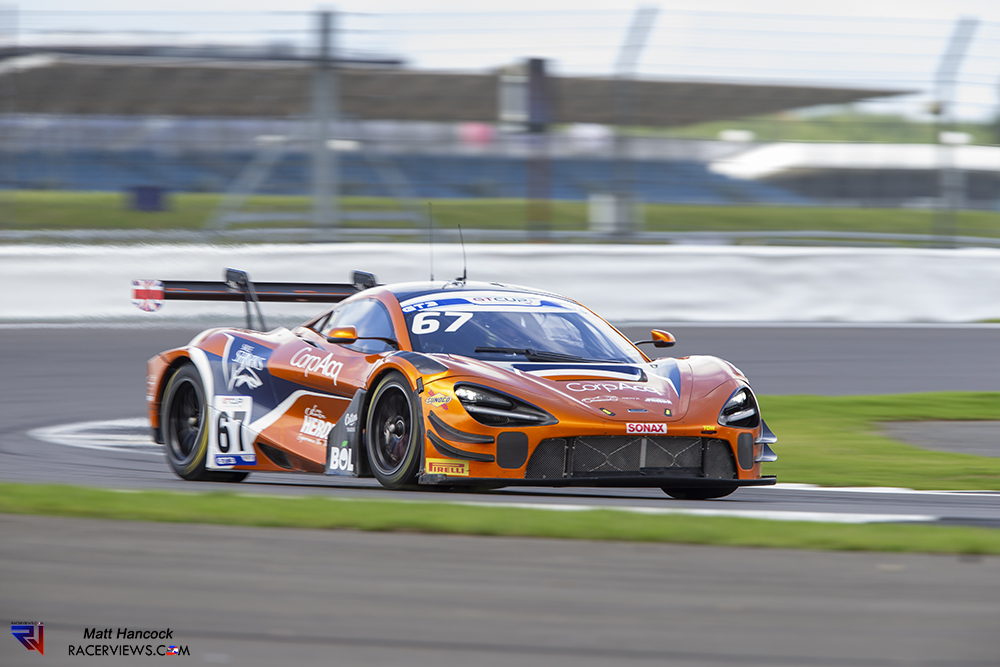 Qualifying
Blue skies greeted teams as the second day of action began with a frenetic pair of 15-minute qualifying sessions to sort the grid for the 17th round of the season.
Simon Orange carried on where he left off from Saturday's Pit Stop race as he stormed to pole position in his Orange Racing with JMH McLaren 720S GT3 with Kakad a second behind as he joined the reigning champion on the front row.
Fleming built the foundations for a successful day by taking GTC pole ahead of Gilbert Yates in the Topcats Racing Lamborghini Huracan.
GTO went the way of Bailey as he continues his learning curve in the Lamborghini, and Phil Carter carried on his great weekend by taking pole for Greystone GT in GTH.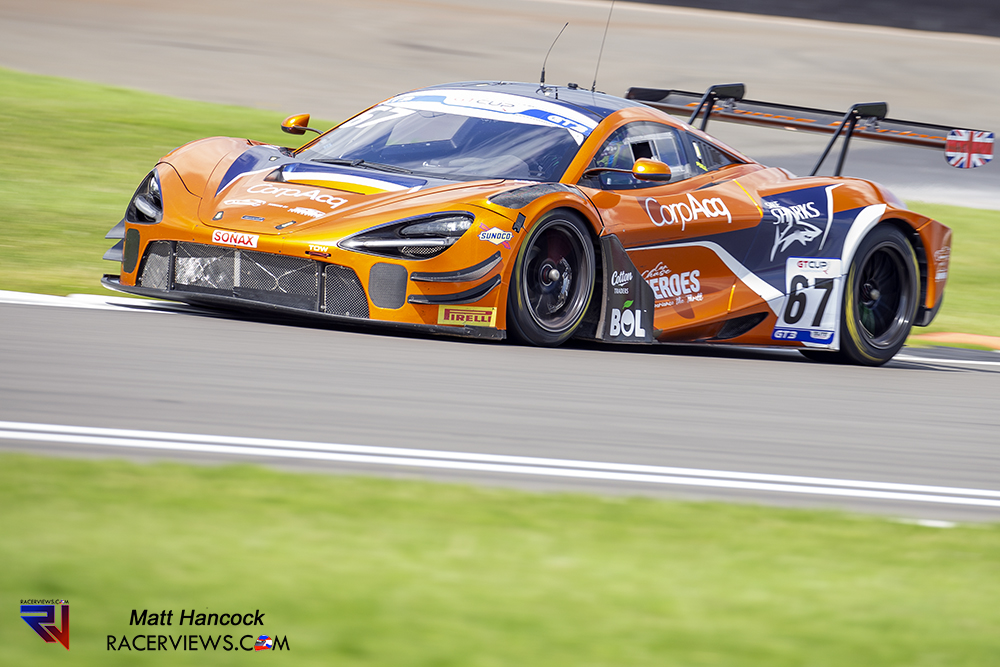 Sprint Race
The threatened rain finally came as teams were preparing for the first race of the day, with strategies thrown into disarray as some crews gambled on wets and others stuck to slicks to try and see their way through the conditions.
Pole-sitter Simon Orange was one of those on slicks, but found himself relegated by the slick-shod Ferraris of FF Corse and AF Corse as the McLaren driver tried to get on top of the conditions.
The pair of Ferrari 488s powered off into the distance, with Dan de Zille fending off the attentions of Fleming for a time but the championship newcomer was too good, and a great out-braking move at Copse allowed Fleming to go through and stretch a lead that went to well over 10 seconds at the chequered flag.
A decision to pit at the end of the formation lap to swap to wets proved to be an inspired move as Sacha Kakad went from the back to win in Group GT3 as he scythed his way through the field to finish third overall. Simon Orange took second in Group after fighting his way to the flag on his slicks, with Shamus Jennings third for G-Cat Racing.
A pitlane start having elected to go onto wets allowed Chris Hart to charge through in his Mercedes-AMG to take second overall and Group GTH glory – prevailing in a cracking battle with GTC man De Zille to take the second step on the overall podium in a spectacular achievement. Ed Bridle took second in GTH in a confident performance behind the wheel of the 24-7 Motorsport Mercedes, with Carter adding another podium to his haul in third.
Despite pitting twice, Bailey took GTO glory in his Kendall Developments Lamborghini, with Jay Shepherd picking up another podium in the National Motorsport Academy Lotus ahead of Chris Murphy in his BMW.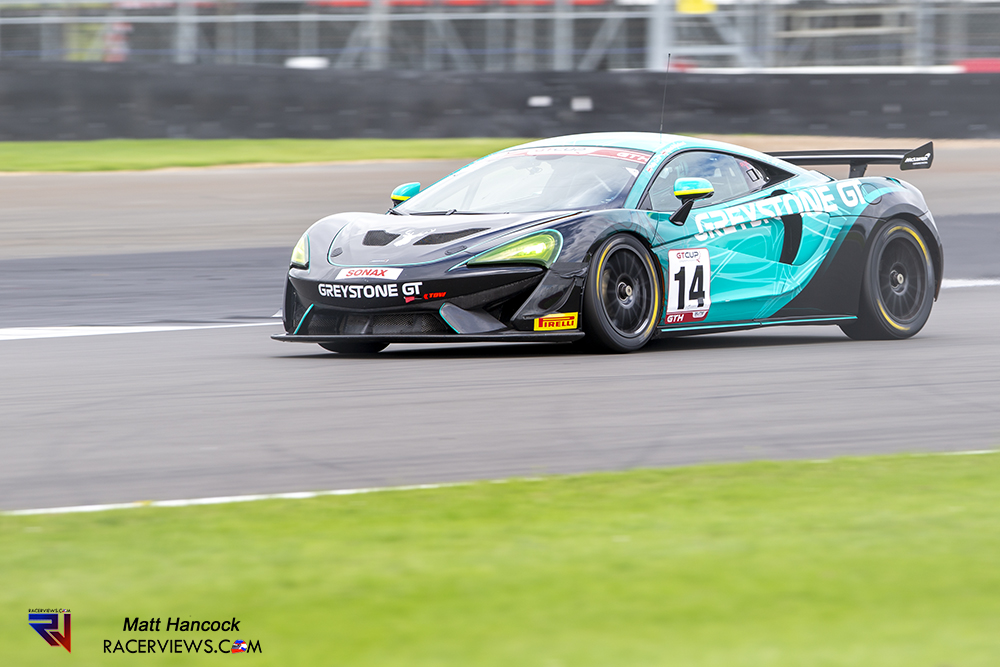 Pit Stop Race
The brief shower of the early afternoon was replaced by a deluge ahead of the 50-minute Pit Stop race to round out the Silverstone weekend.
Three laps behind the safety car were called for to test the conditions, and after being deemed safe, pole-starter Andrey Borodin powered away in his Greystone GT McLaren 720S GT3 – fending off the attentions of Sacha Kakad in his J&S Racing Audi.
Borodin was putting on a great display up front after clinching fastest lap in the first race of the day earlier on, but the GTCs of Gilbert Yates (Topcats) and Dan de Zille (AF Corse) were swarming behind and making good work of the soaked Silverstone track.
A great move round the outside from Yates moved the Lamborghini racer up to the lead, with De Zille relegating first Kakad and then Borodin to take second and fight Yates for the lead.
It was all change at the mandatory stops. With Pros and Pro-Sportings getting behind the wheel, the GT3s came to the fore again with Hugo Cook taking over the Audi R8 from Kakad and storming into the lead, chased by Tom Roche in the Orange McLaren.
Roche was chasing down Cook, and closed to within a second but couldn't make a move for the lead before the chequered flag came out. Borodin rounded out the GT3 podium with co-driver Ed Pead on a strong day for the Greystone GT drivers.
Group GTC went to the Invitational FF Corse Ferrari of Fleming and James Owen, the pair vaulting ahead of Topcats and the De Zilles in the pits and taking a steady drive to the flag – third overall. The De Zilles were second in GTC, with Yates and Charlotte Gilbert third.
Bailey and Ross Wylie extended their championship lead with another GTO win, ahead of Chris Murphy and Jay Shepherd. GTH went to Morpheus Racing's Hart and Stephen Walton – the former enjoying another wet race – while Michael Broadhurst prevailed in a scrap with Seb Morris to take second for Greystone GT alongside Carter. Morris finished third with team-mate Charles Dawson.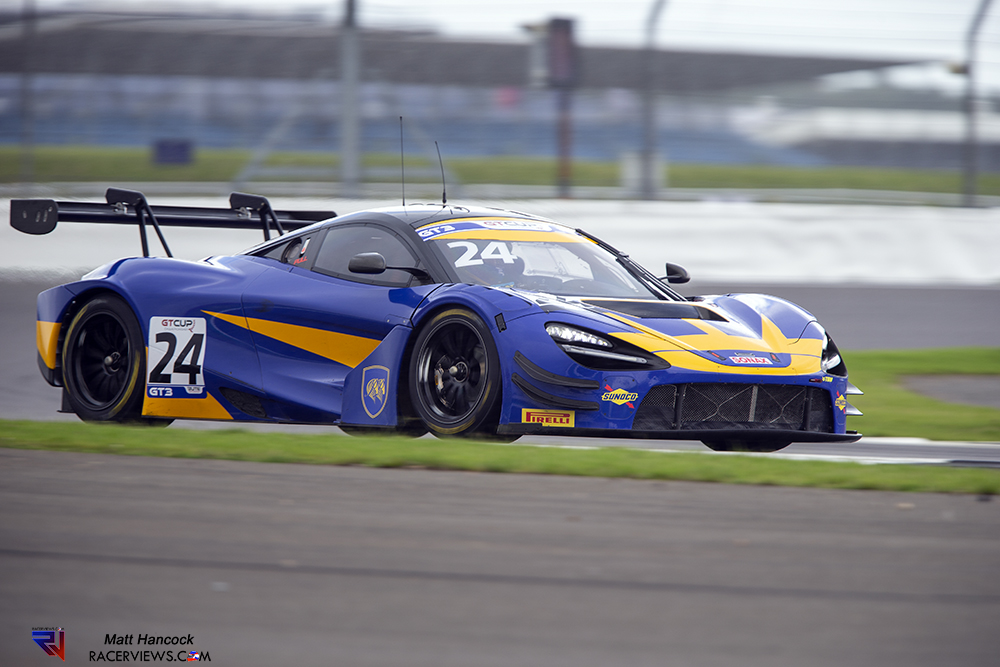 #32 Sacha Kakad
"We made a call on the formation lap, I was testing the limit of the grip and I actually had a spin on the way! The thing with Silverstone is that it dries so quickly so it really is a bit of a binary call. So we made the call to go on wets. In fairness Simon [Orange] has had pace over me over the weekend so the risk for us was relatively limited in comparative terms so that's what we did. Without sounding funny, I wasn't having a push at all because we were just concentrating on the GT3 race and really just driving it very, very safely. Even though we had gone on wets, we went on a set of old wets so they're not quite moving around so I was quite slow to be honest, quite deliberately!"
#26 Tom Fleming
"I was saying to the team that I hope we got for a dry Sprint race here but I think it was pretty good for everyone watching to throw a spanner in the works. Dan de Zille got the better start and he showed me the ropes a little bit because he must have had more temperature in his tyres but towards the end I found my feet and just romped away with it! Being slightly under the limit is better than slightly over, you never know in these conditions when I had the car underneath me. I knew I could bring it home but one little mess up by pushing too hard and it would have been the end of the race."
#69 Chris Hart
"Sometimes you get it right don't you! It was borderline whether we were going to be on the grid or not. We've had an engine problem this morning, we lost the tip off a spark plug so the top of one of the pistons scored so we were on a bit of a wing and a prayer on whether we were going to be able to get round or not. But the engine seems fine and we decided that because we were going to be at the back anyway, we would go for a gamble on the tyres. I do like the wet, so it was nice!"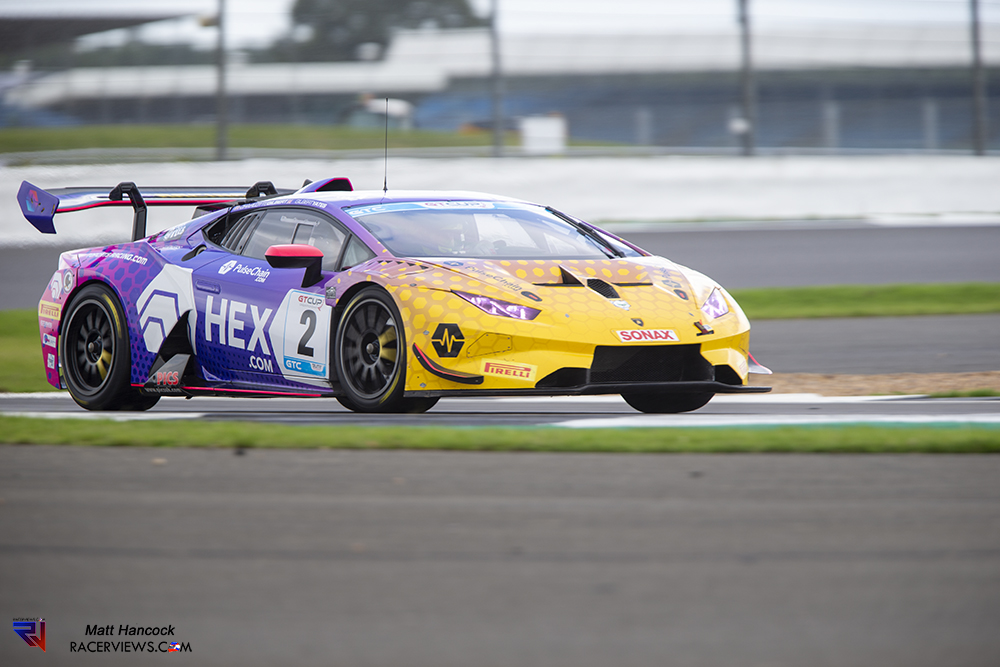 #19 Dan de Zille
"I loved it, it was nice to get some wets on in the rain finally! On the out-lap I thought 'oh so this is what it feels like with the right tyres on!' A couple of others had a few more laps on me on wets and it took me a few laps to get round what we were doing but once I settled down I loved it, it was amazing! Gilbert was on it, I was pushing him hard! He didn't give me anything and I think it was a completely fair race, it was wonderful to have a proper race with someone, neither of us giving an inch – that's what it's all about!"
Race reviews by GT Cup Media Team.