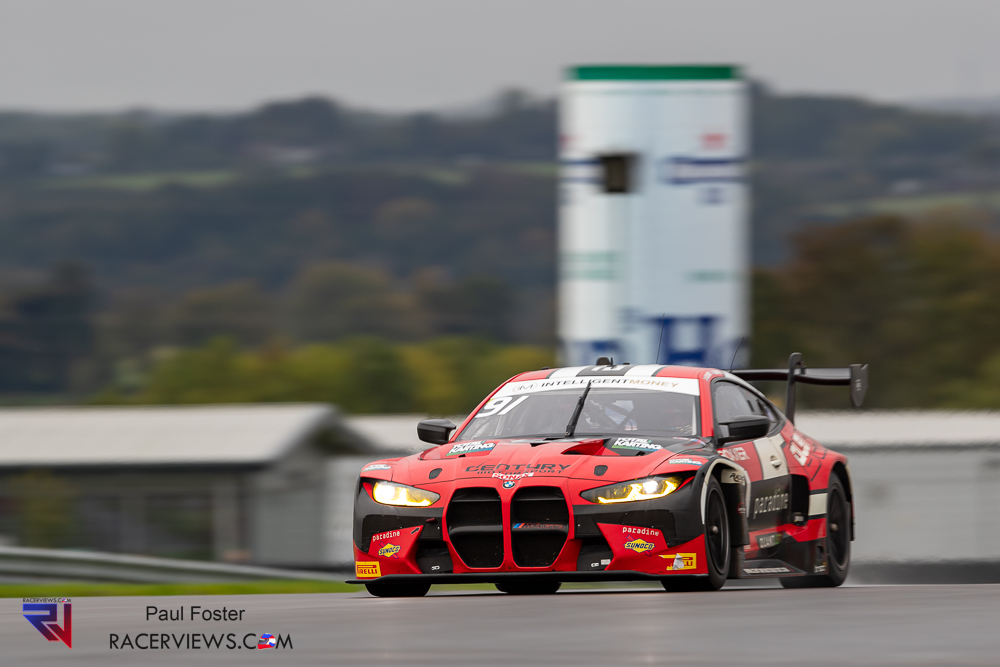 Qualifying Saturday
Century Motorsport and R Racing ultimately triumphed in an action-packed damp but drying qualifying session at the Donington decider on Saturday afternoon.
Darren Leung and Dan Harper set the second fastest combined time but they were promoted to pole after Beechdean AMR – along with three other entries – were found to have completed just one timed lap in Q1. Each driver must set two, per Championship Regulation 41.4. Beechdean AMR's Aston Martin did however start today's Donington Decider from pole position after the team successfully appealed against its original demotion on Saturday.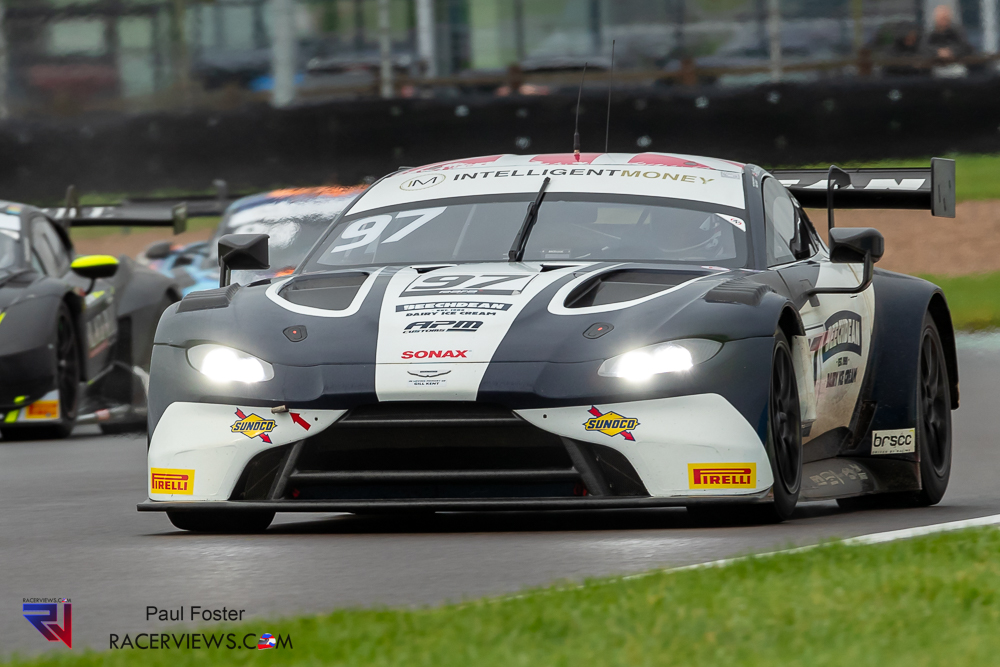 Ross Gunn earlier topped both practice sessions but had his co-driver Andrew Howard to thank for starting Q2 with a 0.3s advantage. That then increased to 1.5s on aggregate over Century's BMW, while 2 Seas' Ian Loggie and Jules Gounon rounded out GT3's initial top-three before the Aston Martin was demoted.
Unlike GT3, there was only one sensible tyre choice for GT4's qualifying sessions in which Mike Simpson (Toro Verde GT) comfortably set fastest individual time to take eighth overall and Pro-Am pole with James Townsend. However, it will be Josh Miller and Seb Hopkins who start the finale up front after turning their initial, and very slender, 0.003s lead over DTO's Josh Rowledge and Aston Millar into a 0.219s advantage.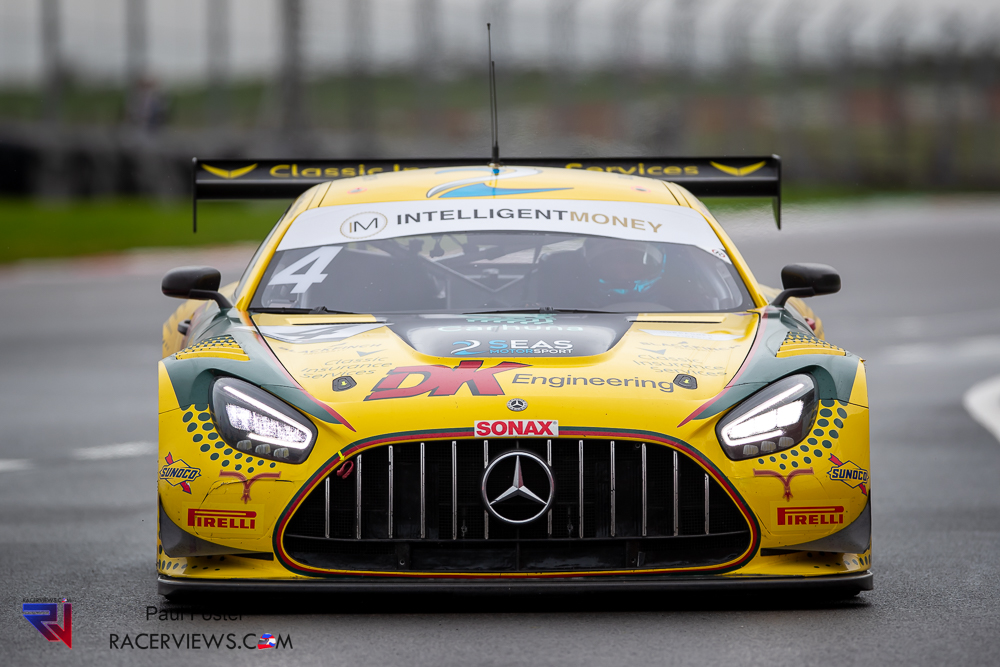 Championship favourites Jack Brown and Charles Clark lined up third in Optimum's McLaren.
Elsewhere, Sandy Mitchell set GT3's fastest time not once but four times, while Fox Motorsport's gamble to start Q1 on wets paid off handsomely for leading Silver-Am duo John Seale and Abbie Eaton who lined up third overall in the revised order – one place ahead of championship leader James Cottingham.
Race Sunday
Darren Leung and Dan Harper, and Erik Evans and Matt Cowley are provisionally the 2023 Intelligent Money British GT champions after GT3 and GT4 drivers' titles were decided in dramatic fashion during a humdinger of a #DoningtonDecider.
Barwell's Shaun Balfe and Sandy Mitchell winning for a second time this year despite serving an early drive-through penalty perfectly illustrated what an unpredictable race this was. However, if further proof were needed then look no further than Academy's Mustang overturning both a 16.5-point deficit and 46 seconds of additional pitstop time to claim a victory that saw Cowley and Evans crowned GT4 champions.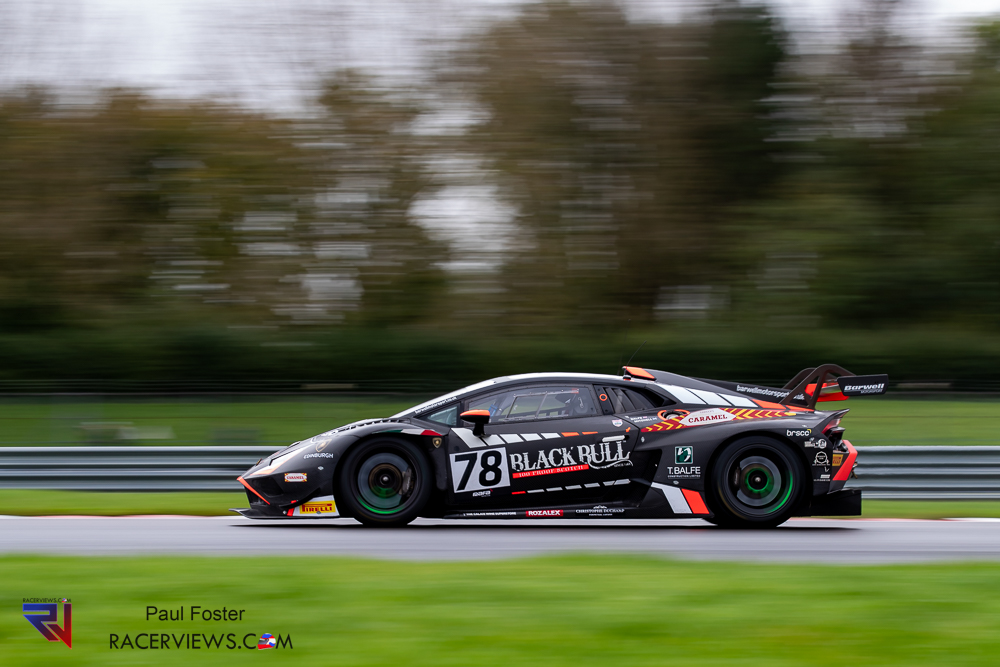 However, for pure drama it's hard to top Century's 120 minutes.
Two Safety Car periods before the pitstop window ended Leung's chances of overturning his maximum Competition Time. A brilliant stint, which included a daring pass around the outside of pole-sitter Andrew Howard down the Craner Curves on lap one, meant he was 19 seconds clear when the second caution occurred just before the pit window opened. All appeared lost until Harper embarked upon one of the greatest stints in series history.
Their cause was helped by erstwhile points leader James Cottingham collecting a drive-through penalty for overtaking under yellow flags. His 2 Seas co-driver Philip Ellis battled back to score 1.5 points, but that wasn't enough to deny Century.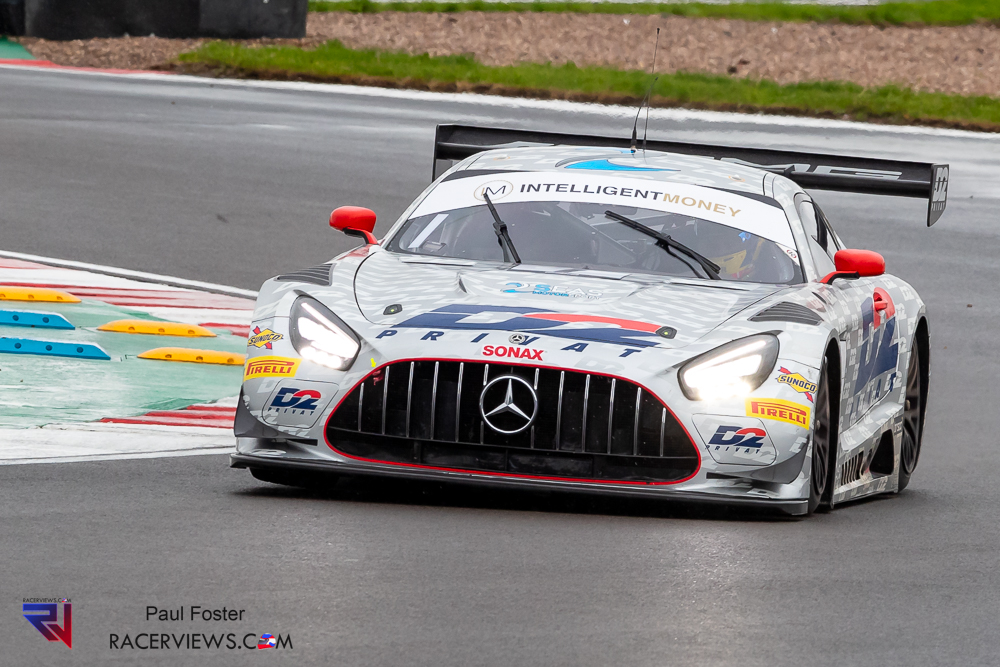 Barwell's other Lamborghini also celebrated a class title after Will Tregurtha sensationally passed title rival Chris Froggatt at the end of the penultimate lap. The winner-takes-all-scenario meant Tregurtha and Mark Sansom clinched the championship by just one point.
But there was disappointment at Optimum where Charles Clark and Jack Brown missed out on the overall GT4 drivers' crown. The long-time leaders do at least end the season as Silver class champions.
Race review from British GT